Liverpool boss Brendan Rodgers says Luis Suarez should be appreciated more
Liverpool boss Brendan Rodgers has once again spoken up in defence of his striker Luis Suarez.
Last Updated: 08/01/13 6:09am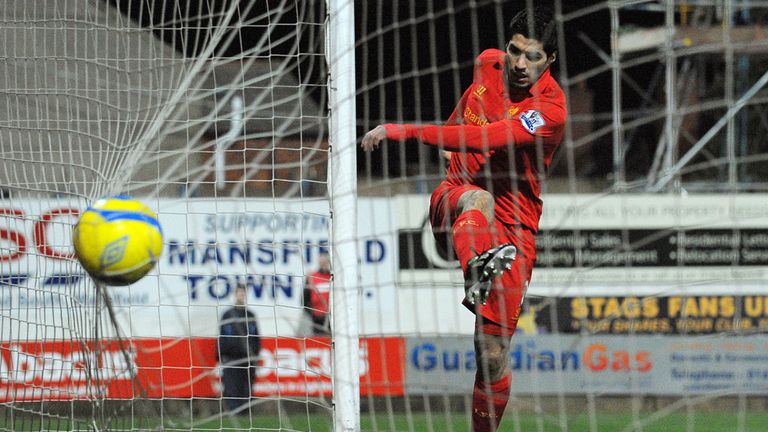 The 25-year-old Uruguay international is regarded as a world class performer but he has been embroiled in his share of controversies and came under fire once again after appearing to handle the ball before scoring Liverpool's crucial second goal in Sunday's 2-1 FA Cup win at Mansfield.
However, Rodgers pointed out after the match that the handball was not deliberate and then said on Monday that Suarez deserved to be held in higher esteem.
"He has had seven yellow cards this year but he hasn't warranted all seven," said Rodgers.
"He is a wonderful professional. I think in this country we need to enjoy it while he is here, because he is a brilliant talent.
"He is a good man as well, a good family man, and he is someone who wants to come in and work.
"He wanted to start yesterday's game, even though he has really been my only striker for the last six months.
"Yesterday was a game he was up for because it was street football for him and he enjoys that type of game.
"I can only talk about his talents. I always try to educate the players, with regard to every aspect of their life. As I've said, he's very receptive, and we go forward with him."
Suarez was sent off during the 2010 World Cup quarter-final between Uruguay and Ghana for deliberately handling on the goal line in the closing stages and, last season, he was given an eight-match ban for racially abusing Manchester United's Patrice Evra.
Until Sunday, his 2012/13 campaign had been less tumultuous, and his 15 Premier League goals, second most by any individual, have been crucial for Liverpool.