Striking ambition
Alex Dunn talks to Theo Walcott and discovers that behind the nice guy image the Arsenal man holds a steely determination and unwavering belief in his ability to establish himself as first-choice centre-forward at the Emirates.
By Alex Dunn - Follow me on Twitter alex.dunn@bskyb.com
Last Updated: 22/02/13 8:49am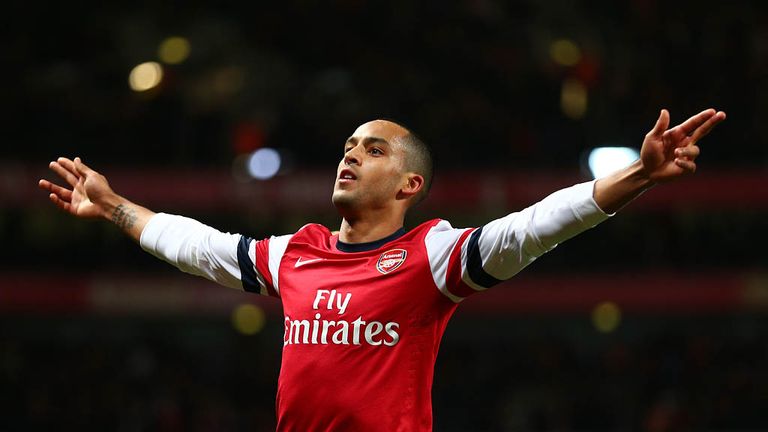 The first thing that strikes you about Theo Walcott is that he's polite, unfailingly polite. Clearly bright and articulate he carries off the art of being open but measured with seasoned aplomb. It can seem as if he's serving up media trained platitudes with the practised ease of a Federer backhand but when the topic turns to where he should be playing, a surprisingly steely timbre to his tone reminds you that at 23 he is no longer a kid.
"I've always been a striker," he says flatly when I ask if his preferred position has changed with time. "That's where I've always played, even when I first moved up to the first team with Southampton. I played with Ricardo Fuller a lot, Kenwyne Jones too.
"Last season I got 11 (goals) and the season before that 13 and this year I've got 14. I can see it's getting better. If I'd been offered at the start of the season to have scored this many goals already I'd have taken it. It's been a gradual process and I've been training every day up front. I want to show the boss what I can do; I know what I can do, certainly. I believe I can be a striker. I know it's not going to happen overnight but I'm pleased with how it's been going."
In many respects it's been a strange season for Walcott. His stock since the back end of last year has risen exponentially but it's not all been sweetness and light. Robin van Persie's defection to Manchester over the summer had seemingly opened the door for him to be the main man in north London but the arrivals of Olivier Giroud and Lukas Podolski, when allied with Arsene Wenger's preference for Gervinho, saw Walcott cast as somewhat of a forlorn figure for the first half of the campaign.
"It's been up and down," he concedes when assessing the term as a whole. "Starting the season on the bench and not getting a chance was obviously frustrating. But on the flip side, I've got plenty of goals and assists and it's my best scoring season to date. It's always great when things are going well but it's more about how you react when things are going against you. At the start of the season things weren't ideal but I'm pleased with how I reacted and overall I'm happy because I've had a few chances up front to show the manager what I can offer."
Work in progress
It's interesting that he knows his statistics unprompted. Later he'll talk openly of the targets he sets himself and the more you listen to him discuss the way he prepares himself, looks after his body as if it's sculptured in marble and studies the game with scholarly vigour a picture is painted of a player who leaves nothing to chance.
"I've always enjoyed the position, not just scoring goals and making them. There's the other side of the game too, making runs to create space for your team-mates is really important. I'm still learning my trade though, I'm aware of that, learning that when things aren't going well for you the dirty side of things still need doing. You still have to hold the ball up, link-up the play. If I get more opportunities in the role it's a side of my game I can improve."
It's this facet of his game, a lack of physicality in a league not known for the subtleness of its defenders, which splits the camp on Walcott's suitability as a striker; particularly for a side like Arsenal who play with just the one traditional No.9. When I put this level of scepticism that still pervades to him, despite an impeccable record of 14 goals from 15 starts this term, rather than bristle at such impertinence he endearingly accepts his limitations. It's not a first for a Premier League footballer but they're not universally known for their humility.
"Everyone knows I'm not going to win towering headers and hold the ball up all the time. But we've got other options in the squad for that. We can turn to Olivier Giroud to do that job. That's the thing with having a big squad and quality players to choose from, you can change things around when things aren't going to plan. I appreciate that things won't always go well for me up front. That's the next thing I'll learn, I'm sure. It's not going to be fantastic for me all season but I'm ready for that."It's a changing game though and with Premier League front-lines increasingly favouring speed over brawn, no longer pre-disposed to include a target man, Walcott sees his size as an asset rather than Achilles heel. It's the classic Theo one-two: polite about his rivals before backing himself. He's a nice guy, but harder mentally than he lets on.
"If you look at the striker who has probably been the best this season, he's not the biggest. Luis Suarez has been unbelievable. It's what you do off the ball, as well as on it. I used to play with Cesc (Fabregas) and he'd always play through balls between the centre-half and the full-back. That's perfect for me because he'd make those runs from outside to inside to leave space for me. These days you don't see anything like as many balls whipped into the box with towering centre-forwards heading it in."
He goes on: "The football in the Premier League is constantly developing. At Chelsea there's the Three Amigos and they're a dream to watch, just fantastic. We're very similar in that we have players who can take the ball in tight situations, who are comfortable with it wherever. Top players can deal with it and that's the trust you want in your team-mates. It's these types of players that can only improve the overall standard of the league."
So what of the accusation Theo Walcott is not a natural goal-scorer? I'm sure he's stifling a yawn internally but he'll not bite, too measured under pressure: "I know the people to listen to. That's my manager, my team-mates and family. They're the most important people in my career. Scoring goals is fantastic and I've learned to be composed. When I get the chance these days I'm confident I can take it. You have to have that belief in yourself, to believe you can create something from nothing. I've always known that I can score goals and as long as I know it, that's all that matters. I don't care what anyone else thinks." That's me told.
You know what they say about opinions and it's certainly true with Walcott. The Sunday Times journalist Jonathan Northcroft, a writer firmly in the pro-camp, recently took to Twitter to go toe-to-toe with the player's naysayers. You can't argue with stats (Walcott's are excellent) but perception is another matter altogether. "Why do people expect Theo to be flawless yet don't expect it from others?" asked Northcroft. "Same age as Sturridge, only year old than Welbeck - and they're given leeway as 'developing players' while Theo is not." It's a pertinent point and when I ask Walcott if it's difficult to be judged not as a 23-year-old like his peers but as a seasoned professional, he accepts the earlier you break through in your career the more pressure you put on yourself thereafter.
"When you're in the spotlight at such a young age people expect a lot from you early on. A lot of players tend to break through at 22 or 23, whereas I've been to a World Cup, played in massive games and made 200-plus appearances for Arsenal and scored plenty of goals. I'm 23 and still learning the trade myself but, that said, I wouldn't change what I've done at the start of my career though."
Throughout our conversation a desire to prove to Wenger that his metamorphosis from winger to striker is now ready to take flight is a reoccurring theme. It's clear that while they may not always see eye-to-eye over where on the pitch he'd best serve the side, Walcott has genuine affection for a manager who saw enough in the then 17-year-old after just 21 appearances to pay Southampton a purported £9.1million fee (after add-ons) for his services in 2005.
The Frenchman's relationship with the club's supporters is as brittle as it has ever been and Walcott admits it can be difficult to listen to criticism levelled at a man whose influence on English football far transcends the transformation he oversaw at Arsenal upon pitching up in the capital as a 'geography teacher' some 17 years ago.
"He's one of the greatest managers in the game," says Walcott of a man who made him wait seven months to make his debut at Arsenal. "He's the sort of manager you want to play for and he still has that special aura around him. He can take stick at times and it can be tough. But he always takes it on himself, even though it's the players who aren't playing well. We know when the manager is not happy and for it always to reflect on him when we're not performing well, it takes a strong character to take that on."
It's an impassioned defence and one that concludes with a call to arms in the dressing room: "As players we need to take responsibility. We need to give him that trust and belief back because that's what he's always shown in us. You want to play for him; you want to perform for him."
When he talks of the conversation he had with Wenger over his position before agreeing to join Arsenal it reminds me of the infamous Blair-Brown deal, the Granita Pact, which was allegedly made in an Islington restaurant, of all places, back in 1994. The purported promise made to Brown over the Party Leadership was never fulfilled as Blair repeatedly put back his handover date before denying a deal had been struck altogether. Walcott, though, is quick to dispel the notion of broken promises in his own Islington pact.
"He always said over time he'll move me up front. It's only really been this year that it's started to happen. When you've got the likes of Thierry Henry, Emmanuel Adebayor and Robin van Persie to compete with it's always going to be difficult to get ahead of them. I've learnt my craft over the past few years but when you're playing at such a young age it's not an issue where you're playing - you just want to play. You'd chop your hand off to be out there playing wherever to be honest."
He'd probably chop off a hand to spend the remainder of the season as Arsenal's first choice striker but either way, he's already well on his way to delivering his self-set goals for the campaign.
"I do set personal goals and to be honest I've nearly hit it already this season," he concludes. "I wanted to score around 15 goals and make 20 assists. I'm not far from reaching that. The other I set myself every year is to stay fit, which can be a hard one for me. For the team, I guess it's about having the mind-set that even if we don't play well we grind out the results. Three points every week, I'll take that."
With that, our allocated slot is up and I didn't even have time to ask about the elephant in the room.
Theo Walcott wears the Nike Mercurial Vapor IX which delivers performance innovation and explosive speed for the fastest players on the planet. www.nikefootball.com