FA reviewing footage of Eden Hazard red card for clash with ball boy at Swansea
The FA is reviewing the footage of Chelsea midfielder Eden Hazard's red card for kicking a ballboy at Swansea.
Last Updated: 26/01/13 12:43pm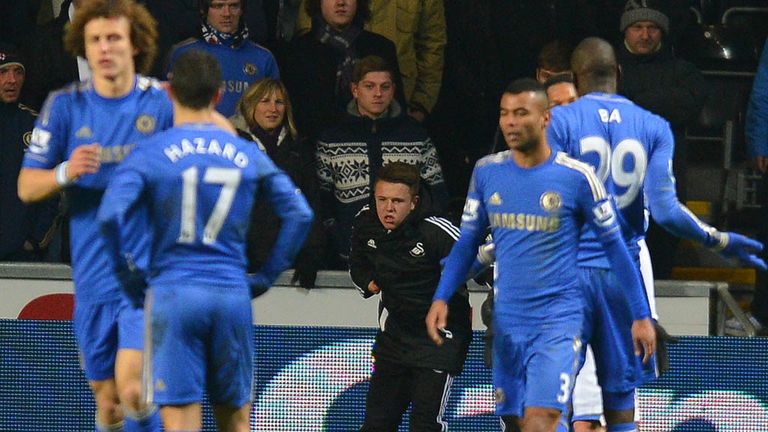 The Belgium international was dismissed by referee Chris Foy after the incident during the closing stages of Wednesday's Capital One Cup semi-final, second leg match at the Liberty Stadium.
The ballboy - 17-year-old Charlie Morgan - refused to hand over the ball after it had gone out for a goal-kick.
Morgan fell to the ground as Hazard attempted to get the ball from him, with the player then trying to kick it from under him but appearing to instead make contact with the youngster.
Hazard escaped criminal action over his conduct after Morgan and his father, Swansea director and hotel owner Martin, decided not to press charges.
The 22-year-old, who will receive an automatic three-match ban for the sending off, also apologised to the teenager after the match.
Hazard told Chelsea TV: "The boy put his whole body onto the ball and I was just trying to kick the ball and I think I kicked the ball and not the boy. I apologise.
"The ballboy came in the changing room and we had a quick chat and I apologised and the boy apologised as well, and it is over. Sorry."
Swansea vice-chairman Leigh Dineen has defended Morgan after criticism of the ballboy's behaviour.
"The boy went to pick up the ball and he fell over. He didn't hold on to the ball for a minute; it happened over about 20 seconds," said Dineen.
"Had it been 2-0 to Chelsea, I don't think Hazard would have been anywhere near the ball. But I don't think Hazard deliberately went to kick him.
"You can't kick out at anybody. I don't think you can do that. If it was done on the field of play, there would be plenty of questions to be answered."
Swansea will not face any FA action over Morgan's role in the incident, as any complaint of time-wasting is considered an issue to be handled by the officials during the game.
There has been criticism of Foy for his dismissal of Hazard, but former Premier League official Dermot Gallagher praised his handling of a difficult situation.
He said: "The referee has taken the correct action, It's against the laws of the game to commit violent conduct on anyone under the jurisdiction of the game.
"I can't reinforce how switched on the officials were. It would have been so easy for the assistant referee not to pick that (incident) up - but he did."
Gallagher continued: "There's no defence for that. Someone said it was borne out of frustration but you have to accept it. I don't want to see it again.
"It was an extreme but you can't have that at a football match. It's been addressed - and the action which has been taken is strong and correct."
Steven Martens, the chief executive of the Belgian FA (KBVB) has warned that Hazard must learn to control himself: "It's unfortunate and of course it's not something we are proud of. No football authority or person interested in football likes to see acts of violence or lack of respect and this is what happened.
"It might have happened in the heat of the fire but professionals are expected to be able to control themselves. They have to be able to control their emotions and when they don't that's unpleasant in general.
"Of course as we are the Belgium FA we don't like it to be a Belgium national squad player but I am very much convinced that Eden himself will realise that.
"Eden is more than intelligent enough to understand that this is going to be a lesson learned for him. All of us make mistakes in life."