Cup Dreams
Graeme Bailey spoke exclusively to Macclesfield Town chief executive Jon Harris ahead of the FA Cup fourth round tie with Wigan Athletic
By Graeme Bailey - Tweet me: @graemebailey
Last Updated: 25/01/13 2:23pm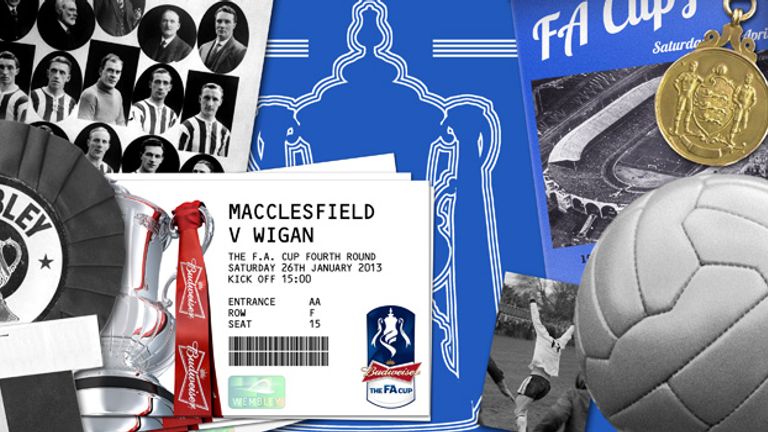 FA Cup Dreams returns to look at the historic FA Cup fourth round clash between Macclesfield Town and Wigan Athletic.
Graeme Bailey spoke exclusively to Macclesfield chief executive Jon Harris as the non-league outfit build up to their biggest ever Cup match.
The North West derby has emerged as one of the most mouth-watering contests of the fourth round as the prospect of a non-league giant killing over a Premier League side looms large over the famed Moss Rose ground.
The two sides have only met twice in their history and Macclesfield lost on both occasions. Now, they meet again, with Macclesfield taking their place in the fourth round for the first time.
"That is surprising," Harris admits about Macclesfield's record of never making it to this stage of the cup.
"But I think the Macclesfield history in the League was always in One and Two so we always had to qualify, but this is the furthest we have ever been which is exciting for the club and the town.
"It is something that gives us relief from the day to day matters of the league and every ticket has gone, sold, which tells you that not only the players but the town as a whole as well [are looking forward to it]."
Macclesfield had to wait to find out their opponents with Wigan overcoming a very tricky replay with high-flying Bournemouth - but Harris admits they were pleased to be facing their Premier League neighbours.
"With the greatest respect to Bournemouth, who have been on a great run themselves and who a lot of people thought would have enough in the replay, we were always hopeful of getting a home tie against a Premier League club and getting one from the North West is a bonus, and maybe even the prospect of getting another cup upset.
"It is also a full house. There will be 2,000 plus Wigan fans and 4,000 plus Macclesfield supporters, it is a great occasion and one we are looking forward to. Getting tested at the highest level and a top-flight team in the fourth round is a great test and perhaps if we are on our game and they are not, there is a chance we could cause an upset."
Relegation
Many people forget that Macclesfield are now a non-league side having been relegated last season after a 16-year stay in the Football League.
And Harris is first to admit that losing their league status hit Macclesfield hard: "No question it did.
"It certainly wasn't where we saw ourselves - we played Bolton in the third round of the cup last year and we were in tenth place, nine points off the play-offs and relegation wasn't on the agenda and nobody saw it coming and it hits you hard.
"But you can go one of two ways; you can sit there feeling sorry for yourself and next thing you know your halfway through the season and third bottom, but at Moss Rose we regrouped, we dusted ourselves down and we thought we would go again, so we have had a go this season. Perhaps we have been inconsistent and it is a work in progress but it is a credit to everyone involved that we have been able to bounce back as we have done.
"Ask any of the clubs who have most recently fallen out of the league, no disrespect to the clubs in the Conference but the one place to be is back in the Football League and that is our ambition and we will make every effort to return to the league and that is our driving goal."
Macclesfield's ambition to return to the league was confirmed by their decision to remain full time.
"We stayed full time and I think that has been crucial, and enables us to attract players who want to remain in the full-time game," he said.
"We will endeavour to stay full time until we get back into the league. I am sure if we weren't successful there will come a day on which we have to go long term but at the moment that is not on the agenda and we are looking to remain full time and getting this club back in the league as soon as possible."
He admits that manager Steve King would be able to call on some extra finances due to their cup run.
"I certainly won't be having it all," joked Harris. "But it gives you the flexibility to be able to support the manager in terms of new players, if there is that opportunity to kick on. The odd one or two might make a difference but we have to maintain a strong discipline in managing the club's finances and we stay within our means, the cup has been a real bonus."
Looking to the future and moving to a new purpose built stadium remains the long-term ambition for the club.
"It is still on the agenda and closer than it has ever been," he continued.
"In the next 12 months it could be brought to the forefront and we are talking closely with our local partners and those involved in the conversations about how it would be made up but it is probably three seasons away so we have to maintain what we have at Moss Rose. But it has served us well for 100 years and will continue to do so."