Arsenal and Liverpool were as dangerous as they were flawed as they drew 2-2, said Glenn Hoddle
Arsenal and Liverpool were as dangerous as they were flawed as they drew 2-2, said Glenn Hoddle.
Last Updated: 31/01/13 10:41am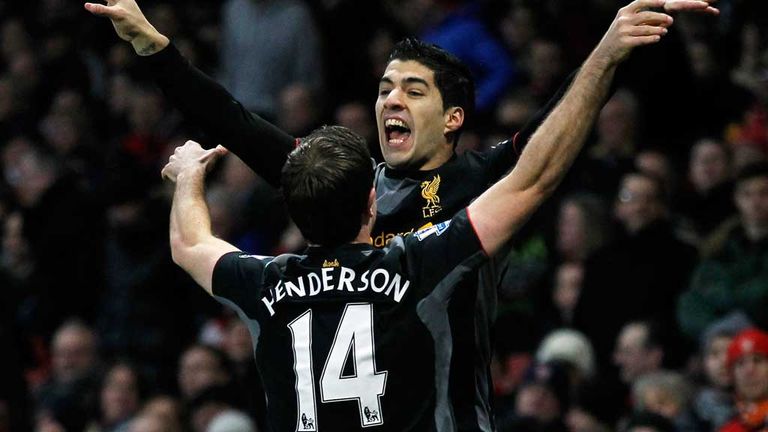 Luis Suarez capitalised on some slip-shod defending to give the visitors a fifth-minute lead, which Jordan Henderson doubled with a second-half strike, but Arsene Wenger's side rallied after the break and earned a point courtesy of goals from Olivier Giroud and Theo Walcott.
"It was a magnificent game of football because it was open," former England boss Hoddle told Sky Sports HD. "As a neutral it was a great advert for the Premier League.
"Liverpool were as good as I've seen them all season in the first half; they've a lot of technical players on the pitch and when they've got space to play in as well, you're in for a good game and as a neutral I thought it was a magnificent game.
"Arsenal have given stupid goals away this season and they had three or four opportunities to clear the ball [before the first goal]. It was poor defending all the way through.
"The moment to be strong is in the first 10 minutes of the game and dictate, because you're at home - that's when you go out and dictate it to the other team."
Grew
At the break it seemed likely that Arsenal - who also found themselves 2-0 down at half-time against Chelsea and Manchester City this month - would lose ground on their Premier League rivals in the race for a Champions League spot, only for their form to improve dramatically in the second period.
"It came from half-time - getting the break," said Hoddle. "They did it at Chelsea, where they came out all guns blazing at the Bridge and they did the same here.
"For me, [Jack] Wilshere started to play further forward with [Santi] Cazorla. In the first half Cazorla was always the one in advance in the pocket in midfield and suddenly they started to rotate that and Ramsey played deeper.
"That gave them an extra body in there and they started sneaking in behind Steven Gerrard and Lucas and then they started to look dangerous.
"That's where it came from. The sense that they were going to get a goal grew. It was a terrific header from Giroud - he really is in decent form.
"But the Liverpool defending was poor. There were two or three players looking to go man-for-man and there were two players going in zonal.
"Walcott's goal was a super strike. I don't know why the goalkeeper [Pepe Reina] didn't dive and it was probably past him before he could.
"It was Arsenal at their best - they really were putting Liverpool under the pump with their movement."
Shambolic
As impressed as Sky Sports expert and former Liverpool midfielder Jamie Redknapp was with Arsenal's comeback, he said the Gunners cannot keep relying on their mental strength to get them out of trouble.
"You can't keep giving yourself mountains to climb like they did," he said. "They did it against Manchester City and Chelsea.
"The defending is shambolic - the first goal especially. How Henderson manages to get through between Per Mertesacker and Andre Santos for the second goal is beyond me.
"If Jamie Carragher was playing for Arsenal he'd probably have a five-year contract, the way he defended. But credit to Arsenal for coming back the way they did."
Redknapp added: "I thought Henderson played exceptionally well - he was unlucky to miss out on man-of-the-match. He deserved it because things haven't always gone his way at Liverpool.
"But he played in a slightly higher role - he was the point of the team - and he still managed to score, even though there were five Arsenal players around him."