No Samba sparkle
Lewis Rutledge wonders whether Brazil will be able to challenge for World Cup glory after failing to shine at Wembley
Last Updated: 07/02/13 2:41pm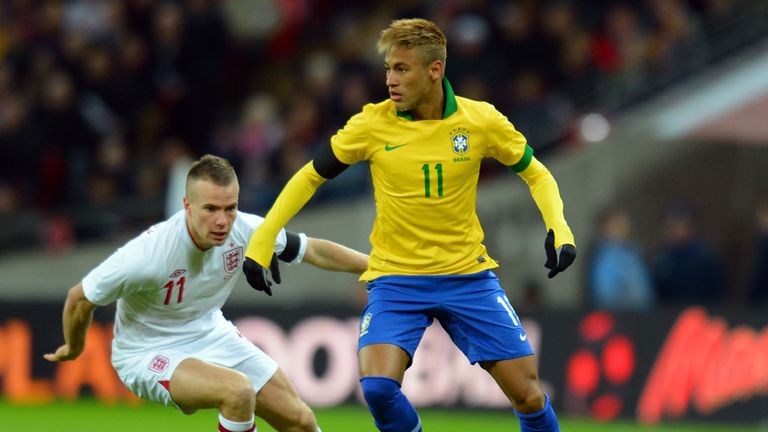 There are 18 months to go until football fans from across the planet descend on Brazil for what promises to be one of the most magical World Cups in history, and a country with perhaps unrivalled passion for the game is preparing to put on a spectacular show.
It is always hoped that a host nation will perform well and with the tournament set in Brazil surely that should be a guarantee, but what if they do not turn out to be the stars of their own party?
Luiz Felipe Scolari is the man charged with leading the Samba Boys to a sixth world crown, having won the competition as Brazil boss in 2002 before being reappointed in December.
He got his first chance to cast an eye over the team in Wednesday's friendly against England at Wembley and it must have been a concern how they were outplayed by Roy Hodgson's Three Lions.
It is hard to draw too many firm conclusions from international friendlies. After all, Spain were beaten 1-0 by England barely six months before Euro 2012 and went on to lift the trophy, while there are various mitigating factors such as Scolari having players missing and it being his first game back at the helm.
However, Brazil could have no complaints about the outcome on the night as Frank Lampard sealed a 2-1 victory for England after Wayne Rooney's opener was cancelled out by Fred.
While English fans and analysts were left singing the praises of players like Jack Wilshere, Theo Walcott and Tom Cleverley, and justifiably so after impressive performances, then it is also fair to say that this was not the Brazil we have come to know and love.
Apart from a ten minute-spell at the start of the second half when Brazil scored and began to look threatening, which was partly self-inflicted damage from England after some individual mistakes, Scolari's men looked a shadow of former sides.
The expected onslaught in the final stages never materialised as England held on comfortably for a win, while at the other end Queens Park Rangers goalkeeper Julio Cesar was one of their star players with a string of fine saves.
A work in progress
The problem for Scolari is that the current Selecao are a work in progress, and yet time is not on their side with the World Cup looming large.
It was a brave move to change manager so close to a home World Cup, with Mano Menezes replaced following a disappointing Copa America campaign in 2011 and defeat by Mexico in the final of last summer's Olympics.
The likes of Neymar, Oscar, Lucas Moura and Ganso have the potential to become superstars of the game but they are not yet the finished article. Oscar gave Chelsea team-mate Ashley Cole a tough time down the wing but Neymar, set to be the poster boy for the World Cup, had a bad night.
The 21-year-old Neymar has a lot of pressure to bear on his young shoulders and could do with a bit more support, but the truth is that among the finest players in the world right now there just aren't many Brazilians.
Hulk has had a disappointing season in Russia following his switch to Zenit St Petersburg, while players such as Ronaldinho, Luis Fabiano and Kaka are not what they once were and are surely not the answer for the World Cup.
Growing pressure
Brazil have strong players in other areas, including defender Thiago Silva, who was absent against England due to injury, but it is debatable how many of their first-choice XI would get into the Spain team.
Scolari no longer has the likes of Ronaldo and Rivaldo to call upon and will concentrate over the coming months on making Selecao more resilient and harder to break down, but there is still an expectation in Brazil that the team must play with flair.
That is going to be a hard cocktail for 'Big Phil' to mix, as he mulls over how to make Brazil as effective as possible without sacrificing their style, and all the time the pressure will be growing as the World Cup approaches.
Another problem is of course that Brazil will not be playing any more competitive games until the tournament kicks off, because as hosts they will be fed a diet of friendlies.
There are certainly a lot of issues for Brazil to address before the World Cup, and unless Scolari can find some answers it seems unlikely the home fans will be celebrating in the summer of 2014.