Sky Sports prepares the ultimate coverage of 'The Perfect Match'
Take a glimpse behind the scenes as the Sky Sports crew prepare for Real Madrid v Man Utd.
Last Updated: 13/02/13 11:12am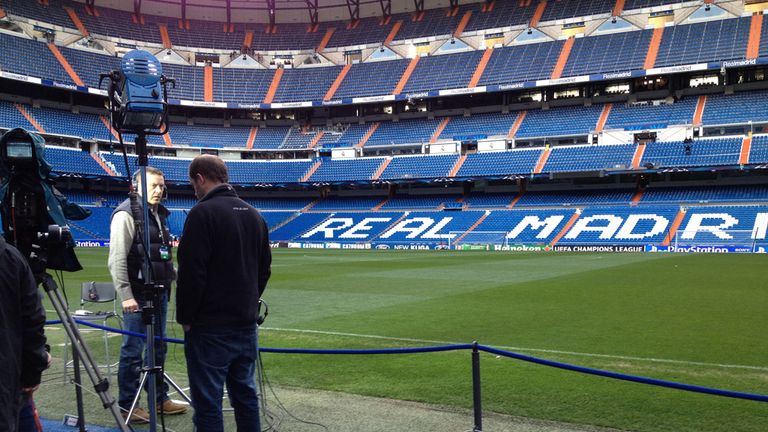 We're in Madrid to help bring you the ultimate coverage of the biggest match of the season so far and the scale of Sky Sports' production is truly worthy of the occasion.
Our army of technicians and production staff have been arriving in Madrid all week and a sunny February afternoon greeted those of us that descended on the Santiago Bernabeu on Tuesday. If tonight is anything to go by then it'll be pretty chilly by the time the players take to the pitch at 8.45pm local time on Wednesday night, but the city and the stadium look fabulous bathed in sunshine in the daylight.
Sky Sports has a number of trucks parked just outside the stadium and production staff have been working alongside local crews to get everything ready for 6pm (UK time) on Wednesday when we will bring you one-and-three-quarter hours of build up to the big game, direct from the ground, on Sky Sports 2 HD. Who knew you could pack so much expensive equipment into a car park?
One of our studios is one situated high up in the stands, where Jeff Stelling and his pundits will enjoy a terrific view of the game. It didn't look too glamorous today, but it'll look just as good as you would expect on Wednesday night. The Bernabeu is a real Labyrinth-like stadium with lots and lots of levels and it's easy to get lost in the empty stadium. That said, it'll clearly be a cauldron by the time kick-off rolls around.
The boys also have a location on the touchline where Jeff will grill his guests Jamie Redknapp, Peter Schmeichel and Graeme Souness ahead of kick-off. Situated right near the dugouts and the tunnel it'll take you right into the heart of things ahead of the match.
Your commentary team tomorrow evening will consist of Martin Tyler and Gary Neville and their commentary box, located on the opposite side of the stadium to the studio, offers another fabulous view. Nev says Manchester United will need to get through the first 25 minutes unscathed and he hopes they take an aggressive approach.
But while the crews were busy preparing for our outside broadcast, our reporters were busy gathering all the news ahead of the clash. Nick Collins and Dharmesh Sheth have been providing reports for Sky Sports News and Geoff Shreeves sat down with both Sir Alex Ferguson and Jose Mourinho for exclusive interviews that you can see in our pre-game show. We can promise you that Fergie has rarely been in such good form and had a real glint in his eye throughout that particular chat.
And then there were the all-important pre-match press conferences, which saw Mourinho and Ferguson go in front of the world's media. The Manchester United boss was clearly in a much more positive mood than his rival, who faced plenty of questions about the lack of unity in his squad. Meanwhile, Ferguson was happy to offer praise for Mourinho and Cristiano Ronaldo and declared we won't see a goalless draw tomorrow night. In fact, Ferguson said there is no bigger clash in Europe than Manchester United against Real Madrid.
From what we've seen today we're inclined to agree!
We're building up to The Perfect Match all week here on the Sky Sports website. Go to www.skysports.com/championsleague to follow the build up throughout Tuesday and to watch the match LIVE on the Events Centre with the ability to pause, rewind and replay the live action.