Borussia Dortmund want clarity from Bayern Munich over Robert Lewandowski
Borussia Dortmund GM Hans-Joachim Watzke has told Bayern Munich to be honest over their interest in Robert Lewandowski.
Last Updated: 17/02/13 3:26pm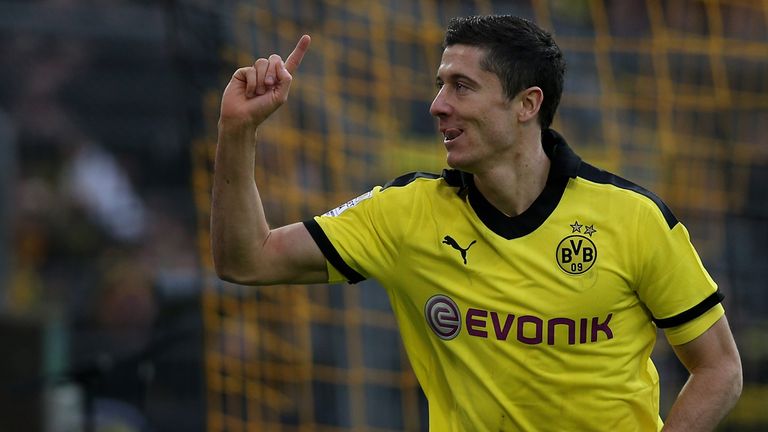 Several German newspapers and television channels have claimed a deal has already been struck between Lewandowski and Bayern, and that the transfer will be announced after the two sides meet in the quarter-finals of the DFB-Pokal later this month.
Both sides have rubbished the reports, Dortmund more vehemently than Bayern, leading Watzke to demand Bayern make their intentions clear.
"The whole issue is really getting on my nerves," he said. "There are two scenarios: the first is that Bayern have no interest in Robert, in which case it's all a load of rubbish.
"The other scenario is that they are interested, and then they have got to lift their cover at some stage and come to us with an enquiry.
"Bayern are usually correct and if they have any interest in a player, they will make contact.
"When they do that, they will get an answer. Maybe that would even surprise them, but as long as they carry on saying they have no interest or for as long as they don't do anything, then we don't care.
"Robert is playing here, playing very well too, and there is nothing more to say."
Lewandowski's contract with Dortmund still has 18 months left to run on it, but Watzke is starting to accept that he does not want to extend that deal and that there could indeed be something behind the speculation.
"He has had the chance (to extend) and we have got to be realistic and if he has not taken that chance up to now, then the probability of him doing so is not getting any higher," he told Sky television.
"But that has nothing to do with whether he plays for us next season or not.
"That is entirely dependent on us, considering the contractual situation, which is why we are pretty relaxed about the whole thing."
Bayern, for their part, have tried to ignore the issue this weekend with their director of sport Matthias Sammer saying he has nothing to add on the subject.
"We've not said anything about it in the past and we are not going to say anything now, and not tomorrow either," he said.
"There is absolutely nothing to say about the issue from our side. I have said what I wanted to say and what had to be said."