Arsenal boss Arsene Wenger comes out fighting ahead of Bayern Munich tie
Arsene Wenger has accused his critics of "superficial analysis" and backed Arsenal to come out fighting on Tuesday.
Last Updated: 19/02/13 7:04pm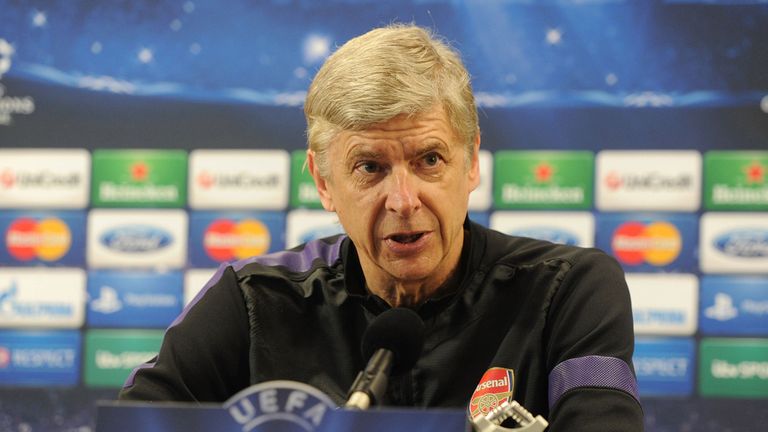 The manager's mood ranged from perplexed to outright angry as he faced the press ahead of Tuesday's UEFA Champions League last-16 first leg tie in north London.
And he was particularly irritated by suggestions Saturday's FA Cup defeat to Blackburn was down to poor team selection after Jack Wilshere, Santi Cazorla and Theo Walcott were kept on the bench until the 70th minute.
"I've been accused of not taking seriously the FA Cup," he said. "I've won the FA Cup four times - who has won it more?
"We've been accused of not putting out a strong team. That's an insult to the players who started the game, and we didn't lose the game with the players who started, we lost it in the last 20 minutes.
"So there's a lot of superficial analysis that you cannot accept. We accept that we have to take the blame because we went out, but for the rest you have to put things in perspective.
"When you analyse or give opinions you have to analyse it really, not superficially. Because one guy says something, everybody goes the same way.
"We live in a democracy of experts. There are a lot of experts who are not necessarily right."
The Champions League now represents Wenger's only hope of ending an eight-year wait for a trophy, and in the way are a Bayern side 15 points clear at the top of the Bundesliga.
Wenger said: "You play to win the competition and, at some stage, you have to play a strong team. We play against a good opponent and - if I listen to you - we are not favourites.
"But I trust our quality, I trust our spirit, and I trust our mental strength. So... see you tomorrow."