One-man teams?
On Sunday Gareth Bale travels to Anfield to face Luis Suarez in a game that could help decide which of the two is crowned Player of the Year. In a side issue, Liverpool play Spurs in a vital league game. Daniel Storey makes the case for the defence amid accusations both are one-man teams
By Daniel Storey - @danielstorey85
Last Updated: 08/03/13 1:24pm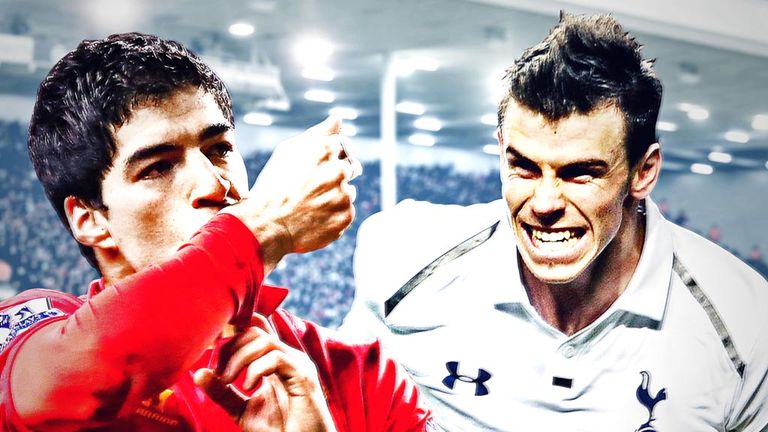 On Sunday Spurs travel to Anfield in a game that pitches together the two form players of the Premier League. With Robin Van Persie's impressive scoring run for Manchester United drying up slightly of late (one goal in his last eight matches), Luis Suarez and Gareth Bale have been left as the brightest lights that the Premier League currently offers.
Suarez has six goals in his last three matches, and 14 in 13 games in a run stretching back to the end of December, and yet he is not even the man of the moment. Bale, allowed to operate in a more advanced role by Andre Villas-Boas, has been unstoppable of late. He has 11 goals in nine games for club and country, and whilst comparisons with the world's greatest players are still somewhat pre-emptive, the Welshman is certainly being discussed in the most glowing of terms. He is the overwhelming favourite to be crowned as Player of the Year.
Unfortunately, rather than simply be appreciated for their talents or respected for their contributions, the form of Bale and Suarez has attracted negativity towards their clubs. Both Spurs and Liverpool, it has been claimed, are one-man teams.
The accusation was labelled at Suarez by the Daily Express last November: "Liverpool 3 - Wigan 0: Luis Suarez proves Liverpool ARE a one-man team," the headline read, casually ignoring that full back Jose Enrique was actually chosen as Man of the Match after a goal and assist.
For Bale, it started with Sam Allardyce after his West Ham side's defeat to Spurs: "We've one man to thank for tonight's result and that's Gareth Bale, We have been beaten by Gareth Bale really," said Allardyce, after a match in which Gylfi Sigurdsson also scored an equaliser and Jussi Jaaskelainen was forced into making 13 saves.
The intent of such an insult is clear. Without these two players the clubs would be nothing, hinting at undeserved fortune, and they are in a falsely-inflated positions through the over-performance of one individual, far above the mean of the team as a whole. The term is typically labelled by (possibly envious) fans or rival clubs. More importantly, it is both foolish and illogical.
Initially, even examining the statement on its merit falls down. If Gareth Bale's Premier League goals had not been scored, Spurs would have seventeen less points, and would therefore sit ninth in the Premier League table. Luis Suarez's effect is even lower. Despite scoring 21 league goals this season, these have actually only gained Liverpool eight points, without which they would also sit in ninth, only two places lower than the position they currently occupy. Twelve of the Uruguayan's league goals came in matches that they would have won without his goalscoring contribution.
Even if the two players had not been available, both sides would have been presumably able to play a replacement? But, more pertinently, they were playing. Both Liverpool and Spurs paid transfer fees to have these players at their disposal. If they are performing to their full potential, surely that is the fault of other teams for their lack of purchase? The whole argument is based on a premise that is grounded in falsehood.
More importantly, such an insinuation highlights our fascination of the goal as football's only currency. Viewing the scoring of a goal as all-encompassing is nothing new in our game, but is intensely disrespectful to other players on the field. The last defender to win the Player of the Year award (voted by the players) was Paul McGrath in 1993, and the last to win the Football Writers' award was Liverpool's Steve Nicol in 1989, and even he roamed into midfield. That's 20 years without recognition. The last defender to win the Golden Ball at the World Cup? Uruguay's Jose Nasazzi in 1930.
This is a hugely simplistic view of a complex game. If we consider goals to be the sole currency of football, then surely goalkeepers and defenders that stop goals should be applauded even higher than strikers that often take two or three chances to score?
Crucially within this argument, such a mindset woefully ignores the impressive performances of less-heralded individuals. It ignores Steven Gerrard, with more assists than any other Premier League player this season and so often a provider for Suarez. It ignores Glen Johnson, with five assists from right-back and currently performing as well as he ever has. It ignores Jan Vertonghen, establishing himself as both versatile and reliable across the defence and in midfield during his first season in England. And it ignores Moussa Dembele, whose intricate passing and impressive stamina have enabled Bale to operate in a freer role, confident that his team mate will cover adequately. Finally, it ignores the managers, who have altered formations and styles to draw the best form from the two stars.
On Sunday, there will be no doubting the importance of both Suarez and Bale, and it would be reasonable to suggest that they are the principal weapon possessed by their respective teams. However, to state that they are the sole reason for a team's positive results shows a great deal of footballing ignorance, over-simplifying simply for effect.
As former NBA star Kareem Abdul-Jabbar is quoted as saying: One man can be a crucial ingredient on a team, but no man can make a team.
You can only watch the best Barclays Premier League coverage here on Sky Sports. Watch Liverpool v Spurs exclusively live on Sky Sports 1HD, 3D and Sky Go from 3.00pm on Sunday 10th March. Click here for more details