Arsenal miracle?
Arsenal travel to the Allianz Arena needing a miracle to qualify for the Champions League quarter finals. First things first they must look just to win the game. Daniel Storey suggest five things that Arsenal must consider if they are to have any chance of success in Munich
By Daniel Storey - Follow me @Danielstorey85
Last Updated: 13/03/13 2:02pm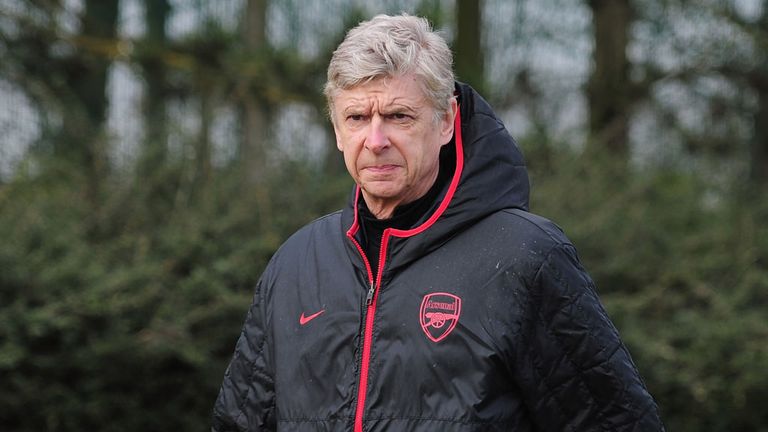 In many ways it appears the impossible task. After tumbling so readily to a 3-1 home defeat to Bayern Munich in their last-16 first leg, Arsenal have given themselves the hardest of tasks to continue English involvement in the Champions League. They are 6/1 just to win the match and 20/1 to qualify, with Bayern Munich available at 1/200 if you fancy a tickle on them making the quarter finals.
The Gunners must do what no side has done in 53 matches and score three goals against Bayern in the Allianz Arena. For a result that would see Arsenal qualify in 90 minutes (ie 3-0 or better), you must go back to February 1996, when Karlsruhe won 4-1 at the Olympic Stadium in Munich. That was long enough ago that Bayern played Nottingham Forest in the UEFA Cup quarter final a fortnight later.
No team has ever lost a home first leg by two or more goals and still qualified in the Champions League knockout stage, and while his mood has picked up a little in the last few days, manager Arsene Wenger has seemingly lost belief.
"I am not worried about us potentially coming back against Bayern, I am more worried about consequences that could manifest in the heads of our players," Wenger told the Evening Standard."You will never know how they can absorb those blows and how the team will respond to disappointment. This is the most worrying aspect for me."
But this is football. Until the large female clears her throat there is still a chance, right (refer to Liverpool fans on that count)? What is for certain, if Arsenal have any chance of succeeding, there is no room for any modicum of error. Here are the principal ways in which they must look to impress:
Look to history
Last season, Arsenal exited the Champions League at the same stage to AC Milan, but the tie provided hope for their seemingly lost cause. After a disastrous 4-0 first leg defeat, the Gunners beat Milan 3-0 at the Emirates and came close to one of European football's greatest comebacks.
Arsenal came away with more than simple pride that night, looking continuously threatening until tiring late on. They will have learned lessons that will be crucial on Wednesday and whilst travelling to Munich will be a far sterner test, Arsenal can once again play with a freedom and carefree attitude that can be so dangerous.
Score the first goal
It seems an overly evident statement, but Arsenal must start quickly and score the first goal. Against Milan the Gunners scored after seven minutes to immediately get the Emirates crowd on their side, and on Wednesday this must be done to sow the seeds of doubt in the minds of Bayern's support. Such uncertainty will soon seep into the psyche of the players.
Arsenal's problem is that they have started their big games poorly this season. They have only been leading at half-time in seven of their 28 league games, and have too often permitted the opposition to take the initial advantage in matches. Chelsea, Liverpool, Bayern and Tottenham have all been allowed to take 2-0 advantages in 2013 before Arsenal began to play, and this is unacceptable for a team hoping for a seat at the top table.
It is as if Arsenal only start playing when the gravity of the situation forces them to react. On Wednesday, Wenger's side simply do not have this luxury, and must be proactive.
Chance creation
One of Arsenal's biggest positives this season has been the clinical nature of their shooting. They have scored with 25% of their shots in the Champions League, a record that cannot be matched by any other team, and 61% of their shots hit the target, which only one team in the competition has bettered. Despite flak given to certain Arsenal attackers, therefore, it is clear that they are performing their role satisfactorily.
However, the same cannot be said of Arsenal's creation. They have only had a total of 44 shots in their seven CL matches, a rate worse than any other team to participate in the competition this season. That simply isn't up to scratch.
To score three goals against Bayern, Arsenal would need to have twelve shots, almost double their average up until now. Santi Cazorla and Jack Wilshere have been amongst the club's best performers this season, but with the latter ruled out with injury, the Spanish schemer must act with even greater invention and creativity if Arsenal are to have any chance of success.
Look to surprise
With Arsenal having the license to 'go for broke' against Milan last year, Arsene Wenger took the opportunity to spring surprises with his team selection. Alex Oxlade-Chamberlain was selected in a central midfield role alongside Tomas Rosicky, which allowed Arsenal to swarm the midfield early on. With Gervinho picked on the left wing (and Theo Walcott on the right), the Gunners effectively had four players in midfield who were instructed to dribble at Milan's defence. Many Arsenal fans would remark that this was Chamberlain's best game for the club.
Wenger may have elected to select Lukas Podolski as the centre forward, with Walcott and Cazorla on the wings, but injury to the German guarantees Olivier Giroud a start. Matching last season's selection in midfield, with Chamberlain and Rosicky allowed freer roles, may still be Arsenal's best option. Mikel Arteta can provide the cover.
Press all over
Bayern's players have too much experience to be easily flustered, and are too professional to be complacent. Therefore, Arsenal must force their opposition to make mistakes, and this will only be achieved through high-intensity pressing all over the field. This was one of the keys to Bayern's success in the first leg (directly leading to the first goal), and Arsenal must match this.
Such pressing has to start with the forwards, who must cut off the comfortable supply to Javi Martinez, with Bastian Schweinsteiger's absence through suspension a blessed relief. If Martinez is allowed significant time on the ball, Bayern will be fruitful in their efforts to control the game. The selection of Cazorla on the left (as above) has the intention of providing cover for Thomas Vermaelen at left-back against the adventure of Phillip Lahm.
Thankfully for Arsenal, their recent FA Cup exit means that they enjoyed a free weekend, and should therefore be refreshed for Wednesday. This will prove critical in avoiding the fatigue they suffered late on last year against Milan, particularly with the necessity for high-intensity pressing without the ball.