A sign of the times
Lewis Rutledge says Brian McDermott was a victim of his own success and wonders whether a change in manager can keep Reading up
Last Updated: 12/03/13 12:25pm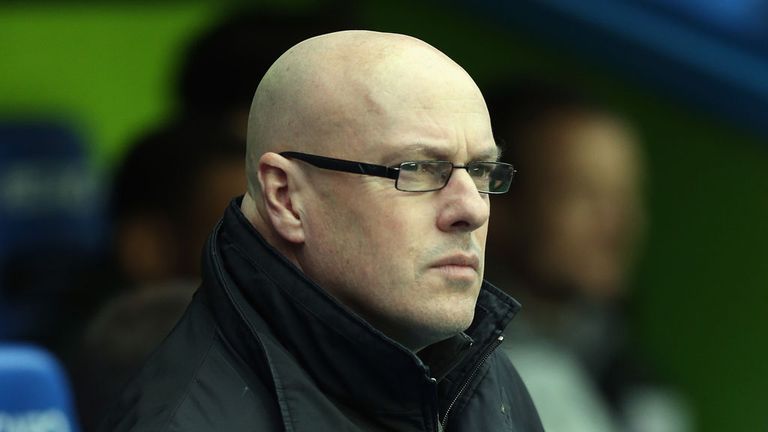 Manager of the Month for January. Sacked on March 11.
Brian McDermott became the latest Premier League boss to lose his job on Monday as Reading owner Anton Zingarevich decided that a change was necessary to keep the club away from relegation.
A number of names have been linked with the role and it is a big decision facing Zingarevich as he looks to make a swift appointment, but was it the right call to let McDermott go at such a crucial stage of the season with just nine games remaining?
The answer is that we will not know for sure until May 19 and if Reading have retained their top-flight status by that point there will be nods of approval towards Zingarevich, but the initial reaction has been an outpouring of sympathy for McDermott and it is hard for his dismissal not to leave a bitter taste.
A dignified and hard-working character, McDermott earned his chance to manage in the Premier League by rising through the ranks at the Madejski Stadium, having initially joined the club as chief scout in 2000.
He coached the Under 19s and the reserves before taking the first-team reins on a caretaker basis in December 2009 following Brendan Rodgers' departure, and he was then placed in charge permanently.
Promotion followed at the end of last season as the Royals won the Championship title, which was a remarkable accomplishment considering the competition they faced from clubs with greater resources or seemingly stronger squads, such as Leicester City and the relegated West Ham United, Birmingham City and Blackpool.
Zingarevich completed his takeover at Reading just a few weeks later and hopes were high that investment from the Russian businessman would help stabilise the club in the Premier League and then become a more established force as the years went by.
Stereotype
However, the raft of big-money signings did not arrive last summer and neither did Zingarevich splash the cash in January, opting instead to put his faith in the squad that had fought so hard over the past couple of years.
Zingarevich also placed his trust in McDermott, saying in November: "I have total faith in McDermott and he has a long-term contract so I don't see any problem."
A four-match unbeaten run in January began to move Reading in the right direction after a difficult start to the season and it looked as if they would beat the drop, with Zingarevich apparently not falling into the stereotype of the impatient foreign owner ready to sack anyone who could not deliver immediate success.
Unfortunately for Reading and McDermott that has not proved to be the case, and after sliding into the relegation zone on the back of four straight defeats, Zingarevich has followed in the footsteps of Roman Abramovich, Tony Fernandes and Nicola Cortese in wielding the axe this season.
Like Nigel Adkins at Southampton, McDermott has been a victim of his own success and paid the price for over-achievement last year which meant that this season was always going to be a severe test.
It is a sign of the times that some managers are considered only good enough to get a club promoted and are then regarded as expendable because they are not a big enough name.
Like Southampton, Reading are still in with a chance of Premier League survival, and again McDermott deserves credit for keeping them in contention despite the limitations of the squad.
There is no shortage of spirit in the Royals camp, as they have shown with a series of thrilling comebacks, and of course there is considerable talent as well, but the squad does not stand up favourably in comparison even to relegation rivals such as Queens Park Rangers and Aston Villa, while there is a gulf in class when they are set against the top sides.
Cohesive unit
There have also been questions raised about whether McDermott is tactically astute enough to succeed at this level but, in spite of everything, Reading have managed to stay competitive.
He has crafted a cohesive unit in his own image, fighting hard for everything even with a lack of Premier League experience, and it is hard to envisage that a new man, whoever that may be, will come in and spark an immediate improvement.
It is the timing of the decision that is puzzling because, while a change in boss can have a galvanising effect, history suggests it is too late in the season.
Never have a Premier League club already in the bottom three stayed up after replacing a manager later than March 1, and sometimes the situation can go from bad to worse.
Mick McCarthy was sacked by Wolverhampton Wanderers in February last year and Terry Connor promoted from assistant to fill the void until the end of the season but, to put it kindly, their survival challenge faded.
Two managers later, Wolves are embroiled in another relegation battle, this time at the bottom of the Championship table, and it is a long road back for them to the Premier League.
Zingarevich needs to not only act quickly but also act wisely to make sure he gets the right man in at Reading, and Paolo Di Canio has emerged as the favourite to take the role ahead of other possible candidates such as Adkins, Mark Hughes and Roberto Di Matteo, the other three managers to be axed in the Premier League this season.
The appointment of Di Canio would add a flamboyant personality to the Premier League and generate plenty of headlines, particularly with high-profile matches against Manchester United and Arsenal to come before the end of March.
Reading also face Manchester City and Liverpool before the end of the season in a tough run-in, although there are also a number of winnable games against Southampton, Norwich City, QPR, Fulham and West Ham.
Whatever happens between now and the end of the season, Reading fans will not forget in a hurry the contribution McDermott has made to their club. It is just a shame sometimes that the people who make the decisions do not have such long memories.