Chelsea playmaker Eden Hazard content with life at Stamford Bridge
Chelsea playmaker Eden Hazard admits he is enjoying his time at Stamford Bridge after signing from Lille.
Last Updated: 20/03/13 3:10pm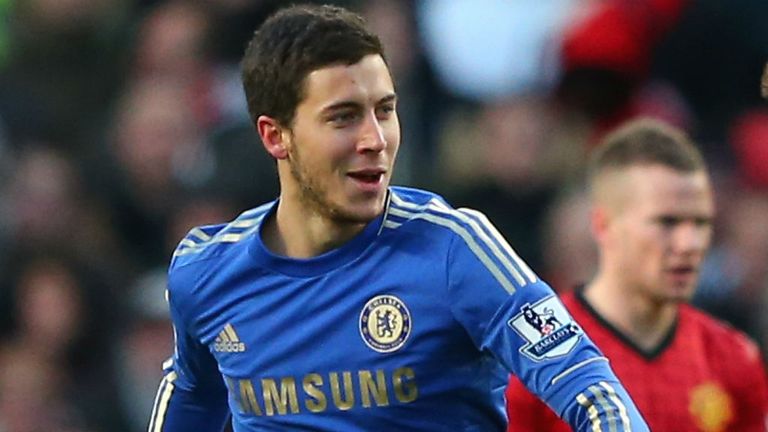 The Belgium international has played all but three of his club's 53 games this season and only missed the others through suspension after he was sent off against Swansea in the second leg of their Capital One Cup semi-final.
Hazard scored a crucial last-minute goal in the Europa League game against Sparta Prague last month and he also came off the bench to score as Chelsea came from two-down to draw 2-2 with Manchester United in the FA Cup.
March has proved to be a productive time for him in past seasons and he is in good spirits going into the business end of the season.
"My confidence is really up at the moment and I feel good in myself," Hazard told the club's official website.
"It's quite weird because, historically, March always seems to be the best time of the year for me.
"Last year I got player of the month in Ligue 1, and a couple of years ago I won the same award. I don't know why but it seems as though things come good for me at this time of the season.
"Being honest, I didn't expect to be playing in every game, but aside from the three I missed through suspension, I have.
"Thank goodness I haven't been injured so far, and let's hope that continues so I can keep playing.
"I have been on the bench on a few occasions but, of course, it's been good for me. We know we have a strong group of players and a great team.
"The manager has other choices because in attack we have a number of players who can make a difference and decide games on their own."
The 22-year-old is disappointed Chelsea were unable to make it out of the group stags of the Champions League as they attempted to defend their European crown.
But he remains confident they can still qualify for next season's competition, with Chelsea third in the Premier League going into the international break.
"It was a big disappointment going out of the Champions League so early, particularly as the same thing happened to me with Lille last season, when we were eliminated at the group stage," he added.
"It's such an important competition and that's why I feel we could have achieved a bit more this season.
"We're on the right path to qualify for next season's tournament, though, and I think if we do we have enough quality players at the club to go a long way in it.
"The ultimate objective is to go as far as you can in the Champions League."