Premier League: West Ham ready to 'buy better' after Olympic Stadium deal
West Ham co-chairman David Sullivan plans to invest in their squad after the club were awarded the Olympic Stadium.
Last Updated: 23/03/13 1:13pm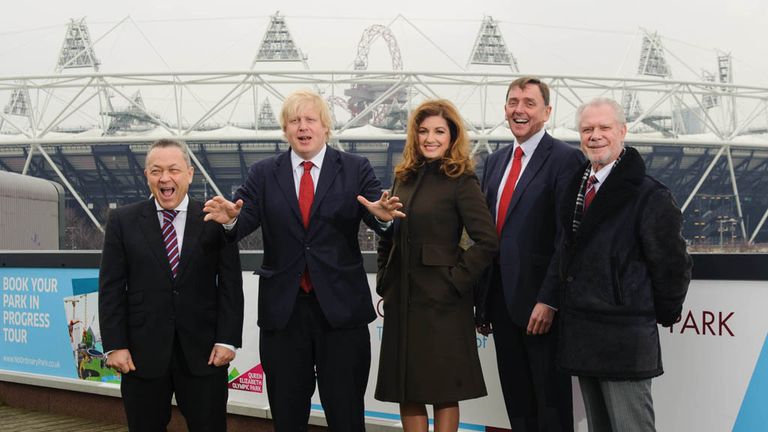 The Hammers are scheduled to move into the iconic venue for the start of the 2016/17 season once further redevelopment work has taken place to turn it into a 54,000 capacity football arena.
Sullivan believes securing UEFA Champions League football is a realistic target for the East London outfit, but admits they will always struggle to compete with the riches available to Manchester City and Chelsea.
He said: "We realise we have to buy better, spend more money. It's a gradual process. It'll take time to build the team. Hands on hearts it is very hard to compete with the likes of Chelsea and Manchester City, who have external benefactors.
"It is hard to compete with the guy who owns Abu Dhabi and doesn't pay any tax. It is difficult to compete with Roman Abramovich, who owns half of Russia.
"Manchester United is a very special club. It is hard to match those three but over time we hope to close the gap. Our ambition is still to finish third or fourth in the table.
"We put £32m in last year. As David Gold says though 'I have 150 shops not 150 oil wells'. I didn't earn £16m last year, so I am now spending my savings."
Sullivan claims he is set to hold talks to bring in a player who would be 'the biggest signing in our history' and believes that in the coming years the club will be able to spend more on new faces.
He added: "For a club of our size we spend big money. If we spend £12-14m on a player this summer, in three years we may spend £30-40m. We have a number of targets but it's about spending wisely.
"Often you need a bit of luck. I'm seeing someone on Monday, funnily enough, that if it comes off will be the biggest signing in our history. We lack goals in the team, we have got to sign a top-class striker.
"West Ham is a community club, you have to remember that. It's not all about winning with West Ham. It is about giving back, about getting people in at affordable prices and playing the right way.
"It's a difficult balance but we hope season by season it'll get better. But really it's about who spends most on wages and transfer fees and it is hard to buck that trend for more than one or two seasons."