Arsenal midfielder Abou Diaby facing nine months out with knee injury
Abou Diaby will be out for up to nine months after tearing a cruciate ligament in training, Arsenal have revealed.
Last Updated: 28/03/13 4:52pm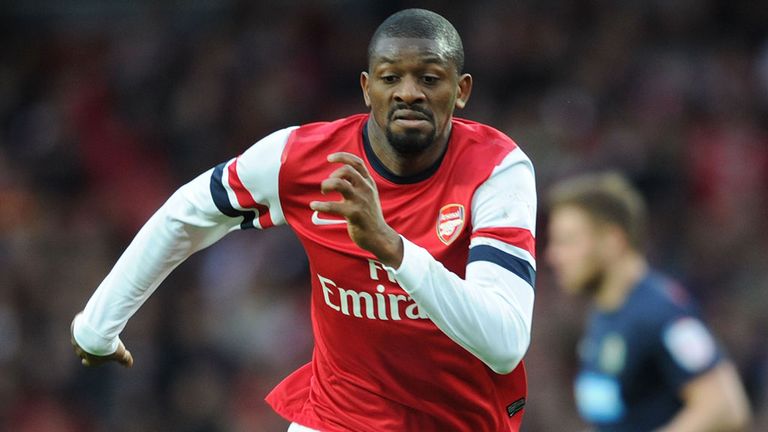 A statement on the Arsenal website confirmed the midfielder, who has a long history of injury problems, damaged the anterior cruciate ligament in his left knee in training on Wednesday.
The statement read: "Following consultations with specialists, Abou will undergo surgery to repair the injury in the near future. Abou is expected to be out for around eight to nine months.
"The thoughts and best wishes from everyone at Arsenal are with Abou, and we all wish him a successful recovery."
Diaby's latest injury means another long spell out of the game for a player who has been beset by problems since his ankle was broken in a challenge from Sunderland's Dan Smith in May 2006.
The France international was restricted to just five appearances last season, and a promising start to the current campaign was ruined by a thigh injury suffered against Chelsea in September.
Speaking in November about Diaby's ongoing problems, Arsene Wenger said: "I can tell you he has been everywhere in the world to be assessed. There is an explanation.
"He is quick, strong, has good stamina but his muscle strength is not good enough to deal with that. Sometimes little fibres go in his muscles, this is basically his problem.
"The second reason for his problems, of course, is his ankle. Since Sunderland, his mobility in his ankle has been affected."
Key midfielder Jack Wilshere is still not back from an ankle injury ahead of Saturday's game against Reading, while Theo Walcott suffered a pelvic muscle problem whilst on England duty.
"Regarding Jack? I think two weeks on Sunday. Not the next game, but the game after. We deferred his rehab and gave him an extra week's rest. Medically, it was wise to do it," said Wenger at his pre-match news conference.
Kieran Gibbs could also miss out on the clash with the Royals due to flu, as the Gunners strive to build on a couple of good performances before the international break and boost their chances of qualifying for the Champions League.