Wesley Sneijder ready for 'special' reunion with Jose Mourinho
Wesley Sneijder says he will be going up against his 'second father' when Galatasaray face Jose Mourinho's Real Madrid.
Last Updated: 01/04/13 11:22am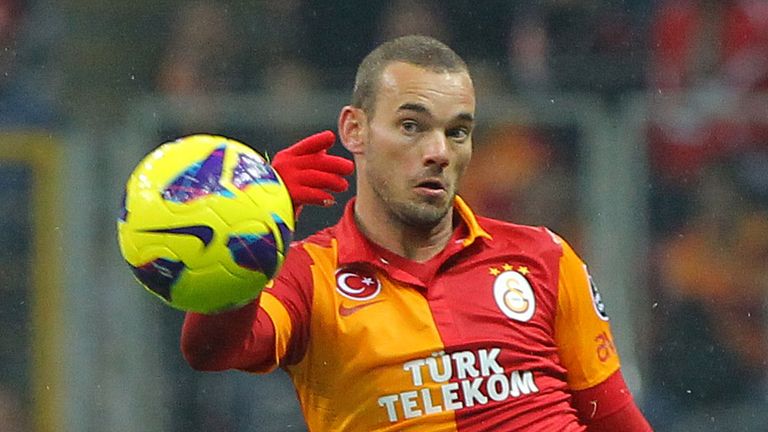 The Turkish side have been drawn against Real in the quarter-finals and the tie will be particularly poignant for Sneijder, who spent two seasons at the Bernabeu earlier in his career and also featured under Mourinho during his glittering stint at Inter Milan.
For the Holland international, the experience of going up against his former boss will hold more meaning than the fact that he is facing Real for the first time since his departure in 2009.
Asked if he has more fondness for Mourinho or Real, he told Marca: "Mourinho. Mourinho is like a second father to me.
"Look, Mourinho is a powerhouse. In football we have powerhouses who are players, and ever since I met Mourinho, we can say that there are powerhouses who are managers. And he certainly is, without any doubt at all.
"He is a very special person for me. As a coach he is incredible, number one. It was he who gave me confidence, and I enjoyed playing football like never before. And as a person he reaches you much more than in his role as coach. Mourinho is a friend."
Sneijder admits it is hard to pin point what exactly it is about Mourinho that brings the best out of players, adding: "It's not easy to explain. You have to be with him to find out just what he is like.
"The key to him is how he convinces you, how he helps you if things aren't going well for you.
"He is on top of everything and always knows how to help a player, sometimes doing one thing, sometimes another, but whatever he does it is for the good of the club, the player and the person."
Celebration
The first leg of the quarter-final tie comes at the Bernabeu on Wednesday ahead of a meeting in Turkey next week.
Despite his reverence for Mourinho, Sneijder says he will not refrain from celebrating should he find the back of the net against his former club.
"It would be a great thrill, and I'm not saying I won't celebrate a goal, because I think I will," he said.
"I don't know how I would react at a moment like that, but clearly it would be a very special goal, and anyway, not celebrating goals doesn't achieve anything."