The Nasri enigma
Not many players can produce a man-of-the-match display and still leave their manager wanting to punch them. But Samir Nasri isn't just any old player. Adam Bate looks at the reasons for the Manchester City midfielder's disappointing season.
Last Updated: 01/04/13 3:13pm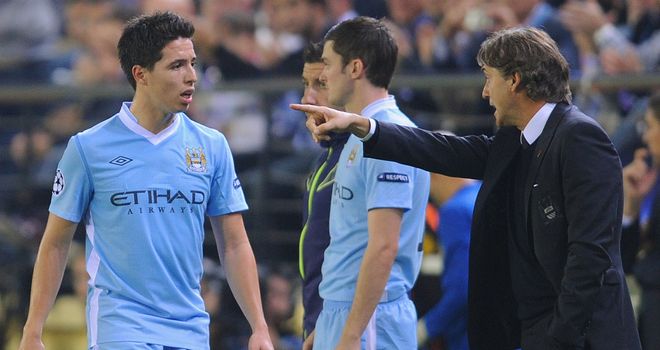 Samir Nasri may have been in fine form in the 4-0 win over Newcastle at the weekend but his manager was in no mood for praise. "I would like to give him a punch, because a player like him should play like this always, every game," said Manchester City boss Roberto Mancini. "Maybe one game sometimes he can play badly. I don't understand what was different. I can't understand how a player with his quality doesn't play like this every game."
Nasri remains an enigma and, by Mancini's own admission, his boss is struggling to work out how to get the best out of the man on a consistent basis. It's clearly a source of frustration when you've paid £24million to acquire a player. "I have spoken about this with him many times," said the Italian. "He can do better because he has quality, technique and he's strong."
Not only can he do better but he has done better. For much of last season, in fact. In City's title-winning season, Nasri ranked among the top 10 in the Premier League for assists and was in the best half a dozen for passing accuracy. David Silva is the only active Premier League player who managed as many through-balls per game, while Silva, Luka Modric and Juan Mata were the only playmakers to produce a key pass as often as the Frenchman.
Samir Nasri - PL year-on-year
 
 
Season
2011/12
2012/13
Appearances
30
21
Goals
5
1
Shots
56
19
Assists
9
4
Passes
1587
813
Through-balls
14
3
And yet, the follow-up season has been a disappointment. The player himself might point to mitigating circumstances. If the passes have lacked incision, perhaps that's an indication of a lack of movement from the strikers. If he has been failing to find the same pockets of space to pop up with goals then perhaps that reflects Mancini's tactical tinkering. Even so, the feeling persists that the problem lies in Nasri's head rather than his boots.
"The second year is always difficult to win the title again," notes Mancini. "And sometimes the player can think it is enough to play 50 per cent. We've probably had this problem this year. Last year, we scored one, two, three goals every game. Now when we have chances, we are too soft and this is not good. We should be very strong when we have chances, sometimes we take one extra touch and maybe think 'Okay, we will score next time.' But football is not like that."
Shift
Sports psychologist Simon Hartley recalls a meeting with Premier League players that illustrates this shift in emphasis. "I asked them what the aim of the game was," explained Hartley, founder of Be World Class. "They said their aim was to win. As I see it, the aim is subtly but profoundly different. It is to score as many goals as possible, while restricting the opposition to as few goals as possible."
Nobody exemplifies this change in attitude more than Nasri. Where once there was a willingness to seize the moment, there is now a tendency to leave things to others. Goals and assists are the symptom rather than the cause. The 25-year-old midfielder is not only failing to shoot or attempt the killer pass, the statistics indicate he is not even receiving the ball in order to do so. Working out the reason for that is Mancini's job but it is possible that a lack of confidence as well as desire could be behind the player's struggles. Does the nonchalant demeanour mask a fragile soul that would respond better to carrot rather than stick?
Consider Nasri's praise of former boss Arsene Wenger. "If I'm here today it's because of him," he told The Sun. "I'll never forget what he did for me. I owe him a lot. He gave me confidence not just as a player but as a man as well. That is why I really respect him and really like him because he cared about the men, not just about the players. For some managers they want you to be on the pitch and that is it. For him he wants to talk to you, to know a little more about you to give you the confidence, it was like a second love for me."
As the man himself admits, Mancini does not see management quite the same way as his Arsenal counterpart. "I'm not Arsene Wenger," he points out. "We are different. I want to win." It was a cheap shot but the message was clear - this is a man who demands more. And it's clear he continues to demand more from Nasri.
"A player of this quality could be one of the best players in Europe," he argues. "But it's not happening. Sometimes a player thinks it's enough what they did the year before and doesn't understand that every day they should improve. If you are a top player you know you can improve until the last day of your career but sometimes you get players who think it is not important to work and this is their worst mistake. Samir can do better than this year."
But it requires a certain character to want to be the man. Former France coach Raymond Domenech got plenty wrong in his spell in charge of Les Bleus but perhaps this was one man he got right. "Nasri needs to talk less and play more," Domenech told French radio station RTL. "He needs to be focused on his work to show he can be a big player. For me, he has talent but is irregular and for a big club it's not positive. Nasri is always in discussions and is interested in excessive individualism. To triumph it's necessary to believe more in your team mates and the team."
Believing in his team-mates and the team is one thing, believing in himself is quite another. And until Samir Nasri is willing to tackle that problem, he is likely to remain an unsolved riddle for his manager.