Manchester United won't repeat errors against City, says boss Sir Alex Ferguson
Manchester United's demolition by rivals City last season is inspiring boss Sir Alex Ferguson for Monday's showdown.
Last Updated: 08/04/13 7:19pm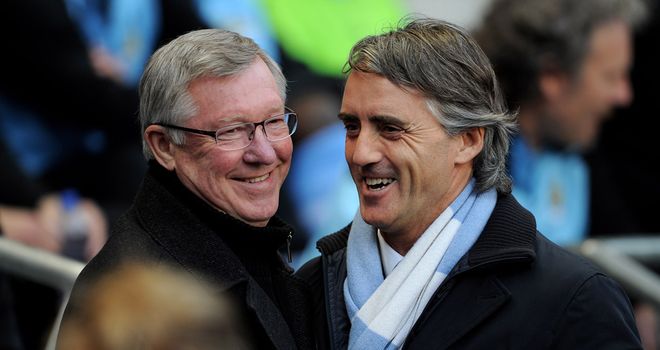 The United boss has never watched a repeat of the 6-1 home defeat and the mental scars still clearly run deeply.
Roberto Mancini's men rampaged through the home defence three times in stoppage time to improve their goal difference so crucial in swinging the title towards the blue half of the city and condemn United to a heaviest home defeat since 1955.
A 15-point cushion going into the final stretch of the current campaign should make it a little less stressful for the hosts this time round, but Ferguson, desperate for revenge, said: "We threw it away. We committed suicide.
"We were the better team until they scored right on half-time. Then we had a man sent off just after half-time and we still kept chasing the game. That was us playing with the history books instead of our brains. It will be different this time."
Ferguson will never forget the agony at the Stadium of Light last year, when his team's victory was in vain as City scored twice in the dying minutes to beat QPR and become champions.
"Any United player being involved in that game last year would have to feel it," added the 71-year-old Scot.
"We have had experience like that before against Liverpool when Giggs, Scholes and Beckham were signing autographs for their fans, who immediately tore them up in front of them.
"Those things stick in your mind. The way we lost it definitely resonates with a lot of people in the club. The only way you can get over that kind of thing is to be better.
"There was a definite purpose about them in terms of getting the title back, particularly to take it back off City."
City have been criticised for their lack of consistency since winning the Premier League, while Ferguson has been delighted with his team's response since losing out to Mancini's side.
"We have improved," said the United boss. "Even if their points total had been as good as it was at this point last season, it wouldn't have matched ours. You have to give us credit for that.
"Twenty-five wins out of 30 is a quite strong conviction of the players' performance."