Small margins
When Manchester City won the Premier League title last May, some were predicting a power shift. But the trophy looks to be heading back to Old Trafford. As the teams prepare to do battle again on Monday, Adam Bate looks at the reasons why City's momentum was halted.
Last Updated: 08/04/13 8:56am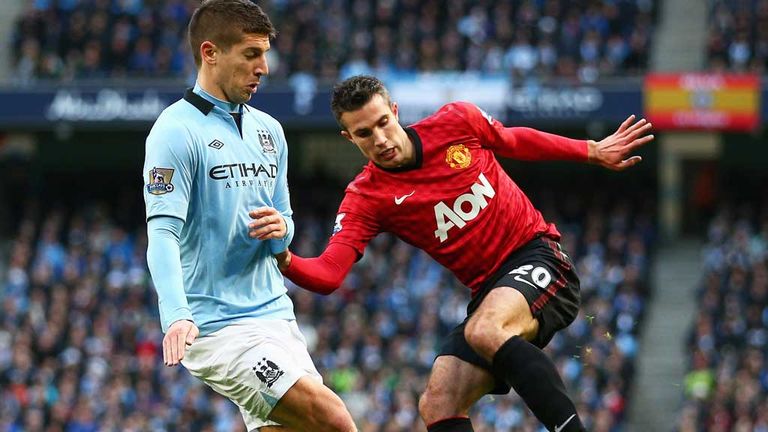 "It's hard to win one trophy, but it's even harder to continue to win more after that." Those were the words of Manchester City manager Roberto Mancini back in 2011. Two years on and the City players are finding out the hard way just how right he was.
When Sergio Aguero blasted the ball inside Paddy Kenny's near post it was supposed to herald the power shift. United had been knocked off their perch. "The noisy neighbours sent a memo that they now run this city," wrote Paul Hayward in the Daily Telegraph last May. "Power is shifting. You could feel it move."
For once, this was not just media hyperbole. The players themselves had bought into it. City skipper Vincent Kompany summed up the summer optimism. "I have signed a six-year deal," he announced. "So there are six titles possible within those years, and you know what? I want to get them all."
Kompany added: "You can walk around thinking you're a winner, but if you don't train like a winner or if you don't do everything in your life to maintain being a winner, it just stops there. I hope we just keep that obsession. Every day of my life, I'm still obsessed by this moment, by this victory at the end of the season. It's what I want to have again."
The Belgium international even went so far as to anticipate talk of a negative reaction to the triumph. "People were asking what effect the FA Cup (win in 2011) was going to have on us, having ended the club's 35-year wait for a trophy," he explained. "If the FA Cup had an impact on us winning the league, then I hope winning the league will have an impact on us winning things in Europe."
Problem
Perhaps this was part of the problem for City. While for them the Premier League title was a stepping stone to competing with Europe's best, the very act of becoming champions switched Sir Alex Ferguson's focus back to domestic matters.
"After the disappointment of last year we want to recover the title," stated the United manager at the beginning of the season. "We either win the title or come second. It's an important part of the history of our club over the last 20 years. We have to recover, as we've done many times. That's our target this year. Priority number one is to win the title back.
"When Arsenal won the title from us in 1998 we won the treble the next year. Then Chelsea came along and got off to a flyer in the league for the first two years so we changed our pre-season a little to make sure we got off to quick starts. Recovery is so important and the same applies this season."
Of course, that recovery began with the acquisition of Robin van Persie in August. "[United] are favourites for the title because they were a strong team and they bought Van Persie," Mancini was quick to point out. "They put in their squad another player that scored 25 goals." But that's not to say the Premier League champions were not partly culpable for their failure to retain the title.
Mancini's desire to introduce new tactics in an attempt to evolve the team has been well-documented and this did appear to damage the cohesion of the side in the autumn. The words of Micah Richards after a Champions League defeat to Ajax seemed to capture the mood of uncertainty.
"After the second goal, we just crumbled," claimed the England international. "The lads are very disappointed with the way we played. It is something that we have not worked on very much and it is the second time we have conceded after going to a back three. We will have to work on it. We are happy just to play, but I think the players prefer a back four."
Forward failure
Not that the defenders were solely blame. At the other end of the pitch, the return of Carlos Tevez was supposed to spark added competition for places. Instead, his fellow forwards failed to hit the heights. Aguero, Edin Dzeko and the now-departed Mario Balotelli all failed to provide the goals of last term. In fact, City's strikers have scored 25 fewer goals between them this season.
The reason? Mancini is quick to put the focus firmly on the attitude of his own players. "The second year is always difficult to win the title again and sometimes the player can think it is enough to play 50 per cent," he admitted. "We've probably had this problem this year.
"Last year, we scored one, two, three goals every game. Now when we have chances, we are too soft and this is not good. We should be very strong when we have chances, sometimes we take one extra touch and maybe think 'Okay, we will score next time.' But football is not like that."
Indeed not. Football is about small margins. Those small margins combined to ensure two teams separated by just goal difference last season could yet be divided by the biggest gap between the top two that the Premier League has ever seen. Last-minute drama has given way to a procession.
Small margins but they have added up to big change. Both managers will know that these things could shift just as easily in the other direction next season.