Sir Alex Ferguson felt Manchester United were 'unlucky' to lose to Manchester City
Sir Alex Ferguson felt Manchester United were 'unlucky' to lose 2-1 to Manchester City at Old Trafford.
Last Updated: 09/04/13 6:21am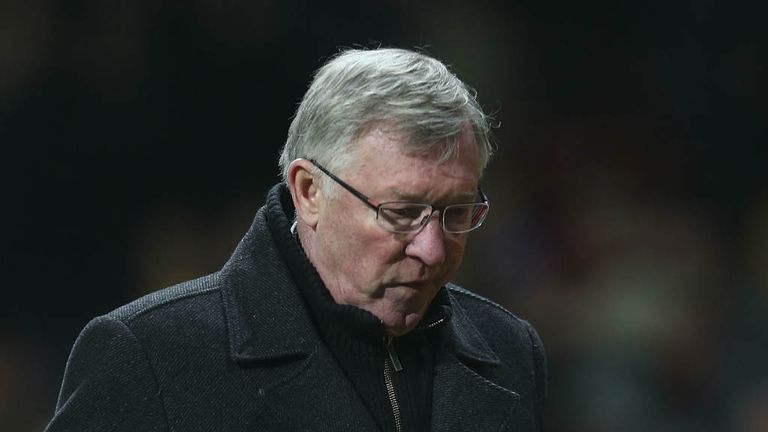 United's lead at the top of the table was trimmed to 12 points with seven games remaining after an excellent solo effort from substitute Sergio Aguero earned City the win.
Ferguson, who believes there was an element of offside about City's opener from James Milner, was satisfied with his side's performance, particularly in the second half.
"It was a very tense, competitive game, it was the two best teams in the country," Ferguson told Sky Sports 1. "The opening period was end to end, but nothing quite happened.
"We were quite dangerous a few times on the counter-attack and we maybe could have done better, but in the second half I thought we were the better team and were unlucky to lose it.
"If you look at the goals we lost, I know Aguero is a fantastic finisher but we gave him a lot of room and for the first goal certainly Tevez is interfering with play, but the linesman that side, there's no way he's giving that, but Tevez is clearly in the road of the keeper. If that's not interference, I don't know what is.
"I was pleased with the performance in the second half. I thought we did really well coming back from 1-0 down.
"If you look at the whole thing it's not a bad day for us in terms of the performance level. It was a very intense game. You don't want to lose a derby game but we're okay."
Ferguson dismissed suggestions that United's huge lead at the summit had allowed complacency to creep in and he is now turning his focus to Sunday's game at Stoke City.
He added: "We won't be doing that. If you look at the history of this club over the years, we always make it difficult for ourselves and have the supporters hanging on the edge of their seats.
"It's a 12-point lead and there are only seven games left. Each game that goes along you whittle them down.
"It's Stoke on Sunday which will be a big effort and we'll have a go."