Contrasting keepers
Their reputations are very different but David de Gea has outperformed Joe Hart this season. Adam Bate looks at the disparity between the reputations of the goalkeepers at the two Manchester clubs.
Last Updated: 10/04/13 10:25am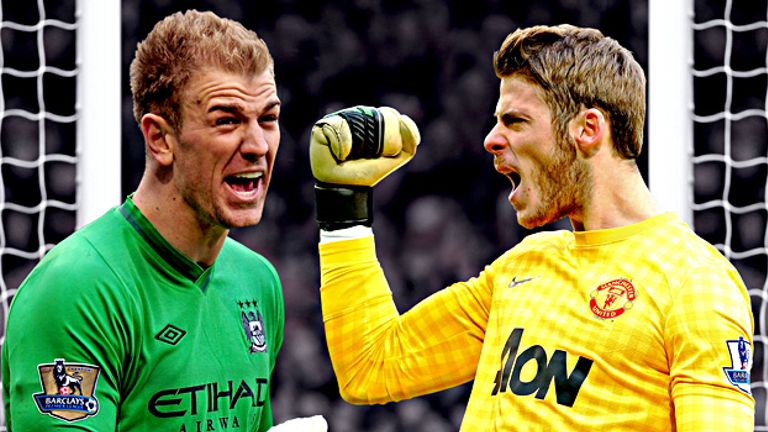 On Monday evening against Manchester City, David de Gea was just 17 minutes away from matching the longest time Peter Schmeichel ever went without conceding a Premier League goal for Manchester United. With that achievement in his sights, Ryan Giggs attempted an ambitious and ill-advised backheel and the ball soon fell to James Milner whose deflected strike flew past the outstretched fingertips of the young Spaniard. The plaudits that would come with eclipsing Schmeichel were not to be. That just seems to be the way it goes for De Gea.
"I could have bought Joe Hart for £100,000 so we all make mistakes," admitted Sir Alex Ferguson in February of last year. "If you look at the England goalkeeper situation for the last 20 years, I would think he's easily the best." Perhaps it wasn't meant to be a slight on the young goalkeeper in possession of the No.1 shirt at Old Trafford but the message was clear: Hart is just about the best around.
Indeed, the perceived contrast between the form of Hart at Manchester City and the high-profile errors of De Gea at Manchester United became a key narrative of last season's title race. For the second season running, Joe Hart picked up the Premier League Golden Gloves award after keeping the most clean sheets of any top-flight goalkeeper. De Gea, meanwhile, made an error on his league debut against West Brom and endured an ongoing struggle to shake off the stigma for the remainder of the campaign.
So while Hart was named in the Premier League team of the year, De Gea faced a summer of seemingly endless debate about his future and suggestions that Anders Lindegaard might take his first-team place. England goalkeeping legend Gordon Banks summed up the mood of many in putting Hart on a different level to either of the United options.
"I am not sure about the two keepers at United, not at all," Banks told the Daily Mail last year. "Sir Alex Ferguson could have got a better keeper than either of them. I am sure he wishes he had signed Joe, who is the best English goalkeeper by a mile and could become the best in the world. He is now making terrific saves for Manchester City, while these lads at United look as if they can let in important goals."
Premier League - Saves to shots
 
 
Player
2012/13
2011/12
David De Gea
77%
78%
Joe Hart
66%
77%
Premier League - Errors leading to goals
 
 
Player
2012/13
2011/12
David De Gea
1
2
Joe Hart
4
1

The statistics suggest that De Gea's struggles were overstated. There is often an innate scepticism of new goalkeepers and, given the nature of the position, mistakes can be amplified. Few remember, for example, that Massimo Taibi was man of the match in his first two games because of what followed in the third. In fact, the Opta stats indicate that De Gea only made two errors leading to goals in last season's Premier League. He even had a better shot-stopping percentage than Hart.
No matter. While a striker can go on a goalscoring spree to prove the critics wrong, a goalkeeper can only wait, chalking off the days without incident. As a result, even in January of this year, there was speculation that Asmir Begovic would be brought in from Stoke City to replace the 21-year-old. "Fergie is ready to dump dodgy De Gea," screamed the Daily Mirror headline after he was partially culpable for a late Tottenham equaliser.
That was in January. Now Begovic is being linked with Fulham instead and that's partly because the response from De Gea has been so emphatic. The former Atletico Madrid man conceded just one goal in his next seven Premier League games with six consecutive clean sheets taking him to the brink of that Schmeichel record. His form wasn't restricted to the league either with a series of hugely impressive saves away to Real Madrid keeping United in the tie.
Of course, analysing goalkeeping statistics is notoriously tricky. Perhaps he has just been better protected by a more disciplined United backline? But there have been plenty of stunning saves to show that De Gea deserves as much credit as anyone. As well as his heroics in Madrid, there was a remarkable stop to deny Jon Arne Riise against Fulham. "David has made some great saves over the last few weeks," noted team-mate Wayne Rooney. I know he got a little bit of criticism after the Tottenham game but it wasn't the biggest mistake I've ever seen."
It certainly wasn't. But any perceived De Gea lapse is still likely to be latched upon with a knowing raise of the eyebrow and the familiar dodgy keeper chatter. Perception takes time to catch up with reality. The statistics actually show that De Gea has maintained his high standards as a shot-stopper and the mistakes are being cut out too. He has made only one error leading to a Premier League goal this season. Hart has made four.
Fortunately for the England No.1, a strong reputation can prove equally difficult to lose as a bad one. Much like the old cliché of a rare headed goal by John Barnes, the rare mistake by Hart has entered the lexicon. Astonishingly, the City keeper's record this year is not only significantly worse than De Gea's in terms of errors and shot-stopping - it's actually significantly worse than De Gea's record last year as well.
There was an odd attempt to stop the ball against Tottenham, then he was caught out by Adam Johnson in a defeat at Sunderland and a Rickie Lambert shot in another loss to Southampton. After that mistake, City boss Roberto Mancini pointed out that it was far from a one-off. "It's not strange because he did two or three mistakes this year and this is not good for us," said Mancini. "Joe is a good keeper but a goalkeeper can't do a mistake like this." Hart himself added: "I hold my hands up, sometimes I've let the team down."
With all the focus on events at the other end of the field and the well-documented influence of Robin van Persie supposedly proving the difference between the sides, the form of the respective goalkeepers has largely gone under the radar. Despite this narrative, just five points separated City and United when Van Persie scored against Spurs in January. The gap has more than doubled since then but the Dutchman has scored just one goal in his last 13 games in all competitions.
Far more significant has been the defensive improvement at United. "If you look back to December you'd have said both teams were on a par," Gary Neville told Monday Night Football ahead of the derby. "United had been blistering in attack and were scoring so many goals but were conceding a lot. City weren't so creative and didn't quite have that spark in attack but were defensively sound. At that point you are thinking that something has got to give. What's given is that Manchester United have conceded three in their last 11 games and City still haven't got that sparkle."
Perhaps De Gea has been a bigger factor than people might think. He certainly seems to be well on the way to convincing Ferguson. "They have all improved," explained the United manager last week. "The concentration has become better and the importance of the games has helped that. But David de Gea has developed and matured as the season has gone on. We've seen a very progressive and developing young goalkeeper and next season he'll be even better."
He couldn't match Schmeichel's record and he didn't come at a bargain price of £100,000. But David de Gea deserves the Premier League winners' medal that looks likely to come his way. And given that he's four years younger than his City counterpart, don't be shocked if the United keeper continues to improve and people are soon pointing to his presence in the goalmouth as being the difference-maker for all the right reasons instead.