What next for Suarez?
Mark Buckingham considers what the future could hold for Luis Suarez after the Liverpool striker caused controversy by biting Branislav Ivanovic
Last Updated: 22/04/13 1:00pm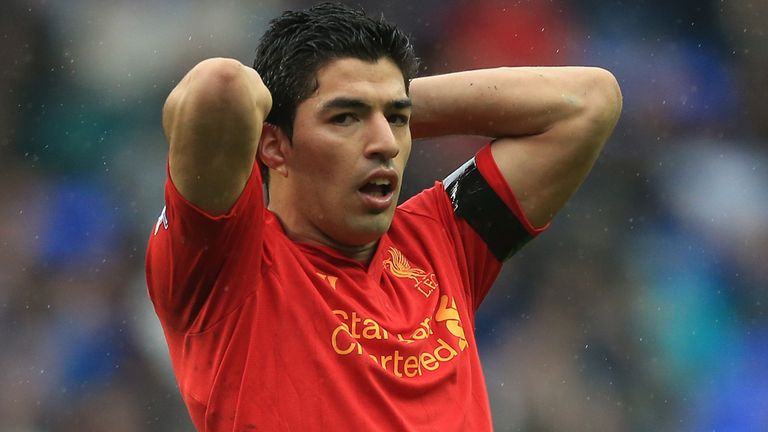 Luis Suarez has apologised for biting Chelsea defender Branislav Ivanovic, but has the striker's seemingly swift act of contrition come too late to save his Liverpool career?
Wherever Suarez goes, controversy is usually nipping at his heels and this latest inexcusable incident looks likely to lead to much agonising and soul-searching for the Uruguayan, his manager Brendan Rodgers and the Liverpool owners between now and the end of the season.
It would surely be a surprise to see Suarez pull on a Liverpool shirt again this term, with the Reds having four games left to play and the Football Association quick to launch an investigation.
Suarez received a seven-match ban for biting PSV Eindhoven's Otman Bakkal in November 2010 while he was still at Ajax and that could conceivably influence the FA's decision on the length of any suspension for trying to take a chunk out of Ivanovic.
But the severity of any punishment meted out to Suarez could provide the FA with a tricky balancing act after the 26-year-old was banned for eight matches after being found guilty of racially abusing of Manchester United defender Patrice Evra. The argument of which offence is the more reprehensible is perhaps best left for another day.
Liverpool, meanwhile, have confirmed that Suarez will be dealt with internally and his behaviour has already been described by the club as 'unacceptable' and 'not befitting of any player wearing a Liverpool shirt'.
A speedy hearing and sanction from the FA would likely give Liverpool welcome breathing space in which to make a considered appraisal of the merits of keeping Suarez or deciding enough is enough.
Outstanding player
In purely footballing terms, Liverpool surely can't afford to lose their most outstanding player by some distance and one who has repeatedly stated his commitment to the club.
Suarez's presence on Merseyside would help to attract the calibre of player in the summer which could propel Liverpool back into the Champions League and he has shown no inclination himself to abandon Rodgers' project this year despite the lack of European football on offer next term.
It then boils down to a moral question. For the sake of Liverpool's image and reputation, do they have no choice but to sell Suarez?
The early reaction from Liverpool fans appears to be mixed, with some saying he should never play for the club again and others rushing to his defence.
It could be argued that it would be difficult for Liverpool to justify selling Suarez based purely on this incident.
After all, the Reds signed Suarez in January 2011, just a few weeks after he had been banned for the same offence. It could also prove dangerous, and potentially even more damaging to Liverpool's reputation, to imply biting an opponent is a more heinous crime in football parlance than racially abusing an opponent.
The wriggle room for Liverpool could be created by saying that, on the back of his past misdemeanours, it is one controversy too many and that Suarez is failing to learn his lesson or repay the support and faith the club have shown him.
Where Liverpool could look for guidance on this unwanted, but not entirely unexpected, dilemma, and I say this quietly and with trepidation, is a few miles down the East Lancs Road.
Disciplinary controversies
Over the past two decades, Manchester United have overcome disciplinary controversies involving influential players with no major stain on their brand or long-term detrimental impact on their level of success.
Eric Cantona was infamously banned for eight months for a kung-fu kick on a Crystal Palace fan and was once sent off in successive games.
Another former United captain Roy Keane was no stranger to unsavoury incidents, from his horrendous challenge on Alf Inge Haaland to his wild-eyed haranguing of referee Andy D'Urso.
Cantona only left Old Trafford when he retired, while Keane's departure from United was as a result of comments he made about his team-mates for an MUTV programme which was never broadcast.
United's reputation never suffered lasting damage as a result of the controversial behaviour of those players and, as the club prepare to wrap up a 20th top-flight title, it has not derailed their trophy juggernaut.
Liverpool, in contrast, have now gone 23 years since being crowned champions and have watched United eclipse their record for the number of top-flight titles deposited in the trophy cabinet.
Selling Suarez, even allowing for the extra transfer funds it would generate, is unlikely to lead to Liverpool closing the gap on their rivals next season. It could even see that gap widen.
Keeping Suarez leaves Liverpool open to accusations of failing to uphold some of football's finer values and with no guarantee it won't happen again.
Success always comes at a price. Liverpool have to decide whether Suarez's occasional besmirching of their good name and reputation is a price worth paying.