Ligue 1: Leonardo baffled by Thiago Silva's sending off for PSG
Leonardo has described the sending-off of PSG's Thiago Silva in Sunday's 1-1 draw with Valenciennes as "unacceptable".
Last Updated: 06/05/13 2:20pm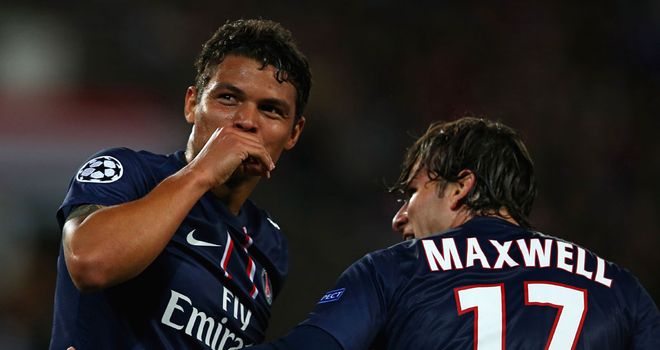 The capital club are still very much in pole position to win the league, with a lead of seven points over Marseille with only three games left to play.
But Leonardo is concerned by the fact that PSG have had four players sent off in as many games, including three in the last two, with Thiago Silva's red following the dismissals of David Beckham and Marco Verratti in their previous Ligue 1 game against Evian.
He was especially critical of referee Alexandre Castro, taking charge of his first Ligue 1 game since April 21 and only his 10th of the season. Castro sent off the Brazilian after he appeared to complain about earlier bookings for his team-mates Jeremy Menez and Clement Chantome.
"What happened is beyond any logic," Leonardo told L'Equipe. "If we continue like this, we will have 10 players suspended. This is impossible and unacceptable.
"This is a referee who has had 10 games, and given 48 yellow cards and five red - today was a quiet game for him with seven yellows and a red. I do not understand why we have appointed a referee who has only taken charge of nine matches for a game like this."
Marseille's win over Bastia keeps alive their faint hopes of pipping PSG to the title. Asked if PSG would still be champions, Leonardo added: "(The suspensions) start to slow our progress. With five players suspended, it is necessarily more difficult."
PSG coach Carlo Ancelotti was also mystified by the dismissal of Thiago Silva, adding: "The red was a little weird. Thiago had a little reaction, but nothing special. He touched the referee's arm. It was nothing."