Jamie Carragher believes he is leaving Liverpool in a healthy position
Jamie Carragher believes Liverpool have started to show signs of progress during his final season at the club.
Last Updated: 06/05/13 11:58pm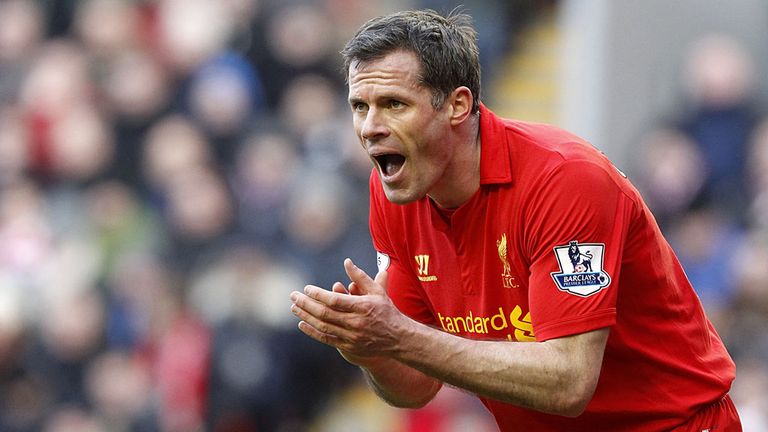 The 35-year-old retires in a couple of weeks and manager Brendan Rodgers must find a suitable replacement for a centre-back with 735 appearances for the club.
But Carragher feels the Liverpool defence has become more resolute in recent months and they claimed their 15th clean sheet of the season in Sunday's draw with near-neighbours Everton.
Rodgers has turned to more experienced players since the start of the year and Carragher is confident the side can succeed without him if they continue this approach.
"Looking at the season I think if you remember the start it was difficult with the transfer window situation," said Carragher, referring to Andy Carroll's loan to West Ham and a failed bid for Clint Dempsey.
"From the start we had a lot of young lads in there and it wasn't easy.
"The second half of the season there has been more experience and the manager has implemented his ideas more and you can see that in results in and around January-February time we went on a decent run.
"The manager made a couple of signings (striker Daniel Sturridge and midfielder Philippe Coutinho) in January which gave us a boost so we're showing positive signs but we have to take it into next season."
Carragher is pleased with Liverpool's defensive record, but admits they did not perform well at both ends of the pitch against Everton.
"You want to score goals and keep clean sheets. Myself and Pepe (Jose Reina) have always enjoyed keeping clean sheets and breaking records," Carragher said.
"I think only Manchester City are ahead of us (in clean sheets).
"But it is about coming together as a team and winning games, whether you keep clean sheets or score lots of goals the main thing is getting three points.
"We've kept a clean sheet but not scored. We'd have loved to have won 2-1 without keeping a clean sheet."