Ryback clobbers Cena with chair; Lesnar clobbers Triple H's office with sledgehammer
Ryback sent a message to John Cena, while the tension is rising between Brock Lesnar and Triple H.
Last Updated: 12/05/13 3:34pm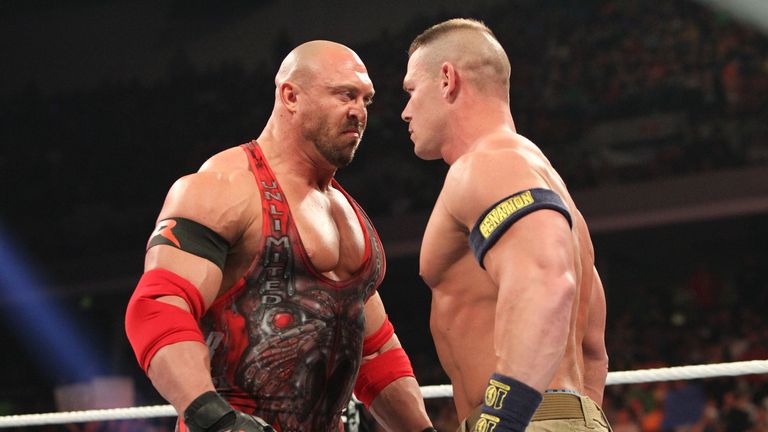 Many members of the WWE Universe believe so after an explosive episode of Raw, which began with the "Human Wrecking Ball" confirming the stipulation for his Extreme Rules match with the WWE Champion... it will be a Last Man Standing Match.
He later showed that he is a real contender for the belt with an impressive win over Kane, although his victory celebrations were interrupted by the arrival of The Shield, who earlier had kept their unbeaten record intact with another impressive win over Kofi Kingston and the Usos.
Ryback fled the ring as The Shield battled Kane and Daniel Bryan and Cena soon arrived to even the odds - but the WWE Champion was then clobbered with a chair by Ryback as the big man made an ominous statement of intent ahead of Extreme Rules.
There was more clobbering going on as Brock Lesnar visited WWE HQ to confront Triple H in his workspace.
The King of Kings wasn't around, so the "The Beast Incarnate" demolished the office with a sledgehammer. Triple H then made his way to the ring to issue an open invite to meet him in his "other" office...
Earlier, Alberto Del Rio beat World Heavyweight Champion Dolph Ziggler via disqualification after a 20-minute battle which only ended when Big E Langston intervened to save The Showoff from the Cross Armbreaker. Jack Swagger then attacked both Superstars with a ladder in an ominous potential preview of their three-way bout at Extreme Rules
Mark Henry issued a formal challenge to Sheamus for Extreme Rules - and it's fair to say that the Irishman didn't need much time before accepting. The Celtic Warrior then beat Wade Barrett in a match before being attacked by Henry with a belt.
Elsewhere, Randy Orton defeated Damian Sandow only to be attacked by the Big Show as he left the ring; Antonio Cesaro saw off Zack Ryder; and Divas Champion Kaitlyn & The Funkadactyls overcame the team of AJ Lee & The Bella Twins.
And Fandango walked out of his match with R-Truth after the ringside "judges" - Chris Jericho and Tons of Funk - gave him low scores. What a diva!
Extreme Rules booking details
WWE Extreme Rules will be shown on Sky Box Office HD (752) and Sky Box Office (743) on Sunday, May 19 (Monday morning).
WWE Extreme Rules will be repeated on Sky Sports Box Office (channel 743) - but NOT on Sky Sports Box Office HD (channel 752) - between 9am on Monday, May 20 and 9pm on Saturday, May 25. Repeat showings will last for three hours.
The event is priced at £14.95 for UK customers, €21.95 for customers in the Republic of Ireland.
You can order WWE Extreme Rules by pressing the Box Office button on your remote from Friday, May 10. Select 'sports & events' and follow the on-screen instructions.
Viewers are able to call 08442 410 888 to book WWE Extreme Rules from Friday, May 10. (There may be an additional charge for telephone bookings).
Cable customers should contact their local cable operator.