Top ten signings
The end of the most glorious of eras at Old Trafford is nigh. It's been tough picking Sir Alex's greatest ever signings at Old Trafford but we've given it a go...
Last Updated: 08/05/13 2:10pm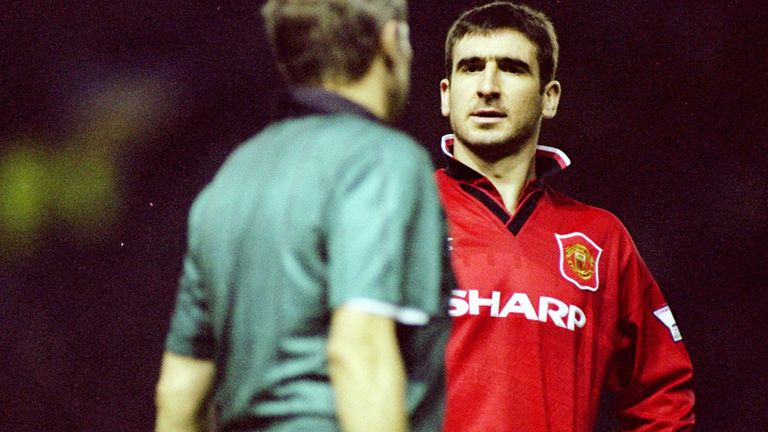 ROY KEANE - £3.75m from NOTTM FOREST - 22/7/93
Why ignore the obvious? Signing highly-regarded Keane was hardly a stroke of maverick genius, but persuading the Irishman to abort an all-but-done move to Blackburn not only bagged Fergie the most sought-after midfielder of the day and prevented him joining a title rival; it had the added bonus of riling old sparring partner Kenny Dalglish to such an extent that this grizzled Glaswegian was driven to talk about himself in the third person, ranting at Keane: 'Nobody does this to Kenny Dalglish'. More than just a new Bryan Robson, in Keane Fergie found an on-pitch extension of his own iron will, and the cantankerous Corkman often broke taboos his manager could not. Keane's insistence on breaching the club's wage barrier, a withering attack on the corporate quarter of Old Trafford and unforgiving assessments of emerging youngsters' complacent attitudes were all met with the Fergie's blind eye. Eventually, of course, Keane's mouth outlasted his legs and his exit came with indecent haste in the autumn of 2005 following a notorious MUTV interview. By then, he had amassed 12 major titles - nine as captain.
DENIS IRWIN - £625,000 from OLDHAM - 8/6/90
In the days of rigid 4-4-2 formations, the full-back's brief was a simple one: support your winger, don't do anything silly, give us 6/10 week in-week out. Irwin, signed after impressing Fergie during Oldham's FA Cup semi-final double-header against United in the spring of 1990, rewrote the rule-book. Seen and not heard, he may have been, but the son of Cork regularly produced performances a couple of notches up from the expected without compromising on consistency. At home on either flank, Irwin could pass, tackle and cross with both feet and was a trusted dead-ball specialist even in sides featuring the likes of Eric Cantona and David Beckham. In keeping with a man whose demeanour was more rural priest than Premier League star, Irwin was not one to sing his own praises. So let his statistics tell a story: 529 appearances, 33 goals, 7 league titles, 3 FA Cups, 1 League Cup, 1 European Cup, 1 Cup Winners' Cup.
ERIC CANTONA - £1.2m from LEEDS - 27/11/92
If you don't ask, you don't get. Fergie's off-the-cuff inquiry about Cantona's availability came after he bristled at an approach from Leeds for Denis Irwin. Whatever the truth about the then-champions' decision to sell, rarely can the Scot's chutzpah have been so richly-rewarded. Prior to signing Cantona the United boss had pinned his hopes of salvaging his side's latest faltering title challenge on Sheffield Wednesday's David Hirst, only for the Owls' obstinacy to scupper a deal. Instead of an old-school English No 9 Fergie stumbled on a ready-made hero in search of his own story, and in Manchester the nomadic Cantona found a home. The Frenchman immersed himself in the city's "insane love of football, of celebration and of music" and, on the pitch, justified the indulgence of his ego by leading United to a first title in 26 years. A first double followed 12 months later and, after an eye-boggling assault on a Crystal Palace fan cost United his services on the '95 run-in, Cantona returned to inspire another double - winning goals against title rivals Newcastle and FA Cup final opponents Liverpool cementing his status as a man for the grand occasion. Legend written, Cantona was not about to ruin it, and after a fourth title in '97 he sauntered off into the sunset - collar-up - at the age of 31 having scored 82 times in 185 appearances.
OLE GUNNAR SOLSKJAER - £1.5m from MOLDE - 23/7/96
Few could have anticipated the little-known Norwegian's impact when he arrived through the back door even as Old Trafford's red carpet was being rolled out the front for Alan Shearer. The Geordie's second - and final - snub forced Fergie into fielding Solskjaer sooner than he might have wished, but the striker's eye for goal was immediately obvious. Six minutes after making his debut as a substitute against Blackburn, the then 23-year-old gave a tantalising glimpse of cameos to come with his first United goal. In fact the caricature of Solskjaer as impact player does him a disservice - just 29 of his 126 goals came from the bench - but Fergie had found a player with a killer combination of qualities: a natural ability to finish, and the temperament to approach just the same an FA Cup final start and a half-hour outing against Leicester. And the player's greatest moments - four goals in 12 minutes at Nottingham Forest in 1999, the Nou Camp winner just months later - will forever mark him as United's supersub.
PETER SCHMEICHEL - £550,000 from BRONDBY - 1/7/91
The Dane's haul of major honours during eight years at Old Trafford runs into double figures, but his true worth is often measured against the mix-and-match collection of failed replacements identified and swiftly jettisoned by Sir Alex: 16 goalkeepers have appeared in the Premier League for United since Schmeichel departed with a treble in his trusty grasp back in '99, and only Edwin van der Sar has come close to filling the great man's tailor-made XXXL jersey. Signed 12 months before shooting to wider prominence during Denmark's shock Euro 92 success, Schmeichel soon became the foundation on which United's re-emergence as a major force was built. As adept at one-on-ones as sprawling stops, and with a javelin-throwers' arm which set his team-mates away on countless counter-attacks, he even managed to become one of...one?...keepers to patent a personal move - the Schmeichel star jump. An undignified late-career fling with Manchester City may have dulled United fans' affections for a forthright character, but few would quibble with Fergie's assessment: " At his best, i don't believe a better keeper has played the game. A giant figure in the history of United and our debt to him will never be forgotten."
RUUD VAN NISTELROOY - £19m from PSV - 1/7/01
Hardly one from the bargain basement, but Fergie's willingness to bust the British transfer record for van Nistelrooy is one of the best examples of the Scot's unshakable faith in his own judgement. Tracked from the age of 16, van Nistelrooy had apparently been bagged at long last by the United boss when a knee injury forced the cancellation of his 2000 transfer hours before a planned press call. Undeterred, the striker ploughed on in his attempts to make Holland's Euro 2000 squad, and days later his damaged knee gave way altogether. Fergie was not about to give up the chase, taking on the role of pen pal during van Nistelrooy's rehabilitation and even once showing up at his front door. "That did it for me," the player would later remark, and late interest from Arsenal was inevitably rebuffed. Van Nistelrooy netted twice on his league debut, was named PFA Player of the Year in his first season and became the second-fastest post-war United player to 100 goals. That was one record Denis Law kept, but van Nistelrooy soon eclipsed him as the club's top European scorer. By the time he became a casualty of Fergie's search for a new system after two trophy-less seasons, van Nistelrooy had netted 150 times in 215 appearances.
GARY PALLISTER - £2.3m from MIDDLESBROUGH - 29/8/89
Steve Bruce is often suggested as the best player of the modern-era never to win an England cap, but equally baffling is the failure of his erstwhile United partner to earn more than 22 international appearances. Fergie persuaded his board to pay more for a defender than any British club had previously but the Scot - who would make a profit on the player nine years later - knew United's hard-earned was being spent on a partnership rather than a single signing. Pallister's fleet-footed grace was a perfect fit for bruiser Bruce's head-in-where-it-hurts bravery and, after a season spent honing their chemistry, the pair were at the heart of United's defence during a six-year spell which brought eight major trophies. Recognised by his peers with the PFA Player of the Year award in '92, the Teessider went on to win a further title following Bruce's exit and had a handy habit of contributing key goals - including two against Liverpool on the '97 run-in. Pallister made 437 appearances, but the highlight of his United career? Surely Fergie's acknowledgement that the centre-half would have beaten any player of his Old Trafford era over 100 metres.

WAYNE ROONEY - £20m from EVERTON - 31/8/04
Rooney's arrival represents a classic instance of both Fergie's pulling power and his willingness to put United's money where other clubs' mouths are. Back in 2004 you would have gone far to find a top manager dissenting from Fergie's view that Everton's 18-year-old man-boy Rooney was "the best young player this country has seen in the past 30 years". Yet while interest from everywhere bar Newcastle failed to manifest itself in the form of an offer, United bidd £20m up front and a possible £7m to come. Not for the first time, once Fergie had shown his hand the rest folded - and for good reason. A wage packet worth way more than the reported £12,000-a-week on the Toffees' table doubtless had its attraction to a teenage Rooney, but perhaps only Fergie possessed the sure-footedness to persuade the youngster to ditch his lifelong allegiance to Everton at the drop of a red-and-black hat. The rewards were instant. Rooney scored a hat-trick on his debut against Fenerbahce and, though it took two seasons for United to escape a torpor unparalleled in the Fergie era, at the time of writing the England star's 197 goals have helped him amass eight major honours and a string of personal awards.
CRISTIANO RONALDO - £12.24m from SPORTING LISBON - 12/8/03
'Fergie, Fergie, sign him up!' was the cry from the Stretford End when the Brazilian Ronaldo's hat-trick for Real Madrid ended United's Champions League campaign in April 2003. Four months on, and news broke of Ronaldo's arrival - Cristiano Ronaldo. If there was a sense of anticlimax among United fans, the teenage Portuguese put paid to it in a first Premier League appearance which destroyed Bolton and had seasoned United watchers walking away from Old Trafford discussing the best debuts in the club's history. Few even then could have predicted this Ronaldo would get anywhere close to his superstar namesake's achievements, but by the time he was sold six years later his prodigious talent, 118 goals and propensity for winding up opposition supporters had left a trail of destruction around the Premier League. More than that, he had helped deliver Fergie's second European Cup and - at £80m - was the most expensive footballer on record.
NEMANJA VIDIC - £7m from SPARTAK MOSCOW - 4/1/06
"Good defenders win you things", was Ferguson's understated choice of words to explain his signing of the Serbia centre-half. Sixteen months later United were celebrating a first title since 2003, and Vidic had proved his manager's point. Personnel-wise, there was little between the squad which finished the 2005/6 season trailing in Chelsea's wake and the one which thumped Fulham on the opening weekend of the following campaign. But Vidic and Patrice Evra had been bought in January and given an at-times uncomfortable four months to get up to speed, and Fergie's foresight paid handsome dividends. Fiorentina were United's only real rivals for the granite-jawed defender, but by the summer of 2007 he was so highly-prized a new five-year deal was in the offing and Vidic and Ferdinand had formed as effective a pairing since the days of Bruce and Pallister. A fearlessness at either end appealed to supporters, and the fact that Vidic's occasional fallibility resulted in a rash of red cards against Liverpool only added to his cult status. Five league titles, three League Cups and a European Cup later, the Serb remains United's key defender.