Mancini's saviour?
Daniel Storey argues Manchester City must win Saturday's FA Cup final to turn their season to tolerable from totally unacceptable. Roberto Mancini says silverware and second place would represent a good season but is he setting City's bar too low?
Last Updated: 10/05/13 12:47pm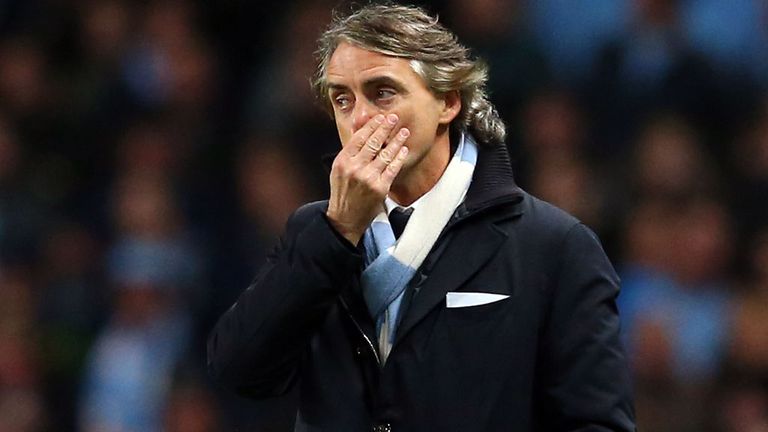 Speaking before his side's Premier League game against West Brom on Tuesday, Roberto Mancini was quick to dispel the typical clichéd statement that his club were 'taking one game at a time'. "It is difficult and (the Swansea match) was difficult as our concentration is on the final," the Italian said, showing refreshing honestly in admitting that he couldn't give two hoots about Premier League matches with the cup final approaching.
In many ways, his view is completely understandable. The FA Cup aside, City's season has been close to an unmitigated disaster. In the Premier League, they have failed to progress as rivals United have responded in effective (if not devastating) fashion, but United's victory has been assisted by Mancini's inability to kick on at the Etihad. City have eight less points, have scored 26 less goals and conceded four more than at the same stage last season.
In the Champions League, things have been even worse. Montpellier, Dinamo Zagreb and Nordsjaelland were the only other clubs to end their campaign winless, and despite Mancini's gripes about inadequate spending during last summer, those three teams are operating on a markedly different financial level. One only has to look at Paris St Germain's return to Europe's premier competition (knocked out after two draws with Barcelona in the quarter-final) to view City's realistic attainment.
The FA Cup therefore provides Mancini and City an opportunity to save their season. The Italian will point to it when discussing summer transfer options with Sheikh Mansour and Khaldoon Al Mubarak as evidence that he continues to provide the trophies that his continued presence depends on, and the owners will bear it in mind when formulating their plans for the summer. Saturday's result may well be a crucial bargaining tool.
The FA Cup has been unusually kind to Mancini. In both 2011 and this season his City side were not forced to face top four opponents until the semi-final stage, and on both occasions at that stage faced a Manchester United and Chelsea side that were still fighting on a European front. Additionally, City have been lucky to face Wigan and Stoke in their two finals, both clear underdogs on the day. Mancini's side are strong favourites to beat a Wigan team that now have a huge relegation fight on their hands - will their minds be elsewhere?
However, does Mancini's focus on Saturday not simply highlight how poor they have been this season? Is it not a rather sad state of affairs that after spending £54million in the summer (and £292million since joining the club) City's eggs are in one basket? The Italian can wax lyrical about his love of the FA Cup now, but at the start of the season there is no doubt that it would have been the club's (and presumably the manager's) fourth choice - the Premier League title, Champions League and top four place would all have been higher on the priority list. With Champions League participation over by the end of November and a title race that never materialised, it is no surprise that Mancini has highlighted the importance of Saturday's game.
Mancini has moved on the offensive this week when discussing the final: "It is not a question of salvaging the season. You never know how good your season will be until after the last game." I'm sorry Roberto, but I just cannot agree with this. Manchester City's last game is against Norwich at home on May 19th, but there will be nothing riding on it.
Instead, the success of City and Mancini's season will be decided on Saturday. And, to be honest, it will determine the difference between barely acceptable and unacceptable. That may be the difference in stick or twist in the corridors of power at the Etihad. One thing is for sure, this will be the last season in which the FA Cup is enough to sate the demand for meaningful success.
"If we finish runners-up and win the FA Cup it would still have been a good season when you consider all the problems we have had this season." There are plenty of managers in European football who would have taken Mancini's "problems", that's for sure.