Exclusive Q & A with Oscar Cardozo
Ahead of Wednesday's Europa League final in Amsterdam we caught up with the man Chelsea need to stop in the Dutch capital. Benfica striker Oscar Cardozo was in candid form when he granted us an exclusive Q&A.
By Francisco Acedo
Last Updated: 15/05/13 10:53am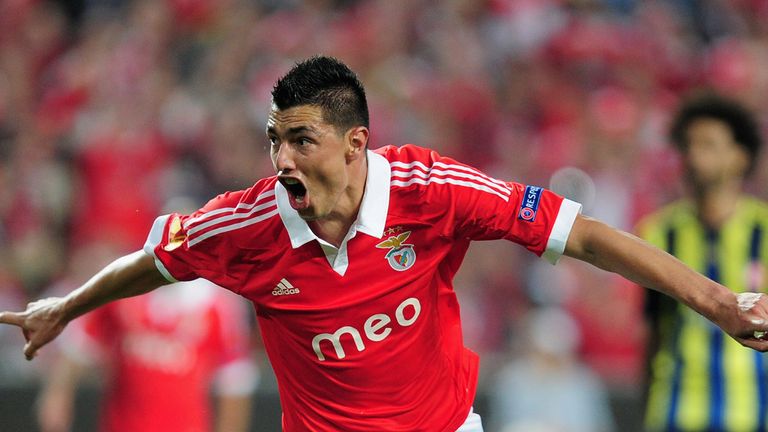 How much extra motivation does it give you that Chelsea are the current Champions League holders, you must be desperate to deny them the double?
A final is a final because the two teams have the same chance of victory. But I think that Chelsea arrive with more pressure in this match than us. They have prepared a squad to win the Premier League and they never had a serious chance of doing it.
What do you expect from Chelsea and what can Chelsea expect from Benfica?
For me the danger with Chelsea is in the connection between midfield and attack, they have a lot of swiftness. Perhaps the English fear our defensive level. Today it is very difficult to beat Benfica.
Tell us about David Luiz and Ramires as players and as former team-mates.
We know David Luiz and Ramires perfectly. They are good footballers and I am totally convinced that this final will be special for them. David Luiz is very serious in his work and Ramires has demonstrated his level for years.
Have you been surprised by the impact they have had at Chelsea?
You cannot be surprised about the performance of David Luiz with Chelsea. I was convinced that he would triumph in English football. In Benfica he demonstrated he could play in a superior league and his exit was painful. But it is normal that a player wants to improve professionally and it is very difficult to reject a proposition like that.
There is talk that Luiz will one day be Chelsea captain - did you see those elements in his game at Benfica?
With his character I believe that he will be the successor of John Terry at Chelsea in all respects. In the dressing room he was always a force. I think he is one of the most important players there.
Do you think Chelsea were lucky to win the Champions League last season?
Chelsea had a lot of luck in the semi-final against Barcelona because in 180 minutes they have not developed a good game but in football these things happen. It was unjust but the goal of Ramires was gold.
Have you had any real tough games or good memories against any Chelsea players for club or country?
I have played matches with Paraguay against the Brazilians and also many matches against Spain and England. Historically it is not positive for me, but now this final is different. In the World Cup 2010 I missed a penalty against Spain (Fernando Torres and Juan Mata were playing) that was decisive.