Interim vindication
Rafael Benitez has delivered the trophy he craved after seeing Chelsea win the Europa League on Wednesday evening. Adam Bate believes the Spaniard struck the balance right between short-term and long-term goals and can feel vindicated by this success.
Last Updated: 16/05/13 8:57am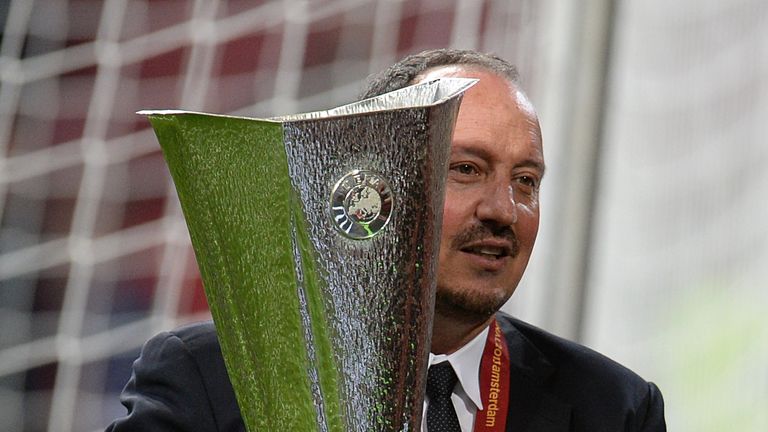 In some ways, the setting of Amsterdam - home of Ajax - could not have been a more incongruous one for the lifting of Rafael Benitez's only trophy in charge of Chelsea. The location for the consummation of a marriage of (in)convenience steeped in the values of pragmatism hardly befits the birthplace of something as beautiful as Total Football. And yet, it is difficult to begrudge Benitez his moment. As Branislav Ivanovic's header looped into the net, this looked a lot like vindication.
In appointing a man with a short-term mandate, it seemed inevitable there would be accusations of not looking beyond the next fixture let alone failing to focus on the long-term needs of Chelsea. Benitez's CV-boosting lust for trophies would hamper the club's Premier League progress, or so the story went. A home defeat to the abject Queens Park Rangers and a late collapse against the might of Reading seemingly proved the point.
But ultimately, no harm was done. Champions League football was duly secured with a game to spare, leaving two London rivals to scrap over the remaining spot while Benitez was busy adding to the club's trophy collection over in the Low Countries. Of course, the Europa League cannot hope to compete with that night in Munich 12 months earlier. And yet, it was arguably the biggest prize available to Benitez when left to sift through the wreckage of a limp defence of that title in November.
So with Roman Abramovich assuaged and Chelsea supporters getting to enjoy the dubious pleasures that come with late-night parties in Amsterdam, Benitez has undeniably fulfilled the short-term - "interim" - remit. What's more, and altogether more curiously, he has also embarked on a process that has gone some way to improving the club's long-term prospects in regard to several thorny issues.
Transition
There was always something baffling about the drama that accompanied the endless speculation regarding the future of Frank Lampard and John Terry. While Andre Villas-Boas made a mess of the transition process and Roberto Di Matteo shelved it altogether, Benitez tackled the problem with a minimum of fuss. In this regard, the knowledge that his stay would be brief seemed a strength rather than a weakness with the dressing room giants prepared to play along.
Lampard's 14-goal contribution under Benitez has been significant and the veteran midfielder looks set to earn a new contract after all. But having been forced to endure the rotation system and coupled with Terry's injury problems, there is still a sense of the cabal being broken - even if JT did still get his kit on for the celebrations. That's something Jose Mourinho may wish to reinstate but nevertheless it seems far more feasible that the iconic duo can emulate Ryan Giggs and Paul Scholes at Manchester United rather than prove a hindrance to the development of a younger squad.
And that squad is developing. David Luiz is coming into his own in a holding-midfield role and there is more organisational awareness throughout the team. The players are aware of it. "I started playing in the last month with Robbie (Di Matteo) but afterwards, when Rafa came, I learned a lot of things," right-back Cesar Azpilicueta told the Daily Mirror. "He taught me about positioning, tactics, reading the game, the best way to do the right things."
Azpilicueta was forced to defend more than Benitez might have liked as Chelsea were pressed back throughout the first half by an enthusiastic Benfica side in Amsterdam. But they held firm before punishing the Portuguese through a man relatively revitalised under his fellow Spaniard. Fernando Torres showed strength, skill and composure to open the scoring - it appears Benitez has even got him doing a passable impression of the Fernando Torres of 2008.
Celebrations
Thanks to Ivanovic's stoppage-time winner, it all proved enough to ensure that the interim boss signs off with a trophy. He joined in with the passionate post-match celebrations and made a point of hugging everyone he could find to grab. But he still cut an uneasy figure. His name was not chanted by the supporters and the playing staff were more concerned with giving veteran full-back Paulo Ferreira a good send-off than indulging their outgoing manager.
Those same supporters who will attempt to drink the 'Dam dry in the aftermath of this triumph might not want to focus on Rafa's role in this win. They'll be hoping he's far from their thoughts when they go on their next European city break - for the UEFA Super Cup in Prague this coming August.
But the man himself can be forgiven a wry grin wherever he is on the evening of August 30. After all, in a role reversal of events at Inter in 2010, there is every chance that Jose Mourinho will be enjoying the benefits of a cheap cup final that his predecessor had taken the team to. With Benitez far from Stamford Bridge, perhaps then will be the time for everyone at Chelsea to toast the interim boss who actually managed more games in charge than Luiz Felipe Scolari, Guus Hiddink, Andre Villas-Boas and Roberto Di Matteo. A reputation enhanced, however unlikely it may have seemed.