Brand Beckham
David Beckham may have hung up his boots but his huge earning could even increase in retirement.
Last Updated: 17/05/13 2:16pm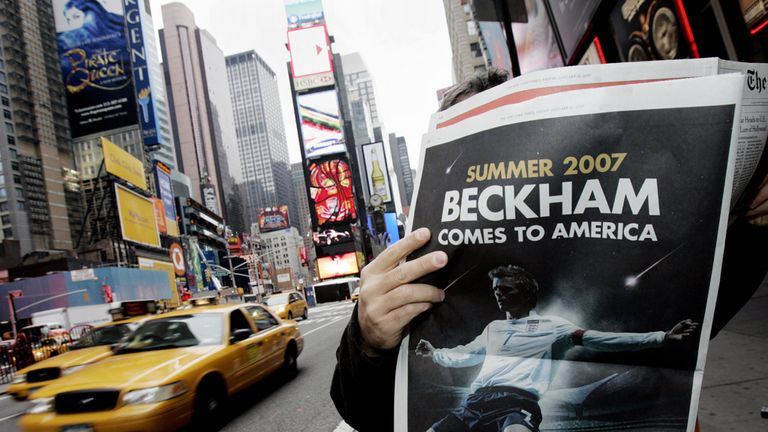 David Beckham is an almost unique sportsman whose huge earnings should continue or even increase in retirement, marketing experts believe.
The former England captain has announced will retire at the end of the season after a career which has seen him play for Manchester United, Real Madrid, Los Angeles Galaxy, AC Milan and Paris St Germain.
As well his as numerous playing achievements, the 38-year-old has also been phenomenally successful off the field throughout his career in terms of commercial activity.
And that is something that is likely to carry on for many years to come as marketers look to associate themselves with his brand.
Steve Martin, chief executive of M&C Saatchi Sport and Entertainment, said: "His appeal now will shift into different roles.
"He'll have more time on his hands and more time for commercial partners and the brands he can work or be associated with.
"He has also got so many commercial sponsors that will carry on whether he is playing or not.
"He is on a totally different planet to other players in terms of commercial value and long-term ambassadorial roles.
Enduring appeal
"He has got so many long-term deals that don't depend on him playing - Sainsbury's, adidas, Breitling - there are so many and, to be honest, the playing part of his career has been much less of the focus in the last 12-15 months anyway, even though he has maintained the public image.
"His appeal is so enduring and that won't change.
"From a brand perspective he is unique. He has an appeal that will go on for the next 15-20 years.
"He could, conservatively, earn £15-20million a year. There are so many dimensions to him - family man, football, health and fitness, fashion, style - that is why his appeal is so broad and his sponsorship partners are so broad. That will not suddenly go away.
"The playing side will die away but he is unique in that it won't make much difference."
Beckham has made mistakes in his career, most notably the sending-off against Argentina in the 1998 World Cup which briefly appeared to make him a national hate figure.
But he turned that around, not only with his performances on the field but with his well-managed activities off it.
Nigel Currie, director of sports marketing agency Brand Rapport, said: "I think he has been very well managed. He has made all the right moves.
"He is a very talented person and he is very media savvy. It doesn't just happen.
"If you think back to his early days, he made a few mistakes, as all 20-year-olds do, and when he got sent off he was Mr Unpopular for a while.
"But over the years he has just got better and better and he knows exactly how to handle the media. That is so important, because a lot of people don't.
"He's able to fulfil his duties and not make the slip-ups so many people do along the way."
Sky ambassador
As well as his many commercial endorsements, Beckham's image can add credibility and glamour to many entities.
He was heavily associated with the London 2012 Olympics and recently signed up to become an ambassador for a Sky Sports grassroots participation project.
Currie said: "He's unbelievably marketable and I think he'll become even more marketable.
"Brands will look to associate themselves with him and use him in a clever way to boost their image and everything else.
"You can now see him moving into even greater spheres and doing more brand activity than in the past.
"As his football has become less significant in recent years his profile has continued to rise - endorsements, ambassadorial roles.
"He's got even more time to fulfil those roles and he's such a popular figure that you can only see him going on to further greater things."