Premier pedigree
Monday promises to be a huge day in the history of either Crystal Palace or Watford as they prepare to do battle in the Championship play-off final for the prize of promotion to the Premier League. Here, Chris Burton considers the merits of both sides.
Last Updated: 24/05/13 10:27am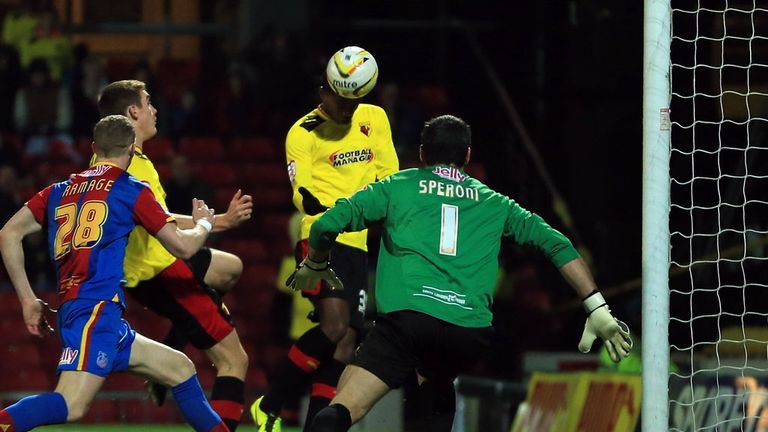 The most lucrative prize in world football will be up for grabs at Wembley Stadium on Monday, with Watford and Crystal Palace having bought their tickets for the Championship play-off lottery and keeping everything crossed that their numbers come up.
After eight months, 48 games, 4320 minutes of competitive action and countless twists and turns, just one game stands between two clubs and the riches on offer at the Premier League top flight party.
Who, though, is best suited to take that step up and join the elite? Which side would appear to be better placed to handle the rigours of competing on the grandest of stages?
Here, Chris Burton considers the merits of both teams - with one set to be showered with confetti and champagne this Bank Holiday, and the other left to reflect on what might have been as they ready themselves for another long, hard slog in the second tier.
Watford
It is not difficult to see what the biggest challenge facing Watford would be were they to go up - with the amount of loanees in Gianfranco Zola's ranks and a transfer embargo which threatens to hinder their plans something of a concern. The Hornets have no less than 12 players currently on their books that do not actually belong to them. There is definitely a case for arguing that you do what is required to get the job done in any given season, then address future issues as and when they arise. If Watford go up, they will have taken the right approach.
It will, however, be interesting to see how Zola tackles the summer, as the Hornets will be working under the terms of an embargo - which requires them to seek prior permission from League officials before adding to their ranks - until 31st August. Having the Pozzo family on board is an obvious benefit, as further loan agreements involving players at Udinese and Granada could be struck. Sticking with the short-term approach may not be the best idea, though, with it vital to have stability and continuity if you are to hold your own on the Premier League stage.
Watford would also be putting a lot of faith in players that have never experienced the English top flight before. The Championship is a difficult animal to tame, the Premier League is a different challenge altogether. Those that have starred this season would, however, have 12 months experience under their belt and would be well adjusted to the demands of English football - the physicality, speed etc. That would serve the Hornets well, as they would enter the top flight ready to unleash relatively unknown quantities onto unsuspecting opponents.
Their efforts this season have not gone entirely unnoticed, though, and they will have to win promotion if they have any hope of seeing the likes of Matej Vydra return next term. The Czech forward - who remains under contract at Udinese - is considered to be of Premier League quality and could be lured away from Vicarage Road if the Hornets remain stuck in the second tier. It could be argued that staying down would not be the end of the world for Watford, as they remain very much a work in progress and were not among those tipped to challenge at the start of the season. Going up too early could cost them - with Reading a prime example of having too much, too soon.
Watford have tried and failed to cement a top flight standing in the past, with it difficult for a club of their size and stature to compete with the biggest of big boys. This time could be different - they have ambitious owners and an attack-minded side that has plundered more goals this season than any other side in the division. They must, however, tread carefully heading forward, with it important not to try and run before you can walk.
Crystal Palace
For Crystal Palace to add weight to the argument that they are capable of holding their own at a Premier League level, they must find a way of overcoming the inconsistencies which have threatened to undermine their efforts in 2012/13.
A surge towards automatic promotion appeared to be on the cards at one stage, but the Eagles shot themselves in the foot in spectacular fashion and found themselves clinging on for a play-off berth come the final day of the regular season.
As individuals and as a collective, Palace have been far too hit and miss - something they could not afford to be were they to travel to places like Old Trafford, the Emirates and Stamford Bridge next season. They would be found out very quickly by those at the very top were they to offer the slightest indication of a soft underbelly.
Another concern for the capital outfit will be the loss of key men. Wilfried Zaha, very much man of the moment at Selhurst Park, has already secured himself a move to Manchester United and will link up with the newly-crowned Premier League champions over the summer.
Add to that loss the fact that Glenn Murray has suffered cruciate ligament damage, and the warning signs are clear for all to see. Murray found the target 31 times in the league this term, but is due to be sidelined for at least six months - with some reports suggesting he could be out of action for up to a year. Filling the creative void created by Zaha's departure and finding another proven goalscorer will be obvious areas to address heading into the summer were Palace to take a step up in class.
Ian Holloway is not the type of character to shirk away from a challenge, though, and you can guarantee that he will give nothing less than 100 per cent if presented with another shot at the Wengers, Moyes and Pardews of this world.
He will have learnt plenty from his past experiences of top flight football at Blackpool and possesses the kind of man-management skills which can carry an unfancied a club a long way - as the Seasiders showed during their one-season stay at the top table.
The basics are all there for Palace, it is just a case of adding a few pieces to the jigsaw. They have Premier League experience within their ranks and continue to see their famed academy system produce a steady stream of top talent - such as the highly-rated Jonathan Williams. They have, however, bounced around the top two divisions for more than two decades now and need to find a way of consolidating themselves - providing a platform on which to build a brighter future.