Brits abroad - Steve McManaman
Steve McManaman won the UEFA Champions League twice - as well as the admiration of his team-mates - during a four-year stay at Real Madrid. Adam Bate caught up with McManaman to find out some of the reasons why he was able to adapt to life with Los Galacticos.
Last Updated: 09/06/13 7:40pm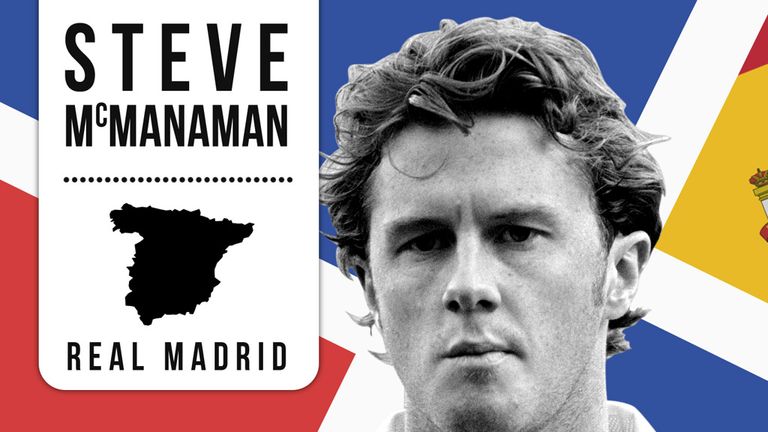 Visit the trophy room at the Santiago Bernabéu Stadium in Madrid and you'll see that Steve McManaman's goal in the 2000 UEFA Champions League final is played continuously on a video loop. It is fair to say that while the former England international remains somewhat underappreciated in his homeland, he did not suffer the same fate in his four-year spell at Real Madrid.
McManaman scored the goal of the game and was named man of the match in that win over Valencia and then lifted the Champions League trophy for a second time two years later. There were also two La Liga titles to show for his time in Spain, making McManaman arguably Britain's most successful footballing export.
But perhaps even more impressive is the fact that the ex-Liverpool winger was such a hit off the field as well - an area many British players have found tricky. He won the respect and admiration of a squad that included the likes of Raul, Ronaldo, Roberto Carlos, Zinedine Zidane and Luis Figo. Vicente Del Bosque once remarked that: "McManaman got along great with his team-mates and kept the whole squad united."
Unlike many of the players and coaches featured in our Brits Abroad series, McManaman's tale of life at one of the biggest football clubs on the planet is well told. But we wanted to find out why the man himself believes his time overseas went so well when so many others struggle to adapt. Adam Bate had a chat with McManaman and got some answers...
Do you think you need to be a certain type of person to be a success abroad?
I don't think you need to be a certain kind of person, I just think that if you want to go over and play abroad it helps if you play at the right club. It also helps if you have an open mind about going over and trying to learn the language and get involved in the local culture. Actually spending time there, I think that's more important too. If you have more than one or two years at a certain club you'll develop an affinity for it and you'll really enjoy yourself.
Was it daunting to go into a dressing room with so many famous players when you didn't share a language?
Of course, it certainly was. I had taken some Spanish lessons before I went so I could say some conversational stuff but when you want to go over and have a conversation with people it is daunting.
In my first days at the training ground we were taken away to Switzerland for a pre-season camp and you're just left to sit on a table at meal times with 10 players who all speak Spanish. So it is very daunting and you feel very much on the periphery.
But you have to go through those times, you want to learn from them and you want to be involved. Sometimes you just have to sit and have a beer with them even if you don't understand them.
But you thrived out there - Do you think Spanish football suited your game?
It's not too difficult if you're playing in a really good side that's successful and confident. I think the most important thing to be honest is that you've got players who are very good. You can speak about this and you can speak about that but if you've got players who are better than the opposition then invariably you're going to win if you've got the right attitude.
Yes, they played the right type of football but more importantly they were very professional and the work that they did when they crossed the white line onto the training ground meant that you were going to win games and I think that's everything.
Do you think you improved as a player in Spain?
I probably learnt new things so, as a player and as an individual, the experience I gathered from it all made me a better person as a whole.
It seems bizarre that you could play in a Champions League final in 2002 and then not go to that summer's World Cup - Do you think it is tougher for England players when you're abroad?
I don't think it is now. It was a bit different back then because of the television coverage. Obviously every game Barcelona play is now shown on the television. But back then it was very much, 'Yeah, he's playing for the best team in the world but we don't see him every week so it doesn't count'. So maybe that's true.
But I wouldn't be so sure now as I think that's changed to be honest. I think Europe, European football and world football has changed. It is such a smaller place now that I don't think the 'out of sight, out of mind' attitude would happen these days.
What advice would you give to British players to help them adapt when they go abroad?
Just go and experience things. Go with an open mind. You know that wherever you go not everyone will speak your language. But go and experience the local culture and try to pick up as much as you can. I certainly think going forward - away from football because football is just a small part of your life - you will grow as a person.
And the best player you played with at Real Madrid?
Zizou (Zinedine Zidane). He was the best.
UEFA Champions League ambassador, Steve McManaman, officially opened the maxi-pitch at the Churchill Gardens Estate in Pimlico, London which also celebrated the UEFA Champions League and UEFA Women's Champions League finals arriving in London.