Roy's Rooney problem
These are strange times for Wayne Rooney, and Nick Miller believes that both his performances and the way he demands the England team must play mean he cannot be an automatic choice.
By Nick Miller - @NickMillerF365
Last Updated: 30/05/13 11:05am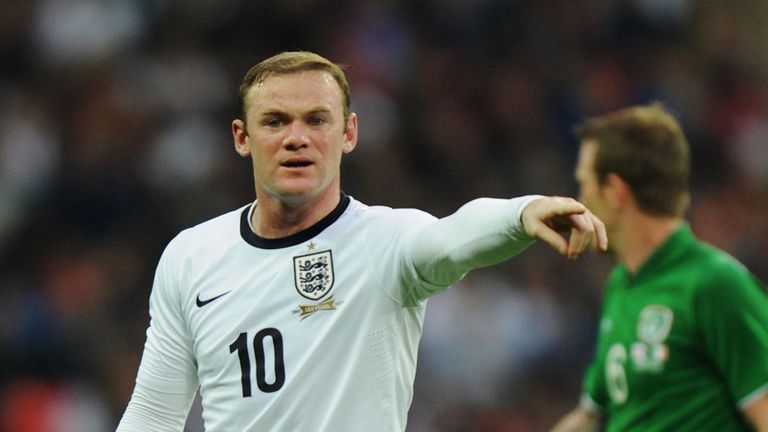 It is a subject which has provoked much debate and column inches, but these are strange times for Wayne Rooney.
With his Manchester United future 'up in the air' at best, Rooney's performance against the Republic of Ireland - and indeed his earlier displays for the national side - suggest his place in the England team is not exactly rock-solid either. Or, to perhaps be more accurate, that his place in the England team should not be rock-solid.
He may have played a couple of neat passes here and there, but he was largely ineffective and anonymous on Wednesday night, and there was a moment that summed it up rather neatly.
As the game drifted to a close, Frank Lampard launched a long pass from inside his own half in Rooney's direction, a pass which landed perhaps five yards in front of the forward, with space on the flank for him to run into and perhaps create a final chance. Instead of doing this, Rooney watched the ball skip off the surface just ahead of him, briefly contemplated chasing the thing, then gave up. It may have been at the end of a meaningless friendly after a long season, but it exemplified one reason why Rooney can surely no longer be considered an integral part of his club or country side.
"He needs a game," was Sir Alex Ferguson's assessment of Rooney after he was left out of Manchester United's Champions League second leg against Real Madrid, which could be translated as his fitness can't be trusted.
Automatic choice
If the accepted wisdom is that Rooney must play regularly at worst, every week at best to maintain an optimum level of match fitness, then it's perhaps hardly a surprise that he wants out of United. There he was not an automatic choice last season under Ferguson, and given how infrequently David Moyes used two strikers at Everton (although admittedly, that was often through necessity rather than tactical choice), he is unlikely to be an automatic choice next season either.
"The English players we've got do not always play," said Roy Hodgson earlier this week. "We'd be limiting our options enormously if I could only pick English players who play regularly for their club. I have to recognise a player's ability and believe they'll show that ability when I give them a chance to play."
That is fine for someone like Alex Oxlade-Chamberlain, who appears not to be too thrown by spending long periods on the Arsenal bench then being chucked into the national side, but Rooney is a different matter. It seems to be a little like keeping the engine running of a car - that makes it easier to get it moving than from a cold start.
His fitness is not the only reason to wonder about Rooney's immediate future. Despite some arguing his case on the basis of his apparent adaptability, with a few seemingly still convinced there's a central midfielder in there somewhere and others equally sure that he can be a traditional 'number nine', the general opinion is that Rooney is most effective as a 'number ten'.
The problem there is that using Rooney in his 'correct' position very much restricts the tactical options that either Moyes or Hodgson have, because it basically dictates that the team must play a 4-4-2/4-4-1-1 system. Whether you believe that most bread and butter of formations is the tactical equivalent of the dodo or not, on many occasions it simply is not appropriate.
Tactical
Take the Ireland game, for example. Giovanni Trapattoni is arguably an even more stubborn adherent to 4-4-2/4-4-1-1 than Hodgson, so it doesn't take the greatest tactical mind to think that three central midfielders feeding pacey wingers might be the way to go in order to exploit the opposition. Hodgson didn't do that, and since he has strayed from the old system before (largely when Tom Cleverley has been available) and prior to the game reiterated his 'faith' in Rooney, it suggests that the system was picked to accommodate the United man, rather than the system picked then Rooney slotted in. Either way, it remains that Rooney's presence limits England.
Of course, if Rooney was in world-beating form, then it wouldn't matter quite so much, but he is not. The problem is that he is in a Catch-22 situation - he needs to play regularly to maintain the level of fitness he needs to perform well, but he is not playing well enough to justify playing every week.
This is Rooney's problem, but it is more pertinently an issue for Hodgson, and one does not instinctively have an enormous amount of faith in the tactical nous a man who claimed after the game that "Borussia Dortmund play 4-4-2 in the same way we play 4-4-2." Quite which Dortmund Hodgson was referring to isn't exactly clear.
So how can it be solved? If he leaves United to play for a manager that will pick him every week, he could perhaps return to the levels of performance of which he's capable, but that still doesn't resolve the issue of where he plays. It's a quandary.
The Rooney problem is one that must be solved by a combination of the man himself, his international coach and his club boss, but if the latter of those is Moyes next season, it's tough to see it being resolved in a way that benefits both teams any time soon.
This article first appeared on Football365.com