Rose tinted
Jon Holmes builds up to England's second fixture at the European Under-21 Championship, against Norway, and gives us a behind-the-scenes look into his time in Israel in his latest blog.
Last Updated: 08/06/13 2:15pm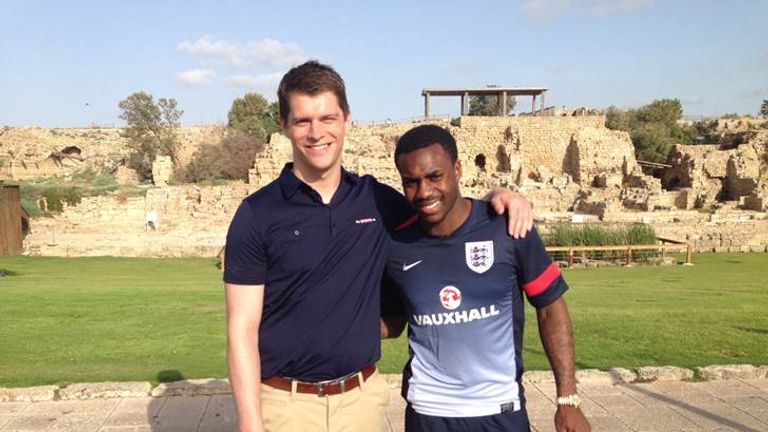 Public torture used to be one of the main attractions at the ampitheatre in Caesarea Harbour, where Sky Sports were filming an interview with England Under-21 defender Danny Rose.
Appropriately, Rose had a look of terror on his face when our reporter Pat Davison threw him an initial question about the history of the ruins and what the Romans achieved here.
After quickly reassuring the left-back that he was not there to be filmed for a documentary on classical civilisation, Pat moved on to Danny's specialist subject - how England can regroup and hopefully conquer Norway at the European Under-21 Championship on Saturday evening.
The archaeological site and picturesque port area provided a dramatic backdrop as Rose spoke confidently about England's next challenge. Between the occasional break in filming to satisfy the snapshot demands of local Israelis, Pat and his cameraman Andrew were able to get some superb footage that should allow the viewers to see a side of this beautiful, historic country that often gets overlooked.
The England team hotel is a little further inland, and was a hive of activity later in the evening, as Pat, Andrew and the Sky Sports crew got to work on the rushes in their SatLink truck and selected the choice cuts from the interview for the editing process.
Meanwhile, inside, England coach Stuart Pearce was busy in the England video suite with the FA TV team, working on pre-match analysis ahead of the Norway game.
With the players, Phil Neville, Sir Trevor Brooking and others in the England U21 set-up milling around before dinner, we finished up and headed out again for our evening meal.
We ate in an outstanding restaurant overlooking the harbour; bread and the delicious hummus (forget about your supermarket stuff, this is the real deal) for starters, and a wide choice of fresh fish for our main meals. Pat and Alan Smith decided to share a seafood platter - despite the potential for infighting due to the uneven allocation of mussels, calamari etc, a solution was agreed upon and respected on both sides. A relief no doubt for Caesarea, whose history has been turbulent enough without us adding to it...
Dutch delight
Pat, Andrew and I joined our commentary team Bill Leslie and Andy Hinchcliffe for the drive to the Holland v Germany game on Thursday night at Petah Tikva, where England will meet Norway on Saturday.
It was admittedly quite a squeeze in the back of the hire car but fortunately only a short hop from our base in Netanya. The Dutch delivered an accomplished first-half display, with Premier League transfer targets Kevin Strootman and Marco van Ginkel particularly impressing me in central midfield.
Being such tall, athletic players, they are able to drop deep into defence when appropriate and take the ball off the toes of their centre-backs, distribute quickly to the wide men and then maintain the team's shape, with van Ginkel looking to then push forward to head down crosses and set-pieces.
Their opponents' second-half response was everything you would expect from a German team, however, with Lewis Holtby demonstrating just how influential he is for his country.
We haven't seen that much attacking verve from him since he joined Tottenham in January (getting the ball to Gareth Bale as swiftly as possible being the main policy for Spurs), but he was all action after the break, winning a penalty to get Germany back into the team, knocking some clever passes down the channels and then netting with a well-taken strike from 20 yards.
Speaking to him afterwards for Sky Sports News Radio, you'd be forgiven for thinking he'd come off the pitch a winner - he was so upbeat for the next game, even though it's against favourites Spain.
It underlined the view of many of us out here - winning is certainly not everything at the U21 Euros.
Germany will have taken more good than bad from their loss to the Jong Oranje, and their attitude and approach bodes well for their second game on Sunday.
England need to concentrate on improving their style of play when they meet Norway, and a better performance will surely follow. Get that right, and the right result will be within reach.
For all the latest news from Jon in Israel follow him on Twitter
Don't miss any of the action with all the U-21 European Championship games live on Sky Sports 2 HD.
Saturday June 8 - England v Norway (kick-off 5pm). Italy v Israel (7.30pm)
The full interview with Danny Rose can be seen on Sky Sports 2 HD before Saturday's 5pm kick-off