Transfer news: Liverpool striker Luis Suarez remains keen on Real Madrid move
Unsettled Liverpool star Luis Suarez has reiterated his desire to leave Anfield for Spanish giants Real Madrid.
Last Updated: 17/06/13 11:55am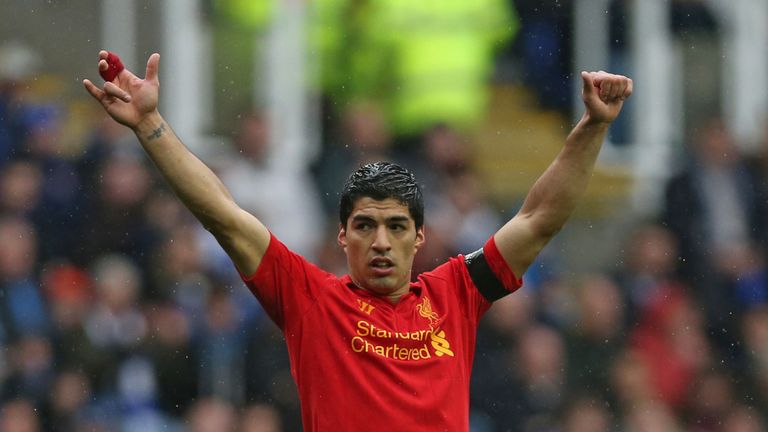 Suarez has made no secret of his desire to leave Liverpool this summer, feeling he has been victimised by referees and the media during his time in England.
The Uruguay international, who scored in his side's defeat to Spain in the Confederations Cup on Sunday, admits he would give his all to Real should he move to Madrid.
"I will give my soul every time I step on the pitch,' Suarez told El Pais what he would bring to a team like Madrid.
"I have done this with Uruguay, Ajax and Liverpool. I do not hold anything when I finish a game.
"A player always aspires to be at the top of their profession and Madrid is at the top for any football player."
Suarez also claimed he has been disturbed by Liverpool's failure to qualify for the Champions League during his time at the club, but admitted it feels special to play for the Merseyside outfit.
"It disturbs me that Liverpool are not in the Champions League every season," added Suarez.
"I've suffered at Liverpool, but when I think of what it represents to play for this club, and the love my daughter has - she sings the hymn - the hairs on the back of my neck stand up when I play at Anfield."
The Uruguay striker claims his love for the club is outweighed by what he perceives as unfair treatment from the Football Association and the English media.
Suarez, who has six matches of a 10-match domestic ban still to serve for biting Chelsea's Branislav Ivanovic in April, has yet to submit an official transfer request.
But the 26-year-old has reiterated his desire to join Real Madrid and says his aspirations should be key to any decision over his future.
"First I have a contract with the club, but if one day I want to sign (for another club), Liverpool will hear the offer, as it does with other players," Suarez was quoted as telling Spanish newspaper Marca.
"They must agree with other teams, but the word of the player, in this case mine, is important. If you need a change, you should listen to the player.
"Every player aspires (to be the best) and if you ask a child of eight years they would say one day they would go to Real Madrid or Barcelona."
Suarez, who signed a new contract last summer and has four years of his current deal left to run, has claimed manager Brendan Rodgers is aware of his desire to leave.
But Liverpool disputed that in a statement released last month and said they expected their star man to honour his contract.