Spectrals Take Five
Next up in the dugout for our long-running Take Five series is Spectrals main man Louis Jones, who was only too happy to share his love of all-things Leeds United...
By Alex Dunn - @skysportsaldunn
Last Updated: 03/07/13 8:39am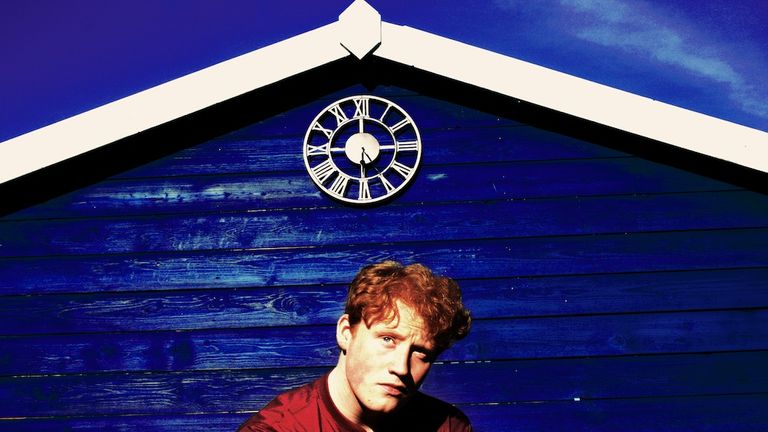 As if channelling the spirit of Don Revie it's fair to say Spectrals main man Louis Jones has done his Leeds roots proud when picking his dream five-a-side team for our Take Five feature.
Taking time out from touring his splendid second album 'Sob Story' during the close season, Louis was happy to regale us with tales from Elland Road.
Childhood trips to Spain sees Louis complement his west Yorkshire grit with a taste of Catalonia, as Eric Abidal and Andres Iniesta also make the cut. While it's fair to say his footballing influences aren't as eclectic as those of the musical variety (the Rolling Stones, The Style Council, Elvis Costello, The Ronettes, Rockpile et al), he's managed to pull together a decent looking side.
Nigel Martyn
It's got to be big Nigel in goal. When I was a kid and we had our most recent runs in Europe, he was between the posts. I think he should have played more for England. I met him once in the White Rose shopping centre in Leeds and got my photo with him. He was a nice bloke. My mum and dad are big Leeds fans and most of my uncles are too, so I was only ever going to support them. My granddad played a lot of football in the navy and even in some games for Portsmouth but I didn't have a choice really. Always Leeds. I can't get a season ticket anymore because we're often away touring but I manage to get to about nine or ten games a season. When we're waiting for albums to come out we get a bit of time off, so I can get to the games then.
Eric Abidal
I've picked Eric Abidal to be my man at the back. I've got a massive admiration for what he's gone through and the level he's maintained despite being really ill twice. I'm sad Barcelona are going to let him go as I think he deserves another contract. I know in the past he's said he wants to retire at the club and I think they should honour that wish. My grandparents used to live for half of the year in Spain; we'd go and visit and you can't escape football over there. It's an obsession. My granddad has always loved Barcelona and he'd always get us their new strip. Whenever I watch them it always reminds me of being young, going out there and playing football. I'm obviously a Leeds fan first and foremost but you can't not love how Barcelona play.
Billy Bremner
My enforcer. He's such an icon and was always a big name in the house growing up. I'm ginger too so can always relate to him. There's a band called Rockpile who were always a big influence on me and their guitarist is called Billy Bremner. It's kind of weird that a favourite guitarist and footballer of mine shared the same name. I was always told about the team of the seventies, Billy and Norman and Lorimer - these were all big names that got passed down to me growing up.
At the moment it's difficult to see beyond the present situation. All this stuff with Bates has been draining. That said, I've seen us in the Champions League so you never know, there's no reason why we can't get back if things fall into place. I think Brian McDermott is astute enough to get a decent squad in place but it all depends on whether he's backed to bring in three or four quality additions. We've got some decent players but we don't have enough depth. I like his interviews; he seems like a positive guy. With Warnock I never liked the way he'd have a go at the players in the press. At Leeds if a player is not playing well they get enough stick so they need the manager to take the pressure off. We've always had an exacting fan-base so for Warnock to come in and not absorb any of the blame was really off for me. There is always some drama around him, which we can do without, and I never liked the football we played under him either. It's was pretty turgid stuff.
Andres Iniesta
I'm not sure how he'd play with Billy exactly but if this is my dream team I can't not pick him. I think he's one of the best players ever, without a doubt. It's hard to say who I prefer between him and Xavi but I picked Iniesta for his overall touch and technique. I love to watch him, he's so effortless with the way he plays. I was watching Spain in the Confederations Cup the other day and the number of times he takes the ball under pressure is sensational. Wherever he is on the pitch he's not afraid to take possession. His bravery is a rarity in the modern game. That's something I like. You see his quality in Champions League games, where he's constantly demanding the ball. He'd also add a goal threat to my side; he probably bags a few in five-a-side games to be fair. He's not your typical footballer. I always think he looks a little ill.
Tony Yeboah
Only one choice at centre forward, big Tony Yeboah. He's a huge icon at the football club, and for me personally. Yeboah was the name I had on my first Leeds shirt. We used to spend our dinnertimes at school trying to recreate the goals he scored against Wimbledon and Liverpool. I remember a beauty he scored against Monaco in the European Cup too. It's good enough that a striker scores goals full-stop but when they're things of beauty that's something else. He was with us for a couple of years before falling out of favour under George Graham, which was a real shame. I was about ten or 11 when Tony was doing the business for us, great years. I'm not sure how they'd all play together but I reckon we'd give most sides a game.
The Spectrals' cracker of a new album 'Sob Story' is out now on Wichita Recordings