Free Agent
The next free agent to fall under our microscope is former Sheffield Wednesday, Swindon and Carlisle midfielder Jon-Paul McGovern. Over the next month or so we'll be speaking to a host of footballers at a crossroads in their careers as they look to get hooked up for next season.
By Chris Burton
Last Updated: 04/07/13 3:48pm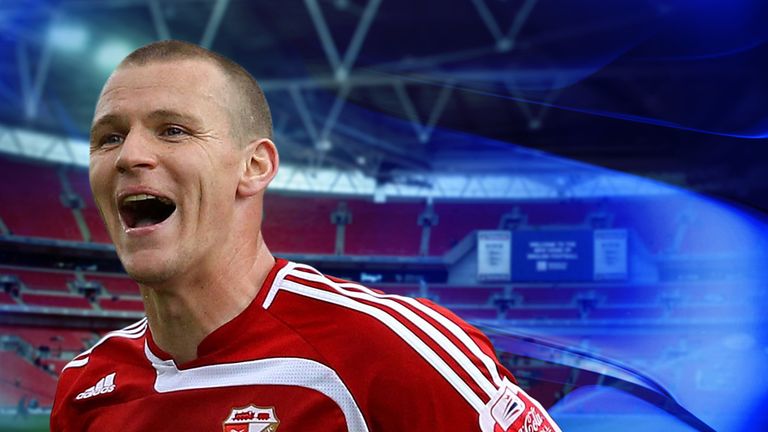 Any Football League manager in the market for a hard-working midfielder who guarantees 100 per cent every time he crosses that white line could do a lot worse than cast an eye in the direction of Jon-Paul McGovern.
You do not make as many appearances as he has without having something about you and McGovern has been a regular throughout spells at Livingston, Sheffield Wednesday, MK Dons, Swindon and Carlisle.
Now 32 years of age, the Scot is looking to embrace a new challenge in 2013/14 - be that in Britain or on a foreign field.
What's your situation at the moment and the mindset you are adopting at this stage of the summer?
To be fair, I've not really stopped. I have been doing work most of the summer, three days a week. I have been using the facilities at Hampden, doing core sessions and stuff like that there and running in the pool, as opposed to impact stuff. That's kept me fit, and I have done a fair bit of bike work and been running the last 10-12 days just making sure that I'm fit and ready. I tend not to take too much notice of players signing for other clubs until it happens to me. I don't think there are too many League One players who are multi-millionaires and don't have to worry about where their next wage is coming from or what's happening.
Is it just about being patient, with clubs increasingly leaving it late to make decisions on new recruits?
That's it. Everyone I have spoken to in football is saying, 'look, there's not a lot of movement at the moment'. But from a player point of view you are always looking at transfers and who is moving and speaking to pros that are all back training now and are asking 'what are you doing?' and you're up in the morning and going to the gym, doing different things, and it's a mixture of frustration that something hasn't happened and also ploughing on because you're ready to drop everything and go wherever needs be - as you do as a football player.
You have been in this situation before haven't you so at least you aren't coming into it cold like some of the younger lads might be?
Yeah, I have been in this situation once. It's not a nice time for anyone, I don't think it matters what age you are - whether you are just starting off in your career at 19/20 or if you are in your 30s. If you've been part of the game you know it's eat or be eaten, no matter what stage you are at. The only good thing is that the older you get, the more reputation you get and people will have seen you play. At 19 or 20, people are maybe not as likely to take a chance on you because you haven't had a chance to play or experience a first team - you have got both aspects. I wouldn't say it is something footballers look forward to at all.
I imagine it's odd though isn't it knowing that your fate rests in the hands of an agent who is doing all of the work behind the scenes?
I speak to my agent most days, or every couple of days, just to see what's happening. Although it's not nice to get a no or to hear clubs aren't interested, sometimes it's better because then you can close the door on that one. There's nothing worse than someone keeping you hanging on and on and then say there is nothing here for you and you have to find something else. That can be just as frustrating. To get a straight answer and hear that they might be interested or it's a no, that's out of my hands. I'm speaking to my agent and getting the lowdown and he's obviously trying to look after me and keep the atmosphere good in terms of high spirits and not letting you know everything that's going on, every no and maybe. You are definitely leaving your life in other people's hands.
Has there been any interest so far, anyone wanting to take a look at you before committing to anything?
There seems to be a few that maybe want to have a look at me - both in Scotland and England, which is nice. Again, there is nothing in black and white there to say we definitely want you. There are a couple of bits of interest, which is nice, and I've had a couple of phone calls about going abroad, which I'm open to. I'm just looking to have another week of doing some hard fitness work and then I'm looking at maybe going somewhere the week after, do some training and get the ball out and try to work for a contract. If it is going to be a trial-like situation, I'm not too sure yet.
I take it relocation isn't an issue - you have moved around a fair bit in your career already haven't you?
I have moved around a lot but I have never been scared of that. I left Scotland when I was 21, so I have been playing in England ever since and really enjoyed it. I moved to Sheffield Wednesday, Milton Keynes, Swindon and Carlisle, which is the furthest north I have been. I wouldn't limit myself to a certain place. I don't think there are too many players who can say they are too good to move to this area or I don't want to do this for the family. I understand it's not always ideal but, at the end of the day, it's a job and we're trying to earn money to pay for our families and to keep a roof over people's heads. I don't think I am too good to say I wouldn't go here or there, I'm open to anything and seeing what's out there.
And going abroad would appeal as a new challenge, a change of scenery?
Definitely. I have always welcomed it. I had a slight chance of doing that a couple of years ago, going to Cyprus and playing, but I just felt Carlisle was the better move for me at the time. But it's definitely an itch that I would like to scratch if I get the opportunity. Even if it's a year or two to go and experience playing abroad, I think it would be a good life experience to go somewhere else, speak a different language and do all that. I would be well up for that.Is that something you start to consider the longer your career goes on - it's not just about playing, it's about experiences and doing something a bit different?
Definitely. I have managed to rack up a fair few appearances, not so much in Scotland, but I think I have made about 400 appearances. I know that I can play at that level and I haven't got an issue with that. I have always maintained a decent fitness level throughout the seasons and I must have averaged about 35-40 games a season, which is always good. I am always up for a new challenge, it doesn't really matter what it is and I would like to think I can turn my hand to it and make the best of a good opportunity.
But I imagine you are keen to ensure that you are playing at a competitive level aren't you, given that you have spent much of your career to date at League One standard?
I would like to think so. I have just come off the back of a season where I have started over 40 games, and I started over 40 games the season before. I think people, especially nowadays, seem to make a big issue as soon as you get over 30 - saying age may be an issue. If you look at some of the players that are older, I don't see that being an issue. If you are looking after yourself - we're doing yoga and stuff like that through the summer now and it's not like the olden days when you went on the lash for six to eight weeks and then came back and used pre-season to get yourself fit. Now if you report back two, three or four kilograms overweight you are judged to be not looking after yourself and not a good pro. People will hear about that and not give you a chance. I've proved my level by playing at League One for as long as I have and I have always managed to rack up appearances. I have always maintained that I'm a manager's player, I do a job for the team. I might not always get people clapping and on their feet, but I make the appearances and do well for the team.
A lot of managers will be looking for experience though won't they, with the Football League having become so competitive and players pushed down the divisions by the quality going in at the top?
Definitely. The standard, the money and the financial side of things in the Premier League, and even the Championship is a massive gap from League One and League Two, it does become more competitive and there are bigger players dropping down the leagues to play - they have earned a lot of money and can afford to do that. The competition there is as high as it's ever been.
While you don't want to rush into anything, you want to get something sorted soon don't you because you don't want to miss too much of pre-season at a new club?
I don't think there will be any players who say 'pre-season is my favourite time'. It's when the bigger friendlies come in two or three weeks before the season when you have done all your hard graft and put the miles in and you have a couple of glamour friendlies, I used to like playing against those teams and that's when you want to be back. At the moment for me it's just about pounding the streets and doing the hard work in the gym. I have been speaking to a few boys who are on trials and they are doing exactly the same. For myself, I want to be fresh to go in and be ready to go and prove a point, I suppose. I want to prove that I can play at the level I will be allowed to play. The boys in pre-season are doing the same so there is a feeling of 'let's get going'. I have had my holidays, I've done a lot through the summer and I'd love to get in somewhere, kick on and show people that I can still play.
But for now is it just about keeping yourself in the shop window and appreciating that there are hundreds of other players in exactly the same position as you?
Definitely. I am from humble backgrounds and I know exactly what it is. I'm from a working class family with an emphasis on working hard and looking after yourself. I know there are lots of boys in my position and a lot of boys who would love to be in my position. I have never shied away from the fact that I've had a decent career and I hope it goes on for as long as it can. There are thousands of boys in the same position and they will be doing their work and looking to impress, that's just the nature of the game and you have to try and take your chance when you can and grab it with both hands.
We would like to hear your thoughts on the best free transfers out there. Who should we be talking to? Who are this summer's bargains? Who should your club be targeting?
Maybe you are a player that would like to be featured, or an agent looking to get a client fixed up for next season. To offer your suggestions fill in the feedback form below or get in contact with either chris.burton@bskyb.com (@SkySportsChrisB) or alex.dunn@bskyb.com (@SkySportsAlDunn).