Thiago's time
As speculation continues that Thiago Alcantara is set to leave Barcelona for Manchester United, Adam Bate looks at what the Spain international could bring to the Premier League champions.
Last Updated: 07/07/13 9:50am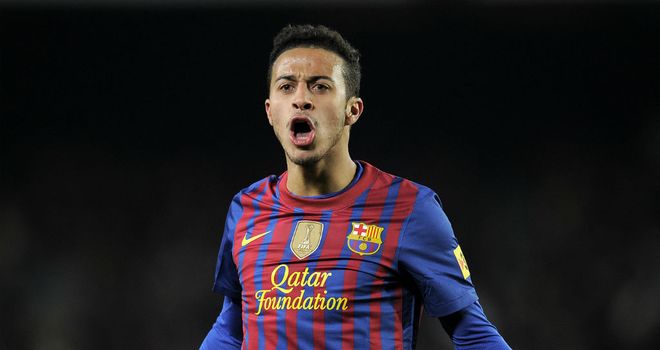 As good as Leighton Baines is, you could almost sense the concern of Manchester United fans when the club was linked with a move for the Everton left-back. Not only is Patrice Evra a popular figure, but here was confirmation that David Moyes was intent on transforming United into a souped-up version of the Toffees rather than closing the gap on Bayern Munich. Supporters could be forgiven for readying themselves for the arrivals of Marouane Fellaini and Phil Jagielka.
The prospective signing of Thiago Alcantara from Barcelona will do much to banish those thoughts. The 22-year-old Spain international is a hugely talented midfielder more than capable of playing the brand of football to which supporters aspire. With Paul Scholes finally retiring, there is huge anticipation that Thiago could fill that creative void in midfield - much to the annoyance of Barcelona fans who were hoping he could one day inherit the mantle of Xavi Hernandez and Andres Iniesta at Camp Nou.
"There's lots of excitement about him, which is natural because he's a very talented player," Spanish football expert Sid Lowe told ESPN. "There's also a real irritation in Barcelona because they think it is ridiculous letting him go. I think a lot of Barcelona fans feel he should get more minutes. They certainly think that he should have got enough minutes to make sure that this buy-out clause loop-hole didn't exist because it is making him available for a relatively good price."
That loop-hole comes into play because Thiago failed to play 30 minutes or more in 60 per cent of Barcelona's first-team fixtures last season. The consequence of this is that it will cost United €18million to buy-out Thiago's Barca contract rather than the €90m fee that would have applied. As such, the Italy-born player is available at a bargain price and represents a minimal-risk purchase for the Premier League champions. More significantly, he might also happen to be exactly what they need.

Thiago - Passing comparison (La Liga 2012/13)
Player
Apps
Mins
Passes
Passes per min
Pass %
Through-Ball success
Thiago Alcantara
27
1408
1760
1.25
91.8
50%
Cesc Fabregas
32
2321
2262
0.97
88.6
36%
Xavi Hernandez
30
2194
2886
1.32
94.8
24%
Andres Iniesta
31
2093
2243
1.07
90.5
36%

Michael Carrick is a reliable figure in the centre of the pitch and, as a good all-rounder, is capable of operating alongside a variety of different types of player. Tom Cleverley will be optimistic about securing the spot alongside Carrick in the United midfield with his tidy use of the ball but a lack of fantasy to his play could count against him - Thiago is a footballer with the ability to make things happen for his side.
Lowe adds: "He's a central midfielder - a kind of halfway house between Xavi and Iniesta - and a guy who could be a really good player but he may need that little bit of time to adapt. He's technically very gifted. He uses the ball extremely well, he's got great vision, great creativity and he combines really well with the forwards.
"The question mark over him would be the occasional overplaying and the occasional giving the ball away. One of the things that Pep Guardiola really tried to drive into him when he was the Barcelona manager was to play more simply, to be a bit smoother in possession and just move the ball on."
Thiago - Offensive comparison (La Liga 2012/13)
Player
Apps
Mins
Goals
Assists
Shots
Dribbles
Thiago Alcantara
27
1408
2
5
17
37
Cesc Fabregas
32
2321
11
11
19
22
Xavi Hernandez
30
2194
5
8
34
22
Andres Iniesta
31
2093
3
16
35
68

That tendency to overplay is likely to be a source of excitement rather than concern for United fans. While Cesc Fabregas attempted a dribble every 101 minutes in La Liga last season, Thiago tried to beat a player every 38 minutes. As with the likes of Jack Wilshere and Mousa Dembele, a central midfielder with the ability to dribble can open the game up from the middle of the pitch.
Of course, Thiago is unlikely to satisfy the long-held demand at Old Trafford for a ball-winning midfielder. There will be doubts over whether Thiago can adapt to that defensive aspect of the midfield role but the statistics suggest that he is better equipped for that task than some might think. Despite seeing far less action than Xavi and Iniesta, he managed almost as many tackles and interceptions as the two men combined. A Thiago-Carrick partnership might not seem overtly combative but it could still prove effective.
Thiago - Defensive comparison (La Liga 2012/13)
Player
Apps
Mins
Tackles
Mins per Tackle
Interceptions
Mins per Interception
Thiago Alcantara
27
1408
43
33
36
39
Cesc Fabregas
32
2321
46
50
19
122
Xavi Hernandez
30
2194
13
169
22
100
Andres Iniesta
31
2093
33
63
15
140

If there is an area in which United would be hoping for more from the midfielder it is in terms of end-product in the final third. Thiago's came up with fewer goals and assists than his peers at Barcelona with just two goals last season. But perhaps that may be deference to the senior men - his hat-trick in the final of the European Under-21 Championship earlier this summer suggests he can deliver in front of goal when entrusted with greater responsibility.
It looks likely that David Moyes' Manchester United will be the team given the chance to hand Thiago that opportunity. At worst, the Red Devils will help develop Thiago's game and send him back to Barcelona a better player. At best, they may well be acquiring a game-changing superstar at a knockdown price. Either way, it wouldn't be a bad start for the bloke from Everton.