Taking a stand
David Moyes had the challenge of facing awkward questions on Wayne Rooney's future as he addressed the media on Friday. Lewis Rutledge looks back at the Scot's first press conference as Manchester United manager
Last Updated: 08/07/13 5:22pm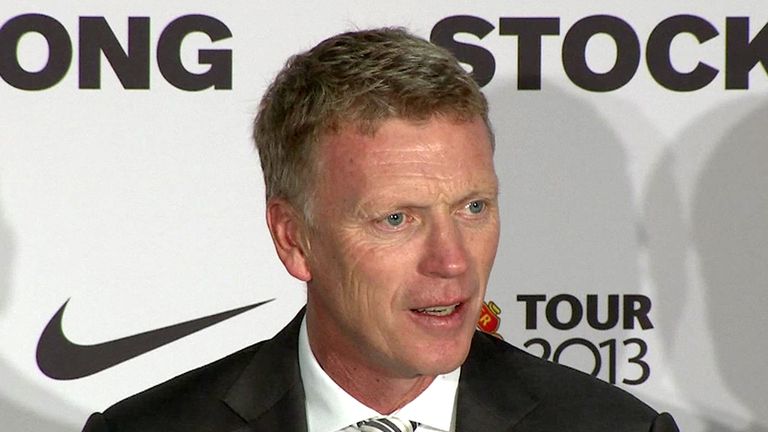 David Moyes is an experienced manager who has addressed the media at news conferences hundreds of times in an already distinguished career, but his performance has never come under such sharp focus as it did on Friday in his first outing since officially taking charge of Manchester United.
There may not have been quite the hype beforehand that surrounded Jose Mourinho's unveiling at Chelsea earlier in the summer, and nor did Moyes provide the same sort of memorable soundbites that the Portuguese specialises in, but that is not his style and he still managed to revel in the occasion despite facing some tough questions.
It was thought when Moyes started work on Monday that two of the main challenges he would need to tackle in his first few weeks were the way he handled the press, and also what he would do about Wayne Rooney's future, and here was a chance to kill two birds with one stone.
The assembled journalists were keen to probe Moyes on whether Rooney would be staying at Old Trafford after Sir Alex Ferguson stated at the end of last season that the striker had requested a move, and the Scot could not have made United's stance clearer.
"Wayne Rooney is not for sale. He's a Manchester United player and will remain a Manchester United player."
Moyes was adamant that it was now time to forget the past and move forward, whilst also praising Rooney for performing well in training and challenging him to become the club's record scorer.
His statement is unlikely to put an end to the speculation, though, as Moyes was not able to answer directly whether Rooney had now made it clear that he wanted to stay, but having insisted so confidently that he is not for sale it would not reflect well on the new boss if he were to be sold.
The only way Rooney could now leave is if he comes out again and demands a transfer, in which case he would be the villain rather than Moyes undermined, and the manager's words put the onus on the player to publicly declare his commitment to the club.
This will need to happen at some stage to convince the supporters, and there is no reason why Rooney should not stay at the club and flourish once again under the manager who guided him through his formative years at Everton.
Engaging
Having addressed the issue of Rooney quickly and calmly, Moyes went on to speak of his delight and honour at taking on the role of United boss from the legendary Ferguson.
Telling the story of how his predecessor had phoned him to say 'you're the next Manchester United manager', Moyes was engaging and enthusiastic without just delivering the usual cliches.
He will always remain proud of what he achieved during a decade at Everton, and rightly so, but Moyes admitted he did not hesitate for a second to accept the opportunity to move to Old Trafford.
A fiercely ambitious manager who has been described as being 'hewn from the same Scottish granite as Ferguson', Moyes also struck the right balance between paying his respects to the old regime and speaking about what he could do for the club in a new era.
United were famously patient with Ferguson after he arrived at the club in 1986, but Moyes made it clear to the fans that he would be targeting immediate success and wanted to build on the club's phenomenal recent record of winning silverware.
Baptism of fire
He said: "Success is tattooed right across the badge of this club. This club is about winning trophies and that's something I'm looking forward to doing."
Asked about possible transfer targets to help the club move forward, Moyes did not discuss specific players such as Cristiano Ronaldo but said enough to offer hope that United would be strengthening their squad before the close of the transfer window.
He will face a lot more questions over the coming weeks about such matters but for now Moyes can relax after a first press conference that is sure to have caused some trepidation, but was negotiated smoothly.
Ferguson's relationship with the media was difficult at times but he always had an aura about him, and it is an almost impossible task for Moyes to fill his shoes.
He will ultimately be judged on his results, of course, and can now concentrate over the next few weeks on preparing the Red Devils for the defence of their Premier League title.
United head off for a tour of the Far East next week and then, after facing Wigan Athletic in the FA Community Shield, will begin the league campaign away to Swansea City on August 17.
There are clashes with Liverpool, Chelsea and Manchester City in the following few weeks after the fixture list gave United a tough start to the season, and for Moyes in particular it will be a baptism of fire.