Tottenham boss Andre Villas-Boas confirms interest in Valencia striker Roberto Soldado
Tottenham boss Andre Villas-Boas has confirmed his interest in signing Valencia striker Roberto Soldado.
Last Updated: 23/07/13 8:54pm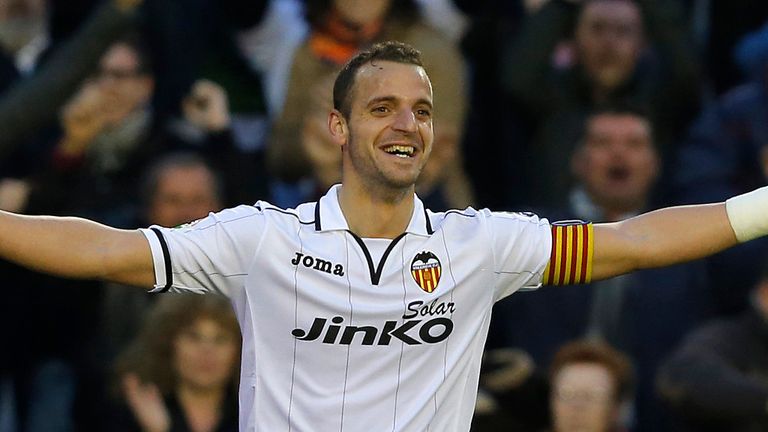 Villas-Boas is looking to increase his attacking options as he only has Jermain Defoe and Emmanuel Adebayor as senior strikers to call upon in his squad.
He has been heavily linked with a move for Soldado and reports have claimed that Spurs' director of football Franco Baldini travelled to Valencia on Monday to meet with the club and the player's representative.
Soldado has a €30million (£25.8m) release clause in his contract and any deal for the Spain international would break Spurs' transfer record.
No deal has been agreed between the two clubs as yet and Villas-Boas stated that the 28-year-old is just one of the players under consideration.
"At the moment, he's just one of the players we are interested in," said Villas-Boas at a press conference in Hong Kong.
"It's not a lie to anybody that we've been looking for a striker to strengthen our squad and to have more strength in depth.
"Roberto is one of the players we have been following and his career speaks for itself. He's a great striker.
"But there isn't a deal being struck at the moment, it's just interest and conversations."
Liverpool have also reportedly shown an interest in Soldado, but Valencia coach Miroslav Djukic is confident that the former Getafe forward's release clause will put off other clubs.
"I do not believe that any club will pay Soldado's buy-out clause," Djukic told reporters in Spain.
"What I think is that he will stay with us, although I cannot guarantee anything. In football and in life you have to be prepared for anything.
"We all want him to stay and we think that he will, but it is possible that someone could actually meet that buy-out clause even if I do not think that will happen.
"For now, he is our player and we are counting on him.
"Since the start we have said that Soldado is not for sale and that the only way that he could leave is if someone meets the buy-out clause amount and the player accepts it."
Valencia president Amadeo Salvo, meanwhile, also stated on Monday that he wants those clubs reportedly keen on Soldado to make their intentions known sooner rather than later amid claims a deadline of 3rd August has been set for any deal to be struck.
Salvo told Speyer: "The message we have to give is that we need tranquillity.
"If Soldado leaves in the near future, near to the end of the transfer window, we will have to find a replacement."