Transfer news: Liverpool dismiss £40m Luis Suarez bid from Arsenal
Liverpool have turned down a fresh £40million bid from Arsenal for striker Luis Suarez.
Last Updated: 24/07/13 3:00pm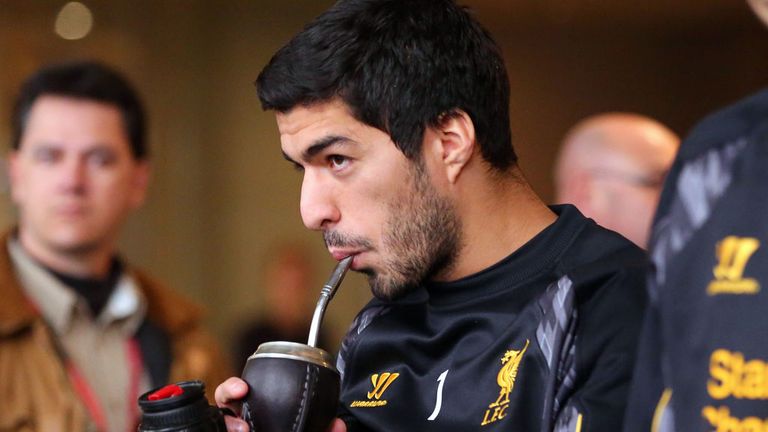 The figure - plus an additional pound - is designed to trigger a clause in the forward's contract with the Reds duty bound to consider any bid over the £40million mark.
Suarez was named among the substitutes for today's friendly against Melbourne Victory at the MCG and Liverpool manager Brendan Rodgers and managing director Ian Ayre plan to hold talks with him after the game.
He will not be allowed to leave the tour early, with another friendly scheduled in Bangkok later this week.
Suarez flew to Australia on Sunday after being allowed to take extended leave following his involvement with his country in the Confederations Cup.
While he was away the 26-year-old spoke about the attraction of Real Madrid, and his agent Pere Guardiola has told Liverpool the player wants to play in the Champions League but will not try to force through a move.
Suarez has been frequently linked with Arsenal, whose biggest spend on a player is the £15million they paid to Zenit St Petersburg for Andrey Arshavin in 2009.
By exceeding the £40million mark, Arsenal's offer means Liverpool have to inform Suarez of the offer but it does not trigger a buy-out clause.
The Reds had previously turned down a £30million bid from Arsenal, and Rodgers has said he "very much" expects the star man to be with the club come the start of the season.
Rodgers said on Monday: "There's been a lot of speculation over the course of the close season but the reality is that he's a player who is very much valued at Liverpool.
"And unless there's any sort of offer that comes in that's anywhere near his value, there's nothing to consider. We haven't had that."
Asked what that value was, Rodgers said: "I didn't say we would sell him. I said that every player has a value and a worth. Doesn't mean you've got to sell them."
Meanwhile, Liverpool captain Steven Gerrard has revealed he has been working to convince Suarez to remain at the club.
Gerrard said he had been talking to Suarez since he arrived in Australia on Sunday from Montevideo and continued to remind him that there is "a lot of love" for him from the club, the players and the fans.
Liverpool keeper Brad Jones expects Suarez to stay and told the Liverpool Echo: "It's good to have Luis and (fellow Uruguay international) Seb Coates back.
"Most of the boys were joking with him about his Uruguayan (television) advert which we saw on the internet.
"Luis is a bubbly character. You always know when he's about as you can hear him five rooms away!
"He just loves football - he lives and breathes it. You saw him in training here, he's like a little kid. He doesn't want to stop - it's like waiting for your mum to call you in.
"He's that type of character. He's never going to shirk any effort. We don't expect anything less, no matter what's gone on in the media.
"He's the same player we've been used to. Nothing has changed. He's still here and we expect it to stay that way. We all hope he stays as he's a fantastic player. I see no reason to doubt that."