Transfer news: Barcelona say all Cesc Fabregas bids will be rejected
New Barcelona boss Gerardo Martino says there is no chance of midfielder Cesc Fabregas moving to Manchester United.
Last Updated: 27/07/13 8:22am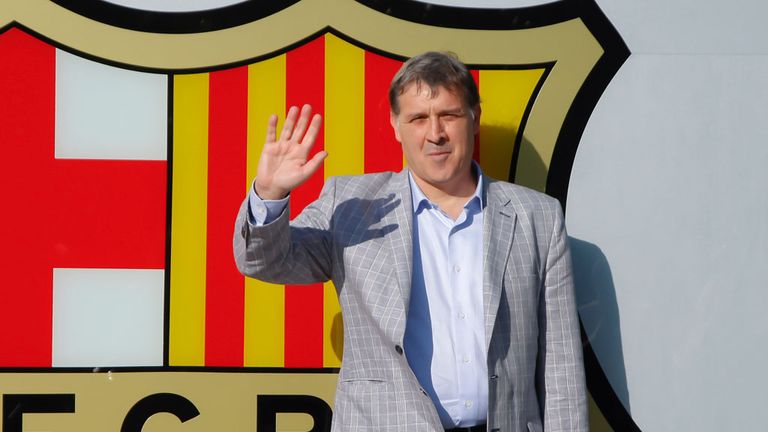 Barcelona have announced that Martino has signed a two-year contract to replace Tito Vilanova and the new man has wasted little time in making it clear that he will be retaining Fabregas.
Although Manchester United have already had two bids for the Spanish international rejected, manager David Moyes said on Thursday that their attempts to sign the 26-year-old were "ongoing".
However, Martino said: "I'm not going to get into the economic interests but, if the club rejected it twice, I add a third one right now.
"He will be staying here."
Vice-president Josep Maria Bartomeu added: "It's logical that we've had offers for Fabregas because he is a quality player but he is not for sale.
"We are proud to have him here. It doesn't matter what the offer from United is, we are counting on him.
"It is normal that many clubs are interested in our player Cesc. That is a source of pride for us, but we'll reject all bids."
Every side can improve
Speaking about his aims for the club, Martino said: "Every side, even Barcelona which has already achieved certain moments of excellence, can always improve, and Barca still has things to win.
"We are going to try to recover certain things that we've seen when Barca have been at their best, and add a few ideas of our own."
He said he would not be changing the team's 4-3-3 formation and, regarding star player Lionel Messi, he added: "He will continue to play in exactly the same position, he has to feel comfortable. After that, he'll do the rest."
Alex Song is also convinced that Fabregas will still be a Barcelona player at the start of the new season.
Song, the former Arsenal midfielder who spent six years at the Emirates before moving to Spain in 2012, says his team-mate has no intention of quitting Camp Nou.
After featuring in Barca's friendly defeat at Bayern Munich on Wednesday, Song told Sky Sports News he is "100%" sure Fabregas is going nowhere.
He said: "I did not speak with him but I know Cesc is 100 per cent here.
"He loves Barcelona, he loves the club. He will stay here next season and give 100 per cent because I know him very well and he'll want to fight. He's focused on the club.
"He wants just to give his best for Barcelona. He's from Barcelona, he loves Barcelona and he'll want to start the season to show what he can do.
"People are talking and talking, but we know he is focused here and ready to start the season.
"He's enjoying a holiday with his family and I'm sure he wants just to come back here.
"It's my own opinion but I know he will stay here, 100 per cent."