Men on a mission
"Relegation was depressing and upsetting" - Shaun Wright-Phillips speaks exclusively to Sky Sports about Queens Park Rangers' determination to secure an immediate return to the Premier League
By Peter Fraser - Follow me on Twitter @SkySportsPeteF
Last Updated: 05/08/13 10:50am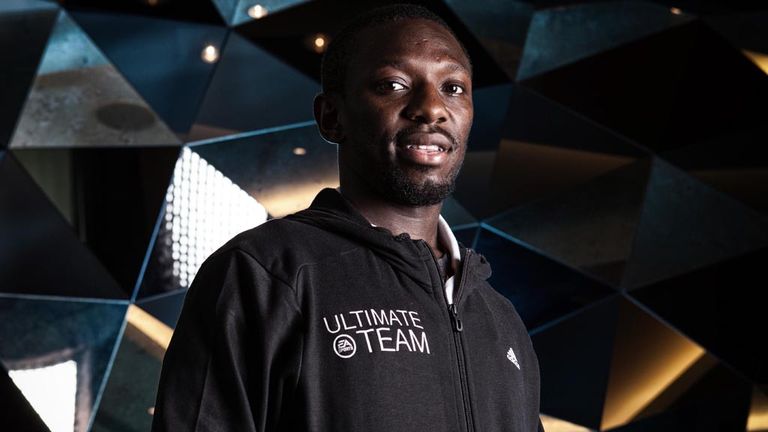 Queens Park Rangers have a point to prove. Last season saw the club engulfed in the disharmony which ultimately resulted in relegation from the Premier League. Now, there is a resolve to make amends.
At the end of April, after just two seasons back in England's top flight, the club were demoted to the Championship following a dire 0-0 draw with Reading. It was a latest disappointment for fans who have over the years seen more than their share of turmoil.
Harry Redknapp, who is the latest on the managerial merry-go-round at Loftus Road, had been unable to produce a great escape having only succeeded Mark Hughes at the end of last November.
Hughes had been sacked as a result of a miserable return of just four points in the opening 12 games of the 2012/13 Premier League campaign on the back of a summer of expensive investment in players bankrolled by ambitious chairman Tony Fernandes.
The plan for Fernandes had been for a successful future at QPR. But, instead, they will on Saturday kick-off back in the Championship against Sheffield Wednesday, with critics saying they have paid the price for rolling the dice on a squad of star names whose lucrative contracts reportedly resulted in a fractured dressing room.
Shaun Wright-Phillips had only arrived at QPR during Neil Warnock's reign on the summer deadline day of 2011. That was after the Championship had been won the previous season and was in the very early days of the Fernandes era. But the winger is still equally frustrated by how things have gone wrong at Loftus Road.
"It is hard to narrow it down, to be quite honest with you," he told Sky Sports in an exclusive interview at a FIFA 14 preview event. "At times, when things were not going well, we did not seem as much of a team as we needed to be. I think a main aspect for us is to be a team, fight together and do everything together when it comes to football."
So if QPR were not playing together as a team, was it a case of having the wrong personnel, an imbalance in the squad, at the club as has often been speculated?
"You can never put a finger on that," said Wright-Phillips. "At QPR, a lot happened so quickly in terms of the transition of the whole club. It is a building process that, finally, as a club, we are all getting to grips with in terms of the pressure and expectations."
Due to an ankle injury which required surgery and had ruled him out since March, Wright Phillips could only watch as his squad-mates were relegated. He has since been playing in pre-season and considers himself ready for the new campaign, despite experiencing some occasional discomfort after training sessions. Injury on top of relegation was therefore an additionally painful combination for a man who has had setbacks in his career.
A player who will be 32 years old in October has never quite fulfilled the potential which saw him first carve a reputation as an exciting, creative, goalscoring winger at Manchester City, who he also suffered Premier League relegation with in 2001.
He failed to justify 2005's £21million move to Chelsea before in 2008 also being unable to recreate his previous magic back at City. Wright-Phillips also has 36 England caps to his name, with 10 of those coming under the management of new QPR coach Steve McClaren, without setting the world alight.
But although he straight-bats questions about his personal career, Wright-Phillips still acknowledges the distress at QPR's relegation.
"I would not say it rates anywhere," he explained when asked how the relegation ranks among his disappointments. "I just know it was really hard and, in a way, quite depressing and upsetting not only for myself and team-mates but for the club and supporters for all the hard work they had done to get us to the Premier League in the first place and then for it to be undone in two years. It is something we have to put right as a team."
Wright-Phillips knows it will not be straightforward for QPR in the Championship, despite their tag as favourites. Redknapp's squad, which, at the time of writing, still includes the likes of Joey Barton, Julio Cesar, Ji-Sung Park, Adel Taarabt and Loic Remy - along with new signing Charlie Austin, will be a major scalp for their rivals.
That is not to say the Football League, which is now sponsored by Sky Bet, is lacking in quality at other clubs - far from it. It now provides high-standard football mixed with the ultimate unpredictability and impressive attendances which only the Bundesliga 2 can get close to matching among Europe's other second divisions.
Wright-Phillips is aware it is going to be a different Football League landscape to that which he recalls from his initial time with City more than a decade ago, when he played in Kevin Keegan's attacking formation against the likes of Grimsby, Stockport and Walsall en route to the 2002 first division title and an immediate return to the Premier League.
"I remember playing right wing-back a lot of the time, which was not the easiest," joked Wright-Phillips. "It was new to me. But we had some great moments back then.
"Hopefully we will have some great moments this year with QPR and help them get back to where the fans, the team and the club belong. As a team, we [QPR] could have done a lot better. I hope we are never in a position again to say, 'if only' or, 'we could have done this better'. We have to go out and do it. But it is not going to be an easy season."
Wright-Phillips' form could be a major factor in QPR's season. If he can get back to his best, he will be an immense asset in the Championship. Redknapp will hope for the performances which saw Chelsea part with that big money eight years ago.
The man in charge of Chelsea in those days was Jose Mourinho, who, of course, is now back at Stamford Bridge. Speculation is that Mourinho has mellowed since his brash, bold, and successful, first spell with Chelsea, where he won successive Premier League titles in 2005 and 2006.
In that second title-winning season, Wright-Phillips, along with Joe Cole, was famously subbed after just 26 minutes of a defeat at Fulham. It was a trademark of Mourinho's ruthless attitude, so Wright-Phillips knows more than most about the Portuguese's style.
"I have always seen him as that character anyway," laughed Wright-Phillips at the suggestions of a now laidback Mourinho. "He always knew how to work with players and get the best out of players."
Wright-Phillips added: "He was fantastic and an inspiration. He showed and taught me a lot of things, mentally and football-wise, which benefitted me. I am certain him going back to Chelsea is massive, because he brings the whole club and team together as one big family. They all fight together."
Wright-Phillips hopes that team spirit can also be produced at QPR. It remains to be seen how their season unfolds but he is committed to at least the two years remaining his contract.
After that, when he will be approaching his 34th birthday, he has not ruled out the possibility of following his younger half-brother, Bradley, who this summer swapped a Football League career for Major League Soccer side New York Red Bulls.
Wright-Phillips speaks to his brother on a regular basis since his move to the USA ("He is my little brother so I always have to check he is doing okay") and is tempted by the prospect of moving across the Atlantic.
"I think, when the time is right, I would like to, especially to be able to play with my brother before I stop playing," he said.
But, right now, Wright-Phillips' main focus is unquestionably on helping QPR. The aim is to return to the Premier League and they are men on a mission.
Shaun Wright-Phillips was speaking at an EA SPORTS FIFA 14 preview event. Pre-order the FIFA 14 Limited Edition on Xbox 360 and PS3 before August 25th and receive 24 FIFA Ultimate Team PREMIUM Gold Packs only at Game.co.uk