Ask Jack
From Manchester City's title credentials to talking about his golf ability, England international and former Everton star Jack Rodwell sat down with Sky Sports to respond to your questions and here are the exclusive answers...
By Peter Fraser - Follow me on Twitter @SkySportsPeteF
Last Updated: 23/08/13 5:08pm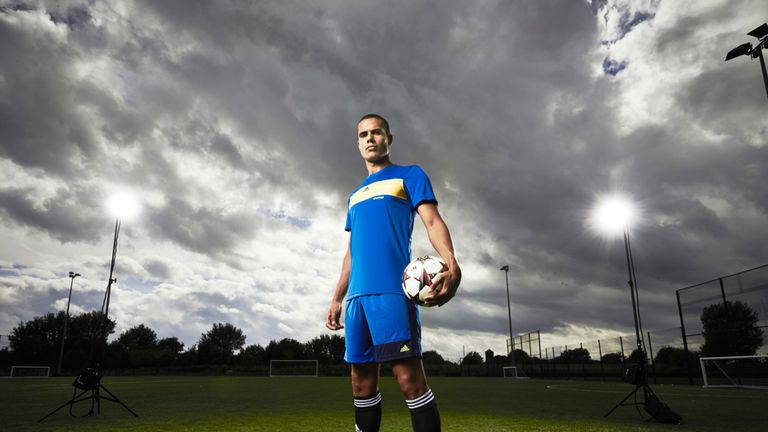 When Sky Sports met up with Jack Rodwell at Salford City Stadium on the outskirts of Manchester earlier this week, the midfielder was in a good mood.
This was a bonus for us, as we had questions ready ranging from his World Cup ambitions to his favourite flavour of crisps.
The eclectic lines of inquiry had been dictated by you, the reader, after we had asked you to supply the questions for Rodwell.
You got in touch in your hundreds via Twitter, email and feedback forms on site before we selected the best questions. Here, in association with adidas, are Rodwell's answers...
What is the biggest thing you want to achieve in your career?
Peter Nugent
Winning the World Cup is up there for me and, obviously, winning the Premier League. But my main aim is to win the World Cup. That would be a dream come true.
Do you feel Manchester City's squad is strong enough to take the title back from Manchester United?
Dylan Lucas
Definitely. I thought we had a strong enough squad to retain the title last year but we did not quite do it on the pitch. I think we have added four amazing signings this year and the squad is strong throughout, so we do have the ability to win the title. The new signings have settled in well. We did not really make them do any initiation when they joined City. At Everton, we would have made the new signing sing a song in front of the team. I was dreading having to sing myself when I joined City but there was no initiation. I have got a few songs I can sing up my sleeve!
Does Jose Mourinho's return to Chelsea mean it will be harder for Manchester City and Manchester United to win the Premier League?
Niall Clark
They are a bigger threat. They have a good squad this year with a few youngsters. Romelu Lukaku is back for them as well and I think he will do well. Mourinho just gets respect out of the players and I think he will get the best out of his players. It is good for the fans, as well. Mourinho is a bit of an icon in England. It is exciting.
How do you assess your career at Manchester City since you joined the club and are you happy with your amount of playing time?
Simon Power
To be honest, my playing time has not been dictated by anything other than my injuries. Last season, I must have made only about 15 appearances and that was because I was not fit. It is as simple as that. Hopefully, this season, I can stay fit and get more games. I feel fit. I had a good pre-season and have not missed one training session. I feel really good.
I saw you at the Senior Open at Birkdale the other week. Who is your favourite golfer?
Lee Baines
Without a doubt, it is Tiger Woods. He is amazing. I like Rory McIlroy as well. I play a bit of golf myself. I am not amazing but we have got a lot of free time after training and I am going to try and take up a bit more golf. I have not officially got a handicap but I can hit a few pars and birdie opportunities here and there. I can be hopeless as well! A few of the lads at City play golf. I think James Milner and Gareth Barry are both really good players.
Are you a fan of any other sports as well as football?
Andy Willoughby
I like to watch boxing. Obviously I cannot box myself but I like to get along to a few boxing matches. I have watched Carl Froch in Nottingham. Hopefully I will get to the fight between David Haye and Tyson Fury at the MEN Arena in Manchester later this year. I really enjoy boxing. I am also mates with Tony Bellew. He is a big Evertonian and used to come to Everton's training ground a lot. I think he will be a world champion at the end of this year.
If they were to sell Marouane Fellaini, would you consider a season-long loan back to Everton?
Scott Williams
[Laughing] No, I am happy at Manchester City. I am hoping to play a lot this season. I have got great respect for Everton and had a great relationship with the fans. I love everyone there but I am at a different stage of my career now.
Would you ever consider linking up with your ex-Everton boss, David Moyes, again at Manchester United?
Declan
I am at Manchester City now so I cannot. I would never join a rival team.
Have you considered seeking NFL help to cure your hamstring problems? Apparently NFL players have the strongest and most flexible hamstrings in sport?
Daz Meadows
Not really but it is a good shout. You can always look into other sports to see what they do and if there is anything that would help. At the end of last season, we started a gym session a couple of times a week which strengthen my hamstrings and back. It is not only that, I also do yoga and keep on top of my fitness.
Who is the best player you have played with and against?
Nana Dompre
David Silva is the best I have played with. He is so good in training. He is a purist in terms of his technique. His vision is amazing, too. He always finds that killer pass. When I played against Spain at Wembley with England, Andres Iniesta was tough to face. His touch is as if the ball is glued to his foot. He very rarely loses the ball and can score goals.
Do you see yourself as a defensive midfielder or more of an all-round box-to-box player?
Josh Marvin
I can play both roles. I can play the holding role but I prefer to get forward as well and use my energy. When I played under Roberto Mancini, he usually played three in centre midfield and I was one of the two who were allowed to run forward and get back to help to defend.
As a midfielder, what do you enjoy more - a brilliant tackle or pass?
Sam
Probably a pass, because it helps the team. It means you are creating chances. But I love a good tackle, as well. From a selfish point of view, I would say a tackle. But, for the team, a pass is the best. I also love shooting from outside the box. That is a midfielder's game.
Who was your favourite player when you were growing up?
James Simmonds
Ronaldo for Brazil. Not because of his position but purely from enjoying watching him play. Zinedine Zidane, as well, but I would probably say Ronaldo. The pace he had when he was at Inter Milan and the goals he would score, even when he was at Real Madrid, were amazing. He has put on a bit of weight recently and seems to be enjoying retired life!
Do you agree with Gary Neville's recent comments about reintroducing a Home Nation quota in British teams?
Shane K
It would be good for the homegrown English lads. Whether they do it or not, I do not know. It is a fair shout to give everyone a chance, especially the young Academy lads.
You are a class lad! Are you looking forward to playing against the best in the Champions League?
Jake Reckers
Cheers, mate! I did not really get much playing time in the Champions League last year and it got cut short when we went out at the group stages. But if we could get to the semi-finals or quarter-finals, it would be brilliant and invaluable experience for me. The Champions League is very difficult. Every team is the best of the best. It is a continental style of play and you have to adapt straight away on the night. The first Champions League game I played was against Real Madrid at the Bernabeu. Going there, with the atmosphere and the crowd, was amazing. You are under the spotlight straight away. We did well in that game but Cristiano Ronaldo got them a win right at the end. Any chance you give the opposition, they take it every time so you have to be 100 per cent focused.
What are the major differences between Manuel Pellegrini and Roberto Mancini?
Joe Saunders
They play different tactics. Mancini liked to play a 4-5-1 and it was a more traditional style. Pellegrini is more attacking and a 4-4-2. It is a faster style of play under Pellegrini and he emphasises playing a good offside line. To me, Mancini was also never cold to the players. Manchester City fans love Mancini, as well. Maybe, looking from the outside, Mancini looked cold. But, inside the club, not at all. Pellegrini is a nice guy and I am sure the fans will warm to him just like they did with Mancini.
What is the best football stadium you have played in and why?
Harry Skippen
Wembley just ahead of the Bernabeu. Wembley is traditional and, as a kid growing up, it is the ultimate. It is a special moment at Wembley in a cup final or playing for England. It is a bit nerve-wracking when you first go out in front of 80,000 fans. But, as soon as the whistle goes, you do not think about it and you are focused on your job.
What is your favourite flavour of crisps?
Alex Gibbons
I like Monster Munch and Space Invaders - it must be a pickled onion thing! I like salt and vinegar, as well. We are allowed to eat crisps as part of our diet as long as it is in moderation. I am also not a bad cook. I can follow recipes and I can make a decent roast potato!
Which derby has the best atmosphere now you have sampled both - Merseyside or Manchester?
John Doe
Both are really good. I have not played in the Manchester derby yet. I was injured last season and so was a fan. But I played in the Merseyside derby and that was brilliant. I was sent off in a Merseyside derby, so that was not great! But, at the moment, as we are both pushing for the title, I have to say the Manchester derby is the best.
You wear the No.17 shirt for Manchester City. Does this number mean anything to you and do you have any pre-match superstitions?
Jake Sidebottom
The shirt number means nothing to me. I usually like five, six or eight. But there was nothing available. I think I picked 17 because it was free and in between Sergio Aguero and Gareth Barry. I do not have any pre-match superstitions. I am not superstitious at all.
Have you got any advice for young players?
Tal Da
Keep working hard and do the right things. You have to be professional and make the necessary sacrifices. If you are determined to be a footballer, you have to make sacrifices. There is the odd one who does not make the sacrifices but still becomes a professional. But look at the amount of talented footballers who do not make it because of things off the pitch. If you do the right things off the pitch and are willing to learn and listen, then you have got a good chance.
Jack Rodwell wears the new adidas Nitrocharge football boots, designed for 'The Engine' player, RRP £150. Visit www.adidas.com or join the conversation @adidasUK.