Jose Mourinho blames Manchester United boss David Moyes for Wayne Rooney transfer saga
Jose Mourinho says David Moyes is to blame for putting Wayne Rooney at the centre of a summer transfer saga.
Last Updated: 26/08/13 1:35pm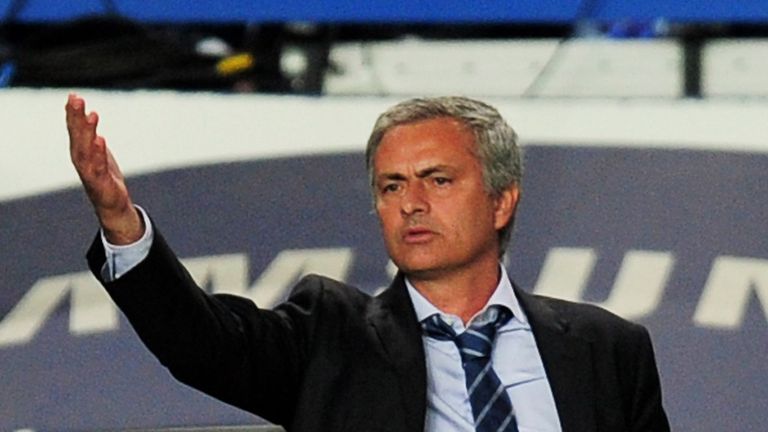 Mourinho claims Chelsea only made their move for Rooney after Moyes suggested the striker was second choice at Old Trafford behind Robin van Persie.
Chelsea are set to return with a third bid for Rooney following Monday night's Premier League clash between the sides, despite being told the England man is not for sale.
It was put to Mourinho that he will not be the most popular man at Old Trafford in a match where there is an opportunity to strike an early blow in the title race.
"Why? They are against me?" the Chelsea boss said.
"But I didn't say (to Rooney) you will be a second choice for me. And they are against me?
"We are trying to get a player that the manager told 'you will be a second option'. We are not going for (Robin) van Persie.
"They don't have to be against me. If I say Ramires is a second option for me and he plays when (Frank) Lampard is tired or injured, if somebody comes here to get Ramires, nobody is upset."
Asked if it is Moyes who was to blame for the Rooney situation, Mourinho said: "Of course."
Possible departures
Mourinho is expected to conclude a deal for Anzhi Makhachkala forward Willian imminently but the arrival of Rooney could signal a departure for one of Chelsea's existing three strikers - Fernando Torres, Romelu Lukaku and Demba Ba.
The Blues boss does not want a squad that is too large and Ba appears most likely to leave, even if only on a temporary basis.
Mourinho said: "I told the players that I want a squad of 22 (players).
"They are professionals. They want to stay. (But) they know that, if somebody's coming, it will be hard because, normally, somebody has to leave."
The arrival of Willian may also lead to somebody leaving Stamford Bridge, with Chelsea having a host of options for the three attacking midfield positions in which he is earmarked to play.
Victor Moses' place at Chelsea is most precarious, although Mourinho insists it is not solely his decision on who leaves, whether it is a striker or another forward.
He said: "This is not about choosing one to leave. It's to agree a situation.
"If a player does not want to leave, the player does not want to leave.
"But we are speaking hypothetically because maybe we don't get another striker and maybe we keep the three strikers we have."