Arsenal legend Tony Adams 'very worried' ahead of north London derby
Arsenal legend Tony Adams fears Tottenham's Mousa Dembele will expose his old side's weaknesses on Sunday.
Last Updated: 01/09/13 3:27pm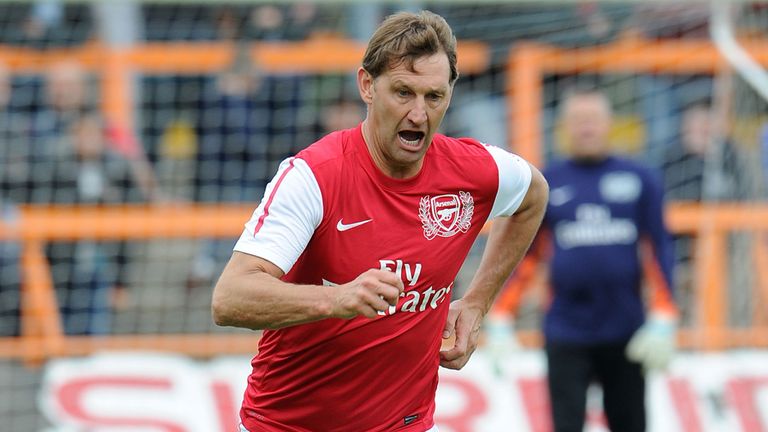 The clubs meet for the first time this season against the backdrop of Tottenham's extravagant spending and a summer of frugality at the other end of the Seven Sisters Road.
Arsenal have so far brought in just free transfer Yaya Sanogo, but despite that lack of investment Theo Walcott says it is "silly" to ask whether Spurs now have the stronger squad.
Adams, whose statue stands outside the Emirates, disagrees and was concerned by the way Aston Villa's counter-attacking style hurt Arsenal on the opening day of the season.
He told Sky Sports News: "There's not a lot in it - I'm not so sure 'silly' is the right word.
"I think they've closed the gap, Tottenham, for sure. Maybe Arsenal have come back to them a little bit. They're definitely stiff opposition.
"Arsenal? My criticism of them over the last few years is they've been too open, so susceptible to the counter-attack. Tottenham can do that, can really hurt them.
"Dembele, I saw him when he was a kid at Willem II in Holland. He can pick up the ball and hurt them - Benteke did it for Aston Villa.
"Dembele sits in the hole - has the midfielder got him? Has the defender got him? He can sit in that hole and really hurt Arsenal on the counter-attack, so I'm very worried."
Watch Arsenal v Tottenham live on Sky Sports 1 this Sunday. Coverage begins at 3.30pm.