FA chairman Greg Dyke calls for radical action to keep England team competitive
Greg Dyke fears for the future of the national team unless drastic steps are taken to nurture more English talent.
Last Updated: 06/09/13 2:26pm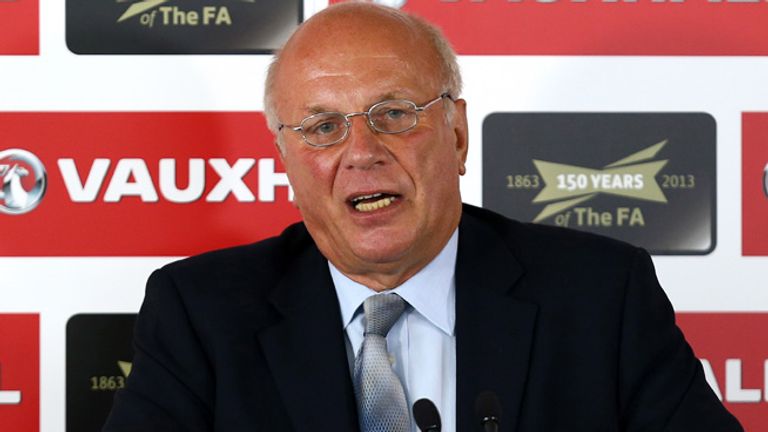 The Football Association chairman laid out his vision for the future of football in England at a keynote speech in London, setting the target of victory at the 2022 World Cup in Qatar.
But Dyke made it clear he believes such ambition will soon become unrealistic unless the Premier League and the FA work together to cut the percentage of foreign players, managers and owners.
The former television executive intends to set up a commission to look into the dwindling number of English-qualified players regularly used by Premier League clubs.
And Dyke said the FA would be "letting the country and thousands of England fans down" if it did not deal with what he called a "frightening trend" which last season meant just 32% of players used by Premier League clubs were English.
"Do we let the trend continue or do we do something about it?" he said. "What happens when the number goes from 32 to 25 to 20 to 15?
"Do we still ignore the problem or do we act now? English football is a tanker that needs turning.
"Why has it happened? What can be done? How can you make changes? The FA has to up its game, but all of English football has a problem. All of English football has to find a solution."
Genuine aim
Dyke argued his vision does not put him on a collision course with the Premier League, saying: "It is crucial that English football finds a solution without undermining the undoubted success of the Premier League.
"We don't want to kill the golden goose in the search of the golden egg but we do have to do something if the English team is to prosper in the future. "
Dyke's tone was not one of despair, though, when he suggested victory in Qatar - 56 years after England's sole World Cup win to date - should be a genuine aim.
He said: "The two targets I have for the England team are - one, to at least reach the semi-finals of Euro 2020. Two, win the World Cup in 2022."
Danger
Former FA chief executive Mark Palios welcomed the topics raised in Dyke's speech but he was unsure about the target of winning the World Cup in 2022.
Palios told Sky Sports News: The only danger with setting those targets is that you're setting yourself up to fail.
"My target was to qualify for every tournament and get to the quarter-finals at least. Over a period of every two years, at some stage you would win the tournament because you either had a team that had gelled, had a lack of injuries, a bit of luck or were a golden generation.
"I would feel more comfortable setting that out as a target."
He added: "If you want to set stretch targets then that is one. There will be a lot of teams competing against you and trying to stop you winning the World Cup in 2022.
"As a chairman, maybe that's the inspiration he wants to set for everyone. I'm pleased about the fact that he's got that concept in his head, that he's willing to nail his colours to the mast."
Former England boss Glenn Hoddle has called on the Premier League to introduce a quota system to protect the national team.
Ahead of the upcoming World Cup qualifiers with Moldova and Ukraine, Hoddle told The Footballers' Football Show that the continuing influx of foreign players to the Premier League is harming the prospects of home-grown talent.
"It really is a concern," said the ex-Chelsea boss who managed England from 1996-1999.
"We've got foreign owners, who bring in foreign managers, who bring in foreign players above English players and it's a downward spiral.
"The pool [of English players in the Premier League] has gone down from 48% in 1998-99, when I was manager, to 32% this season.
"With the transfer market as it is at the moment, there are so many foreigners coming in and that number is going to dwindle.
"The England manager's job is a hard job as it is and it's going to get harder and harder unless we readdress it with a rule change.
"You'll get challenged from courts in Europe but for our English team to be successful we have to do something."