Gareth Bale will not start for Wales in World Cup qualifier with Serbia
Wales boss Chris Coleman has confirmed Gareth Bale will once again not start in Tuesday's match with Serbia.
Last Updated: 09/09/13 7:08pm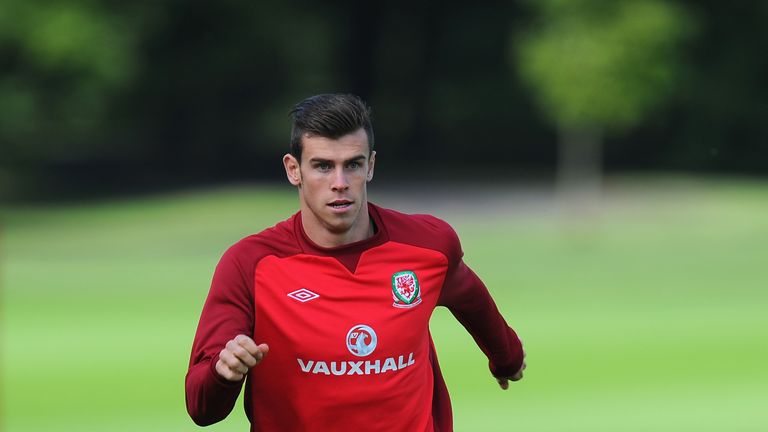 Bale played a full part in training in Cardiff on Monday. But he was an unused substitute in Friday's 2-1 defeat in Macedonia, to the anger of some supporters, with Coleman admitting he did not want to risk Real Madrid's new £86m signing.
The winger, who has not played since July, is awaiting the results of a scan on a groin injury ahead of Tuesday's clash in Cardiff but Coleman told Sky Sports News he is at the behest of his star man when it comes to his fitness.
"I was a little bit insulted that I was accused after the game of hoodwinking our supporters that Gareth Bale would play," Coleman, defending his decision to not utilise Bale in Macedonia, said.
"I never once said that Gareth Bale would play; what I said was that if there's any chance he can play, he'll play a part.
"We can't alter the fact that the pitch wasn't great and he just feels something in his groin - a strain. He came to see me on Friday morning and said something didn't feel right.
"I stuck him on the bench for obvious reasons: I didn't want their manager getting a boost before the game of Gareth Bale not being fit.
"Gareth has today (Monday) gone for another scan - precautionary - but he needs to know and be sure that there's nothing there. If it's good news and he can play some part, of course he will. But ultimately the player says if he can or he can't.
"With him not playing any games he's not going to start on Tuesday and he never was. When you've had three to four training sessions in six to eight weeks, as good as he is, you can't be risking players."