Appreciating Özil
Nick Miller finally got around to praising the wonder of Mesut Özil, but not before having a whinge about the referee. Arsenal's new hero only took 11 minutes to do something special. Miller predicts the German may prove to be pretty, pretty good...
By Nick Miller
Last Updated: 15/09/13 3:35pm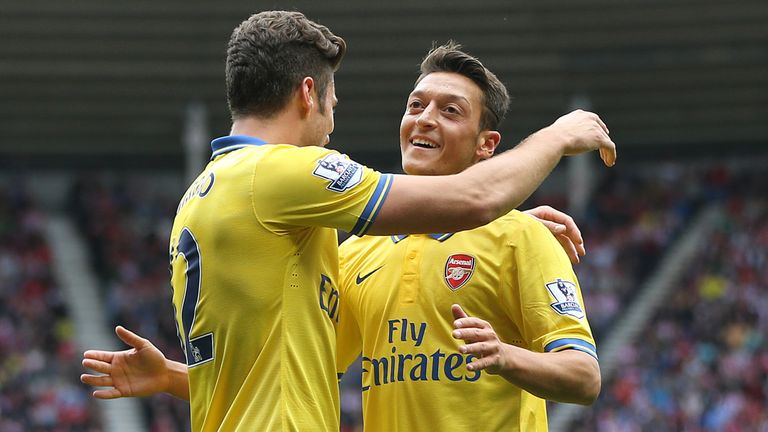 Before the appreciation of Mesut Özil begins, a complaint. Bad refereeing decisions are irritating, but a consequence of human fallibility. They're fine, really. Martin Atkinson's decision not to allow Jozy Altidore's second-half goal was not a mistake.
If you haven't seen it, Altidore grappled with Bacary Sagna as he powered towards the penalty area, the Arsenal man probably fouled him, but Altidore shrugged his assailant off, flicked the ball past Woijech Szcezsny and it crept over the line, but not before Atkinson had blown his whistle and pulled play back for a Sunderland free-kick.
This sort of thing is infuriating because it was not so much an error, more a failure to act in the best interests of the game. Sunderland were penalised for being fouled. If the referee believed Sagna had significantly hampered Altidore, he should have sent the defender off for denying a goal-scoring opportunity. Except he didn't deny a goal-scoring opportunity, because Altidore scored. Not an error, just a horrific piece of officiating, and one that could have been so easily avoided with some simple common sense.
And now, positivity.
There are assists and then there are assists. Mesut Özil's pass to set up Olivier Giroud was the latter. A swift and decisive set-up, as much for the run that Kieran Gibbs picked out as the final pass, which itself was delicious. Oh, and let's not forget the 'pick it out of the air' first touch that gave him the chance to make that final pass. Still, he took his time - it was a full 11 minutes before Özil created a goal. Come along old chap, don't dither next time, eh?
It was majestic stuff, and it was one of a number of class touches that Özil showed in the first half. In particular, there was a drop of the shoulder not long after the goal to create space that made this viewer emit an odd, perhaps even aroused noise. Having someone like him around is going to be wonderful enough for us neutrals, so you can imagine what Arsenal fans are feeling at the moment.
"Özil has the personality to express his game, which is for me the most important," said Arsene Wenger before the game. "He is a creative player, and that is what we want, to express his talent and develop it." And express it he did.
Of course one cannot draw conclusions from one game, but if Özil continues in this vein, the impact he could have on the Arsenal side is profound. He appeared to free up the rest of his teammates from the state of almost perpetual frustration in which they often find themselves, making them a quicker and more decisive unit.
Against Sunderland his presence basically made Arsenal lop-sided, because it appeared that he was told to play where he liked, while Jack Wilshere nominally came from the left. Of course, Wilshere didn't exactly have chalk on his boots, his average position on the pitch being just to the side of Özil's, meaning Arsenal's only outlet on the flanks was via Theo Walcott.
And yet, it worked. Özil's probing meant Arsenal should really have been out of sight by the break, creating three clear chances, all in the opening 45 minutes, enjoying a remarkable 73% possession. One suspects that at some point the German will get bored of artfully presenting Walcott with free runs on goal, only for him to thunk the ball straight into the goalkeeper's midriff. Özil faded in the second half, but given he probably shouldn't have played due to spot of flu, that is hardly a surprise. Just imagine what he'll be like when he isn't stuffed full of Sudafed.
When any of Arsenal's injured/ill wingers return, Arsene Wenger will be left with an interesting decision if he is to balance his side properly. Özil will play in his favoured number ten role, while Mathieu Flamini has brought a solidity and assurance to their midfield, and Aaron Ramsey is of course in the form of his life and basically undroppable. That leaves Wilshere, who was better for Arsenal than he was for England against Ukraine, but that isn't saying a great deal. Still, when your team has won nine successive away games, stretching back to the win in Munich in March, decisions like that probably don't weigh as heavily as they might.
So Özil is here. The initial signs are promising. But seriously, Gooners - get rid of those Ös from your Twitter profile. You look like One Direction fans.
This article first appeared on Football365