FA to take no action against Fernando Torres after Jan Vertonghen incident
The FA will take no disciplinary action against Fernando Torres following an incident involving Jan Vertonghen.
Last Updated: 01/10/13 10:58pm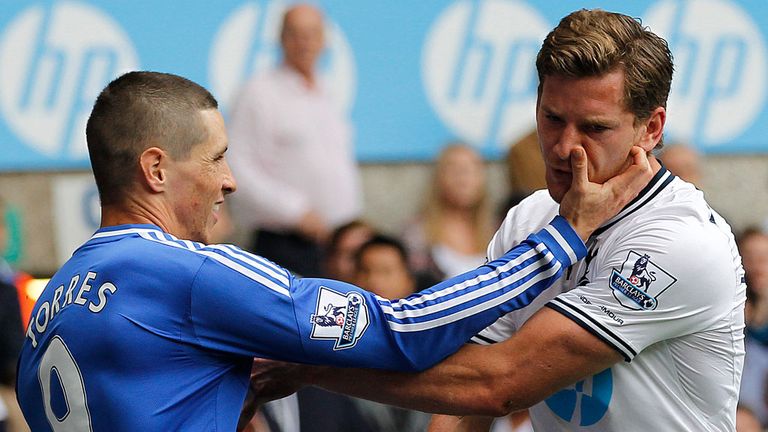 The Chelsea forward, who appeared to scratch the Tottenham defender on the face during the 1-1 draw at White Hart Lane, was later sent off - but will now serve just a one-match ban.
An FA statement read: "One of the match officials saw the coming together of the two players, albeit not in its entirety.
"In these particular circumstances, in line with the FA's policy on when retrospective action may be taken, reviewed this summer by the game's stakeholders, no action may be taken."
Torres was shown a yellow card following the first coming together and collected his second booking after an aerial tussle with the Belgian during the second half.
Tottenham boss Andre Villas-Boas has defended Vertonghen, issuing an endorsement of his player's 'values.'
The Portuguese coach told Sky Sports News: "Well I think the incident is pretty clear and people must draw their own conclusions from what they saw.
"What we have with Jan, he is only in his second year and he has become the captain of Spurs as well. He is one of our captains elected by myself and by the club because he has been that type of leader and that type of person for his last years with the national team and with Ajax. So he is a person that we hold high in the team.
"I'm extremely happy that most of the media saw the incident, knows about Jan's values and have decided to draw positive conclusions about him and about his character.
"So that's the end of the matter for us. We believe in the player a lot and we believe he is more than a great player and a great person."
Chelsea boss Jose Mourinho later defended the FA's decision not to retrospectively punish Torres, and offered another thinly-veiled barb at Vertonghen.
"It doesn't surprise me," said Mourinho after Chelsea's 4-0 victory over Steaua Bucharest in the Champions League on Tuesday night.
"The FA represents English football and in England they never punish on emotion.
"They punish when you don't respect the integrity of game by simulating."